MAKE YOUR FREE

Satisfaction of Mortgage
Other Names:
Release of Mortgage Form
Mortgage Lien Release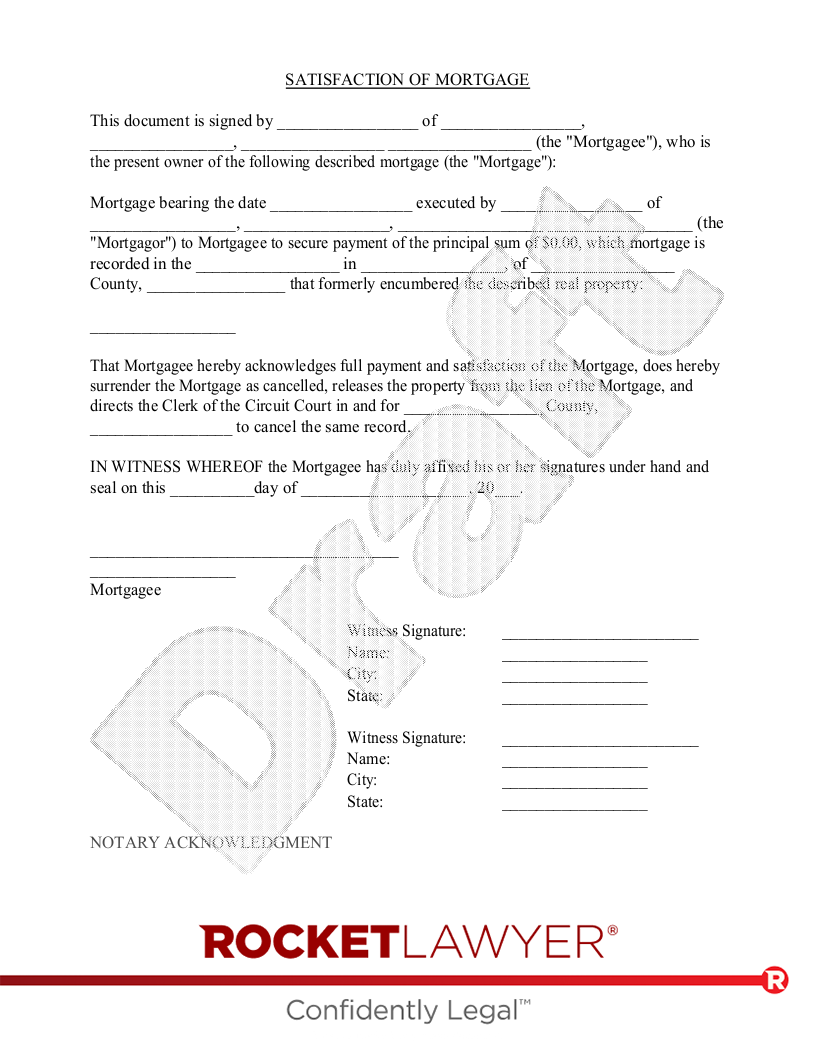 What is a Satisfaction of Mortgage?
A Satisfaction of Mortgage is a document that is used to confirm that a mortgage has been successfully repaid.

In most cases, if your home loan was through a bank or large financial institution, they will handle this paperwork for you. If the mortgage or loan was handled through a private arrangement, you can easily make the Satisfaction of Mortgage document yourself.

Paying off property or receiving payment in full is satisfying for the buyer and the seller. However, a completed Satisfaction of Mortgage is required to release the lien and obtain the title.
When to use a Satisfaction of Mortgage:
You just paid off your mortgage to a private lender.
You sold a property through a private loan agreement that is now paid in full.
Sample Satisfaction of Mortgage
The terms in your document will update based on the information you provide
This document has been customized over 46K times
Ask a lawyer questions about your document
SATISFACTION OF MORTGAGE
This document is signed by of , , (the "Mortgagee"), who is the present owner of the following described mortgage (the "Mortgage"):
Mortgage bearing the date executed by of , , (the "Mortgagor") to Mortgagee to secure payment of the principal sum of , which mortgage is recorded in the in , of , that formerly encumbered the described real property:
That Mortgagee hereby acknowledges full payment and satisfaction of the Mortgage, does hereby surrender the Mortgage as cancelled, releases the property from the lien of the Mortgage, and directs the Clerk of the Circuit Court in and for , to cancel the same record.
IN WITNESS WHEREOF the Mortgagee has duly affixed his or her signatures under hand and seal on this __________day of ____________________, 20___.
____________________________________
Mortgagee
Witness Signature:
_______________________
Witness Signature:
_______________________
NOTARY ACKNOWLEDGMENT
STATE OF ss:, ss:
Satisfaction of Mortgage FAQs
What does it mean to satisfy a loan?

To satisfy a loan means to fully repay the full amount of the loan. You can find out if your mortgage has been officially paid off by contacting your lending institution.

How do I prepare my Satisfaction of Mortgage document?

You can complete a Satisfaction of Mortgage document using the Rocket Lawyer document builder. You will need to gather some information and answer some questions to create your customized document. Most states require that you include:

Names and addresses of both parties involved
The amount paid
Legal description of the property and tax parcel number

Do I need witness signatures or a notary?

This depends on your local requirements, but it wouldn't hurt to go ahead and gather two witness signatures and a notarization. Often you can obtain notary services through your bank or credit union. You'll need to bring a valid ID to the notary office, so they can verify your identification. If the property you need to sign for is in another state, check to see if that state will accept notarization from another state or use a service that can provide notarization for any state.

Where does the paperwork go?

In most areas the Release of Mortgage Form goes to the County Recorder, Land Registry Office, City Registrar or Recorder of Deeds. You should be able to find the appropriate office location online. If this document is not filed, the lien will remain in place. Most areas limit what is considered a reasonable amount of time between when the mortgage is paid and when the Satisfaction of Mortgage is filed. So, even if you are working with a traditional lender, you may benefit from making sure the lender fulfills this obligation in a timely manner.

Paying off property or receiving payment in full is satisfying for the buyer and the seller. However, a completed Satisfaction of Mortgage is required to release the lien and obtain the title.