Recommendation Letter Basics
A Recommendation Letter is your opportunity to speak on behalf of a respected friend, student, or colleague. Maybe you're recommending a former employee for a new job, or maybe you're writing a glowing reference for one of your students - either way, a letter of recommendation can be an important keystone in their endeavors. A Recommendation Letter helps you find the right words.
Use the Recommendation Letter document if:
You're an employer providing a recommendation for a former employee.
You're a teacher or professor writing a recommendation for a student.
You're being asked to vouch for someone's qualifications.
---
<![CDATA[ ]]>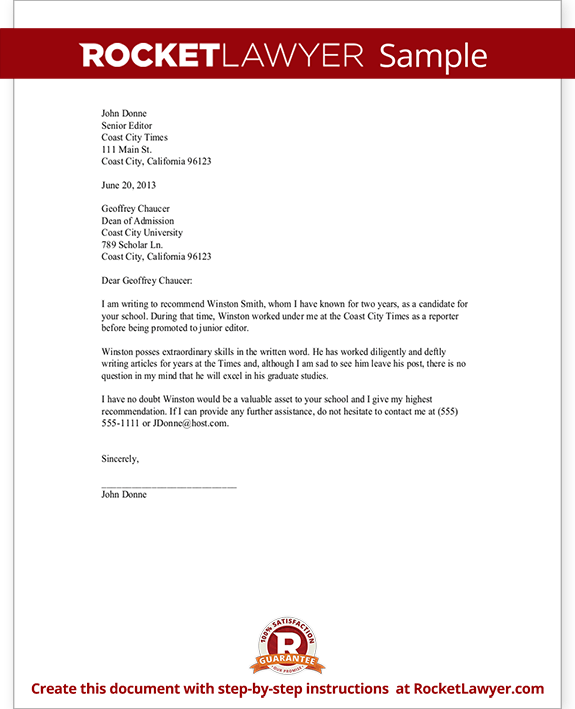 View Sample
Sample Recommendation Letter
More than just a template, our step-by-step interview process makes it easy to create a Recommendation Letter.

Save, sign, print, and download your document when you are done.

Sample Recommendation Letter
Our step-by-step interview process makes creating a printable Recommendation Letter easy.
Make Document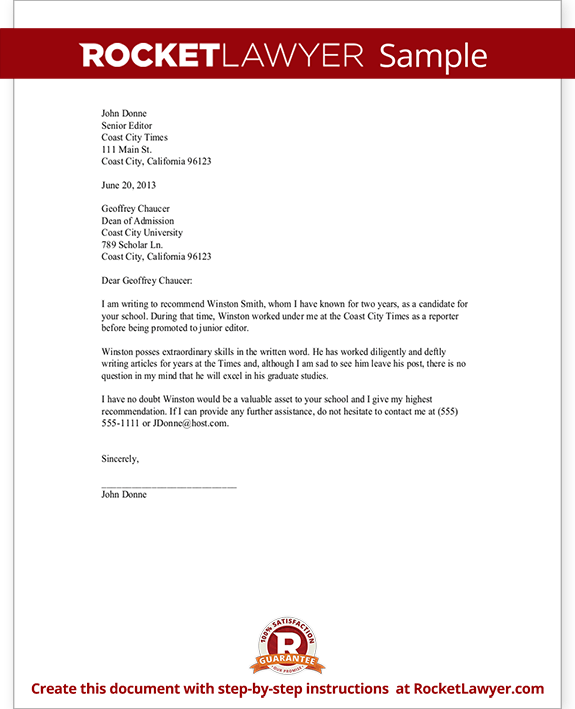 ---
When someone asks for your recommendation, it's a big deal. Make sure you tackle it properly with a Recommendation Letter. A recommendation can be requested for a variety of reasons: students applying to colleges or graduate schools, a co worker seeking a new job, or a friend looking to participate in competitive programs. Whatever their reason is, a recommendation can go a long way to helping them succeed. What you say, and how you say it, can make a huge difference. Our Recommendation Letter helps you get your point across.

Other names for this document: Letter of Recommendation, Job Recommendation Letter, College Recommendation Letter