A Police Report Worksheet helps you organize and prepare information you plan on handing to the police. If you need to report something to the police it's almost always a good idea to talk to the department first. However, if you want to gather additional information to report later, prepare for a police interview, or for your own records, a Police Report Worksheet can help you do just that.
Use the Police Report Worksheet document if:
You're about to meet with an officer about a report or complaint.
You want to leave a paper trail.
You'd like to provide additional information after filing a report.
Typically, you only seek out police help when you need help. After calling the local police, a Police Report Worksheet can help you get organized. It's likely best to contact the police right away if you're the victim of a crime, as it's important that authorities know what's happening - but what about after that call is made? Do you want to make sure you don't forget any important details? Want to provide the police with your own written report? Doing so could be helpful for all parties involved. After all, it's easy to forget key details when you're giving a verbal report. It's often the little things that can help police fix problems. Using a Police Report Worksheet helps you straighten out all the details.

Other names for this document: Incident Report, Police Report Form, Police Incident Report Form
---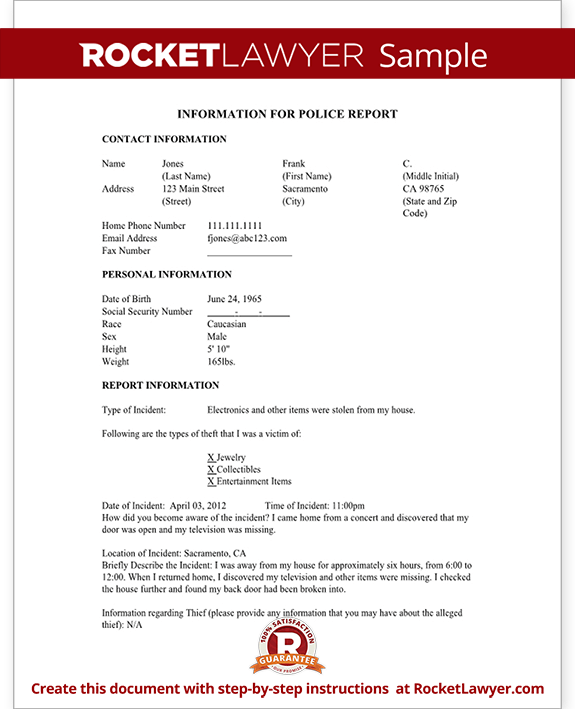 View Sample
Sample Police Report Worksheet
More than just a template, our step-by-step interview process makes it easy to create a Police Report Worksheet.

Save, sign, print, and download your document when you are done.
This document is sometimes called an Information for Police Report.