Memorial Plans help guide loved ones in holding your memorial when you pass. You have things that are uniquely important to you and you may want to include those in your memorial. Maybe you have a special reading or location in mind, perhaps you want to explicitly state if you'd like to be buried or cremated. No matter your wishes, drafting your Memorial Plans helps ensure they're carried out.
Use the Memorial Plans document if:
You want to give your loved ones instructions about your memorial or funeral.
You have specific wishes about your service.
---
<![CDATA[ ]]>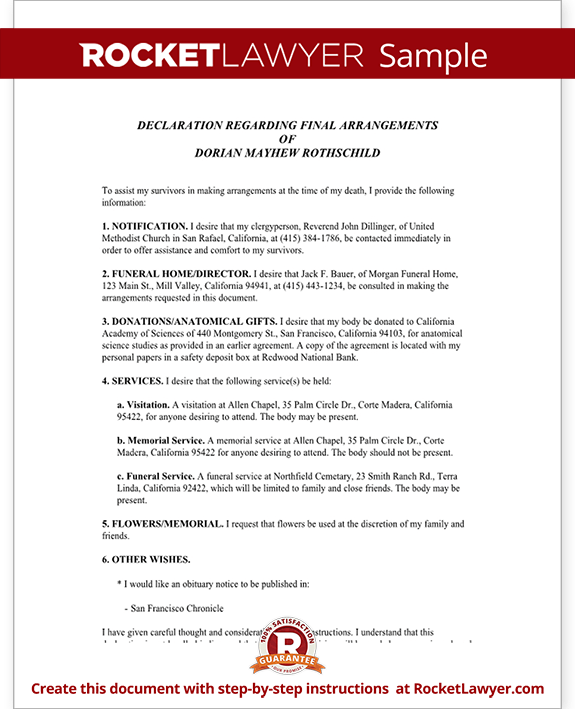 View Sample
Sample Memorial Plans
More than just a template, our step-by-step interview process makes it easy to create a Memorial Plans.

Save, sign, print, and download your document when you are done.
This document is sometimes called a Declaration Regarding Final Arrangements.

Sample Memorial Plans
Our step-by-step interview process makes creating a printable Memorial Plans easy.
Make Document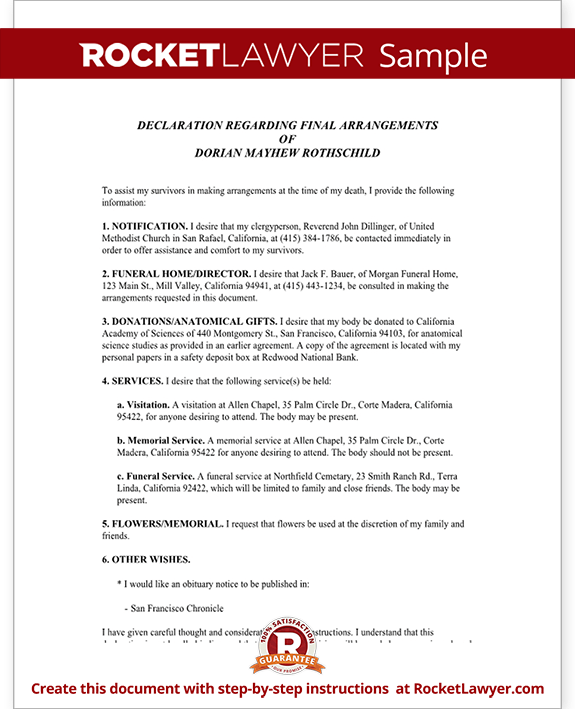 ---
Your family and friends will be grieving when you pass, but you can help make things a little simpler by taking care of your Memorial Plans now. You probably have certain preferences, if so, what type of service would you like? Are there people in your past who you want invited that your family might not know about? Your loved ones want to make sure all of your wishes are fulfilled. Putting it in writing, and openly discussing it with loved ones, is the easiest way to make this happen. They want to make sure your memorial is perfect, and you can help them avoid any confusion. Drafting your Memorial Plans can help make a very difficult situation just a little bit easier.

Other names for this document: Final Arrangement Plans, Funeral Planning Form