LLC Operating Agreement Basics
Reviewed by Rocket Lawyer On Call Attorney Nicholas Wolfe, Esq.

Once you've created your Limited Liability Company, you can use an LLC Operating Agreement to define your organization's operating terms and help protect your legal rights and responsibilities. With a written record outlining your company's management policies and procedures, you'll be ready to get down to business.
Use the LLC Operating Agreement document if:
You're ready to form an LLC and you want to define its business terms.
You've already formed an LLC but don't yet have an operating agreement.
An LLC Operating Agreement allows you to set out your own policies about the operation of your business, rather than being subject to your state's default LLC laws. You can create a management structure that works best for your business, and if any questions arise, you'll be able to refer to this written record. Our LLC Operating Agreement includes details like: the name, address and purpose of your LLC; buy-out options; profit allocations for members; how decisions will be made by managers; what percentage of the LLC each manager will own; how often managers will be re-elected; contribution deadlines; who's responsible for accounting the profits; which accounting method will be used (cash or accrual); the audit schedule; and whether the LLC can be dissolved by a majority or a unanimous vote. You'll also be able to define the management roles of the individual members. We'll walk you through each step so you can get these important details down in writing.
---
<![CDATA[ ]]>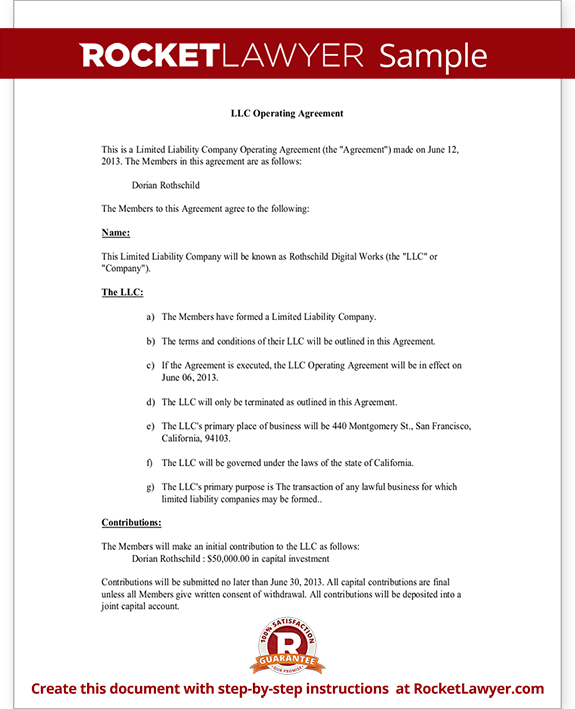 View Sample
Sample LLC Operating Agreement
More than just a template, our step-by-step interview process makes it easy to create a LLC Operating Agreement.

Save, sign, print, and download your document when you are done.

Sample LLC Operating Agreement
Our step-by-step interview process makes creating a printable LLC Operating Agreement easy.
Make Document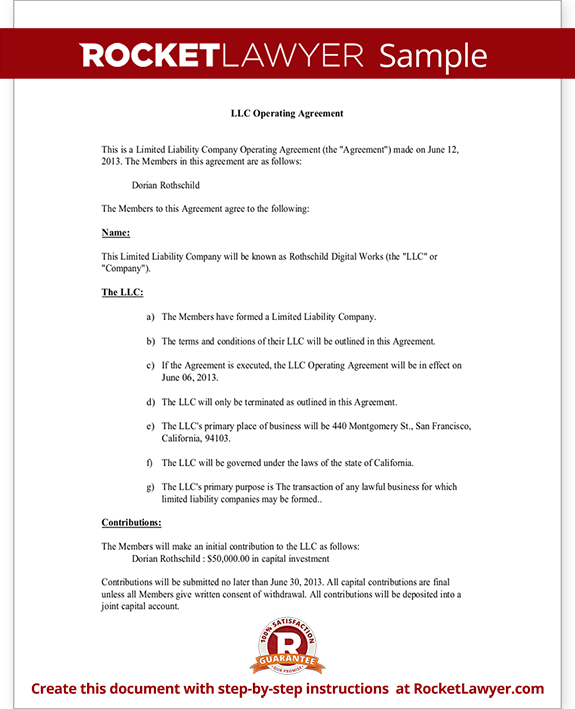 Why choose Rocket Lawyer?
Legally reviewed
Researched by lawyers
and legal staff.
Specialists to help
We're here to answer your
questions.
Free Trial
Your document is free with your subscription.
Our quality guarantee
We guarantee our service is
safe and secure.