MAKE YOUR FREE
Lease Renewal Agreement
Answer simple questions to create your document

Sign & share your document online

Save progress and finish on any device; download & print at home
Start Now

Preparing your document questions
We've sent you an email
with information about how to access your document from any device

Make your Free
Lease Renewal Agreement
Lease Renewal Agreement Basics
When a renter and a landlord have enjoyed a good relationship and want to continue, they'll use a Lease Renewal Agreement. If a lease is expiring a Lease Renewal sets down the terms of the new lease agreement between landlord and tenant.
Use the Lease Renewal Agreement document if:
You are the landlord and your tenant whose lease is about to expire would like to renew the lease for another term.
You are a tenant who would like to renew your lease before it expires.
You've got a great apartment, and your landlord thinks you're a great tenant. Or maybe you're the landlord with a tenant you want to keep. In either case a Lease Renewal Agreement lets you both keep renting or leasing. If a lease expires, in many cases it turns into a month-to-month tenancy. A Renewal can avoid this. A Lease Renewal Agreement allows you and the tenant to set the new term of the lease, and can also be used to make changes to the original Lease Agreement. A Renewal can address changes everyone agrees on, while all other clauses can remain the same. For a tenant, a Renewal is an opportunity to negotiate with your landlord about things that you hope to address, like that leaky faucet.

Other names for this document: Residential lease Renewal Agreement
---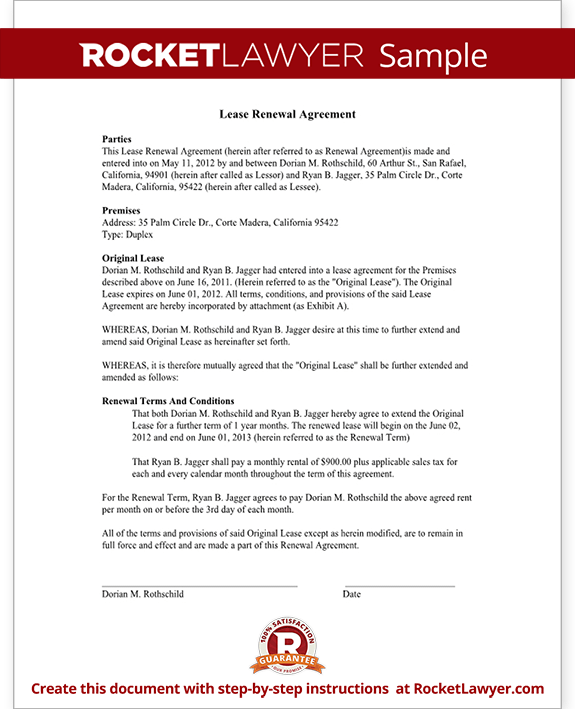 View Sample
Sample Lease Renewal Agreement
More than just a template, our step-by-step interview process makes it easy to create a Lease Renewal Agreement.

Save, sign, print, and download your document when you are done.

Sample Lease Renewal Agreement
Our step-by-step interview process makes creating a printable Lease Renewal Agreement easy.
Make Document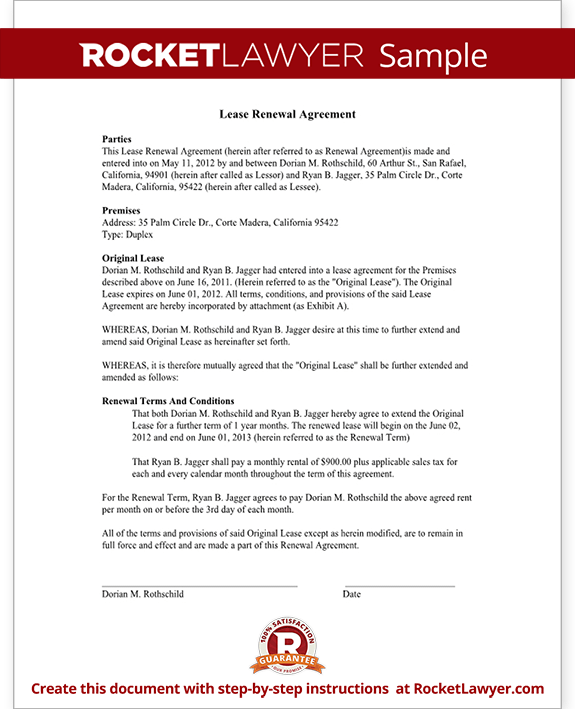 ---
Ready to create your Free Lease Renewal Agreement?
Your document is free within your one week membership trial.
Make Document