Lease Assumption Agreement Basics
If you need to leave a rental property before the lease is up, a Lease Assumption Agreement allows another tenant to assume your responsibilities under the lease. Keep in mind that if the new tenant doesn't hold up their end of the bargain, by failing to pay the rent for example, both you and the new tenant may be liable. In many cases, a Lease Assumption Agreement can be a win-win situation for everyone involved.
Use the Lease Assumption Agreement document if:
You are a Tenant that is planning to move out of an apartment or residential rental property prior to the expiration of your Lease and you would like to have another person assume your Lease.
If you need to leave a property before your lease is up, a Lease Assumption Agreement enables the tenant to transfer the lease to another person, known as the "assignee." This process needs to be approved by the landlord. Note that a Lease Assumption Agreement does not relieve the original tenant, who has transferred the lease to the assignee, from their contractual obligations under the original lease. Instead, the original tenant is jointly responsible for the terms of the lease with the assignee. For instance, if the assignee fails to pay the rent, or the property is damaged, the landlord may sue either (or both) the original tenant and assignee to reclaim any damages or monies owed.

A Lease Assumption Agreement is commonly used when the current tenant is moving permanently, and does not intend to return to the property. If the tenant plans to be away from the property temporarily, and return during the lease period, a Sublease Agreement can be used instead.

Other names for this document: Lease Transfer Agreement
---
<![CDATA[ ]]>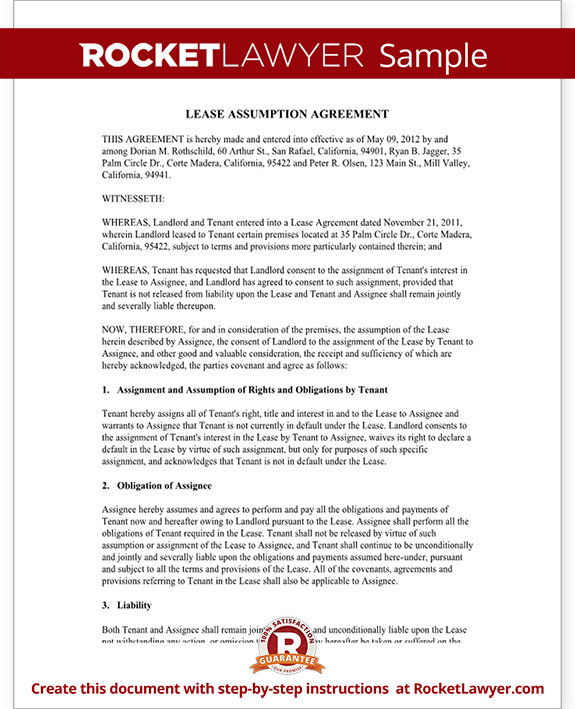 View Sample
Sample Lease Assumption Agreement
More than just a template, our step-by-step interview process makes it easy to create a Lease Assumption Agreement.

Save, sign, print, and download your document when you are done.

Sample Lease Assumption Agreement
Our step-by-step interview process makes creating a printable Lease Assumption Agreement easy.
Make Document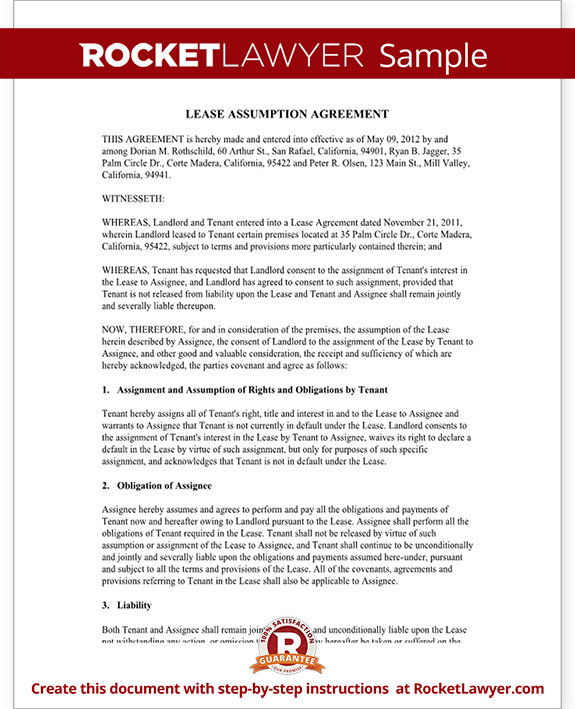 Why choose Rocket Lawyer?
Legally reviewed
Researched by lawyers
and legal staff.
Specialists to help
We're here to answer your
questions.
Free Trial
Your document is free with your subscription.
Our quality guarantee
We guarantee our service is
safe and secure.