HIPAA Authorization Form Basics
A HIPAA Authorization Form allows your doctor to release your medical records. Maybe you're being referred to another doctor, maybe you've moved to a different town, or maybe you're a doctor who needs access to your patient's prior records. A HIPAA Authorization Form lets you choose what information is disclosed and to whom.
Use the HIPAA Authorization Form document if:
You want your medical information released to a doctor.
You only want certain medical information sent to a MD.
You're a doctor and want to have the documents patients might need available.
You manage a medical office.
If you've ever switched doctors or seen a specialist, you've probably had to sign a HIPAA Authorization Form. Your medical information is safe and protected by your doctor, and HIPAA laws, but maybe you need your records released. Maybe you're the MD and need access to a patient's old records. Getting that information can make a huge difference in how you treat your patient but first your patient needs to authorize it. Make it easy by providing them with the documents. A HIPAA Authorization Form helps protect patient privacy and helps doctors do their job.

Other names for this document: HIPAA Privacy Authorization Form, Health Insurance Portability and Accountability Act Authorization
---
<![CDATA[ ]]>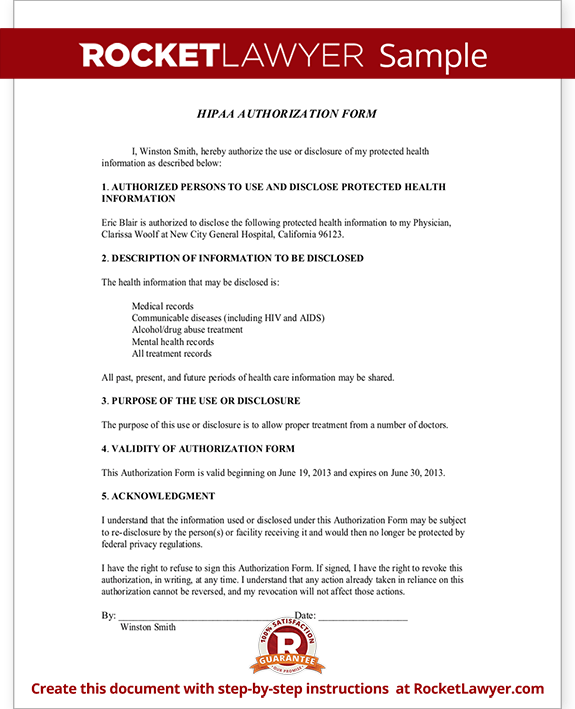 View Sample
Sample HIPAA Authorization Form
More than just a template, our step-by-step interview process makes it easy to create a HIPAA Authorization Form.

Save, sign, print, and download your document when you are done.

Sample HIPAA Authorization Form
Our step-by-step interview process makes creating a printable HIPAA Authorization Form easy.
Make Document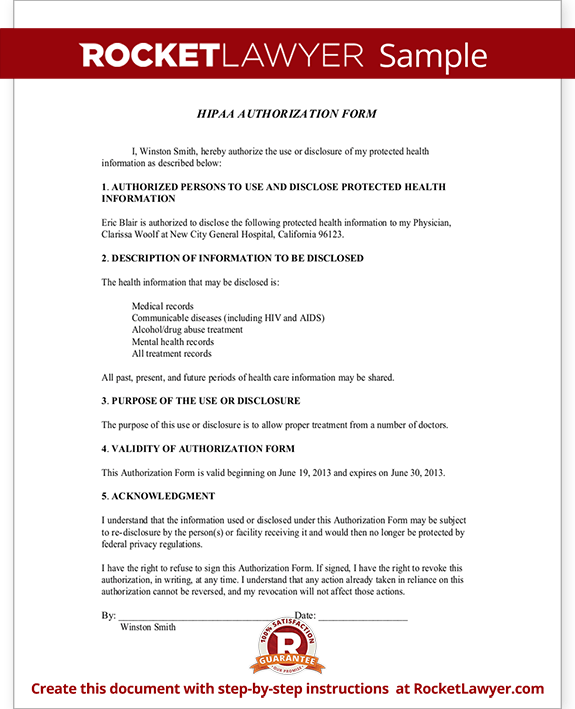 Why choose Rocket Lawyer?
Legally reviewed
Researched by lawyers
and legal staff.
Specialists to help
We're here to answer your
questions.
Free Trial
Your document is free with your subscription.
Our quality guarantee
We guarantee our service is
safe and secure.