Endorsement Agreement Basics
When you want to get an expert or celebrity to endorse your product, an Endorsement Agreement is a great way to make sure you cover all the legal basics.
Use the Endorsement Agreement document if:
An Endorsement Agreement enables a company to make use of an individual's name, likeness, and reputation for the promotion of a company's service or product.
An Endorsement Agreement is a contract that lets a company use someone's name, likeness, and reputation to promote a service or product. Typically the endorser is well known (or at least well known within a given field). In exchange for the personal recommendation of the company's product, the personal endorser gets a fee. This Agreement clearly defines the terms of the endorsement, including how the endorser will use or advertise the endorsed product or service. Other obligations may include wearing certain clothes, attending press releases, marketing events, and appearing in advertisements. The Endorsement Agreement also outlines the warranties, or guarantees, of both the company and the endorser related to the endorsement.

Other names for this document: Product Endorsement Agreement, Celebrity Endorsement Agreement
---
<![CDATA[ ]]>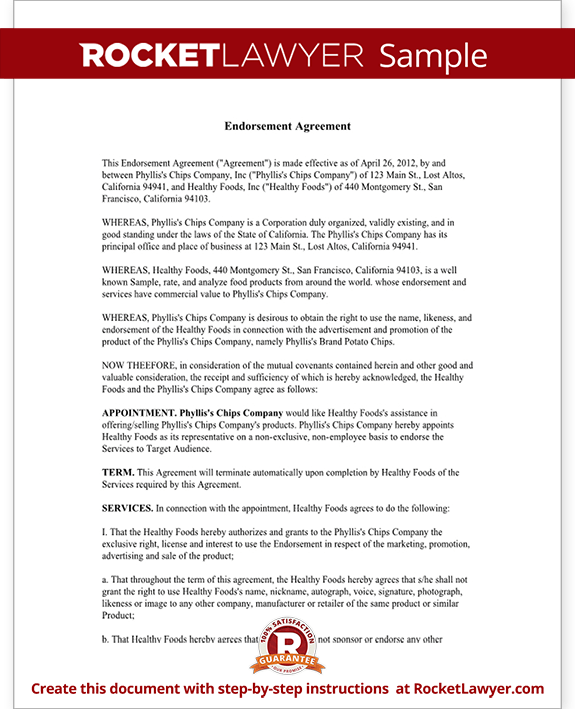 View Sample
Sample Endorsement Agreement
More than just a template, our step-by-step interview process makes it easy to create an Endorsement Agreement.

Save, sign, print, and download your document when you are done.

Sample Endorsement Agreement
Our step-by-step interview process makes creating a printable Endorsement Agreement easy.
Make Document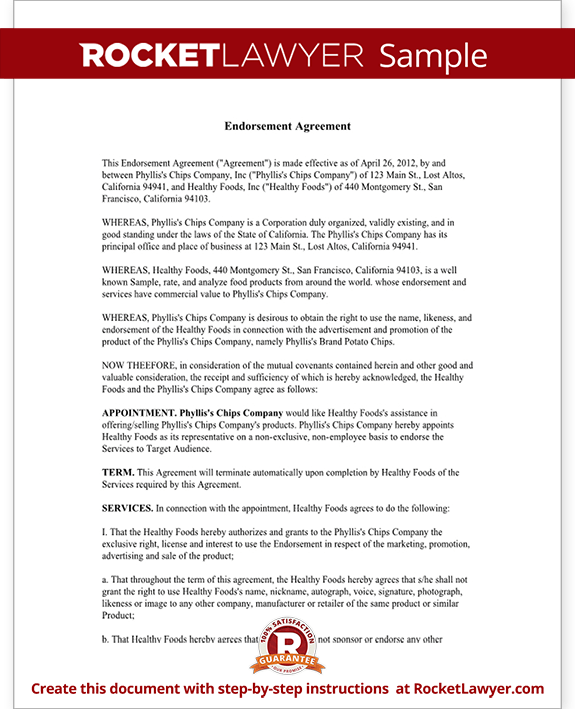 Why choose Rocket Lawyer?
Legally reviewed
Researched by lawyers
and legal staff.
Specialists to help
We're here to answer your
questions.
Free Trial
Your document is free with your subscription.
Our quality guarantee
We guarantee our service is
safe and secure.