MAKE YOUR FREE

Influencer Agreement
Other Names:
Influencer Contract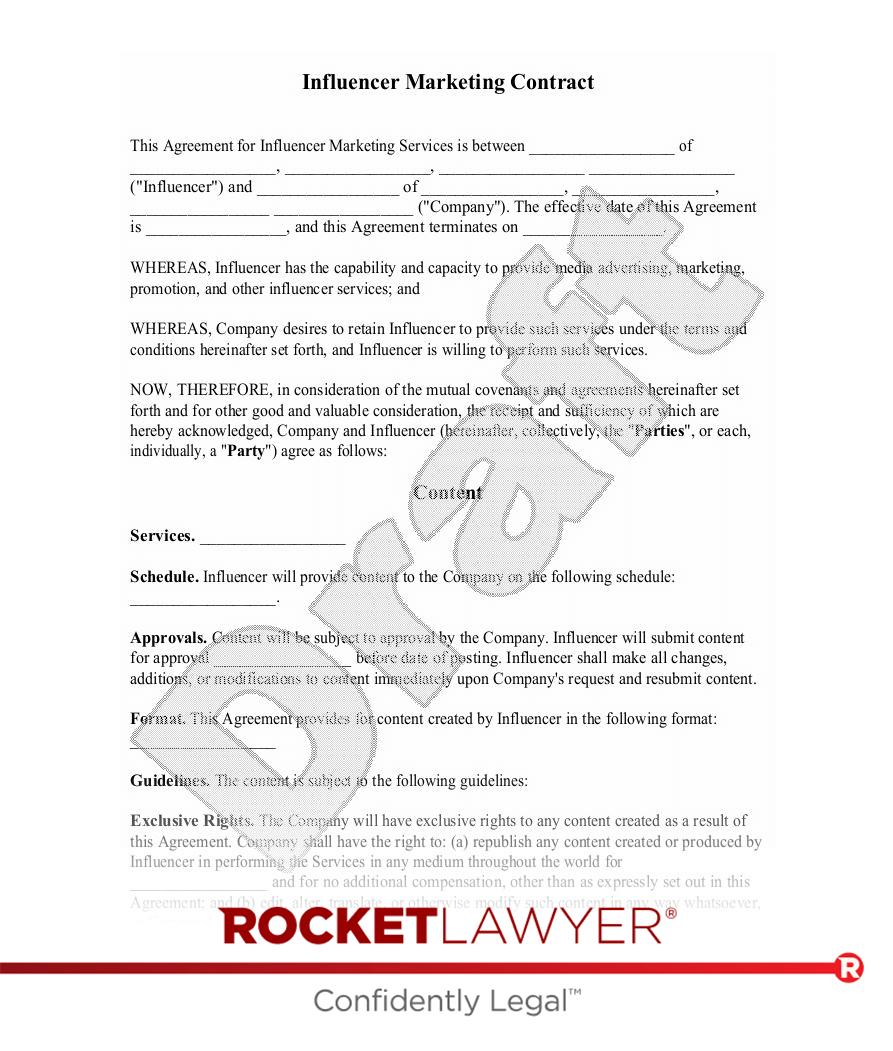 What is an Influencer Agreement?
An Influencer Agreement is a contract between a business and a social media influencer, outlining the terms and conditions of their partnership. Influencer Agreements are simple to make and are a way of clearly outlining the scope of the work, payment schedules and deadline expectations of an Influencer marketing arrangement.
When can you use an Influencer Agreement?
You will be providing influencer services to a company in exchange for monetary compensation.
You wish to work with an Influencer who will provide media advertising, marketing, promotion, and other influencer services.
Sample Influencer Agreement
The terms in your document will update based on the information you provide
Rocket Lawyer members have customized over 93.5M documents
Legally binding and enforceable
Ask a lawyer questions about your document
Sign this document online for free with RocketSign®
This Agreement for Influencer Marketing Services is between of , , ("Influencer") and of , , ("Company"). The effective date of this Agreement is , and this Agreement terminates on .
WHEREAS, Influencer has the capability and capacity to provide media advertising, marketing, promotion, and other influencer services; and
WHEREAS, Company desires to retain Influencer to provide such services under the terms and conditions hereinafter set forth, and Influencer is willing to perform such services.
NOW, THEREFORE, in consideration of the mutual covenants and agreements hereinafter set forth and for other good and valuable consideration, the receipt and sufficiency of which are hereby acknowledged, Company and Influencer (hereinafter, collectively, the "Parties", or each, individually, a "Party") agree as follows:
Content
Services.
Schedule. Influencer will provide content to the Company on the following schedule: .
Approvals. Content will be subject to approval by the Company. Influencer will submit content for approval before date of posting. Influencer shall make all changes, additions, or modifications to content immediately upon Company's request and resubmit content.
Format. This Agreement provides for content created by Influencer in the following format:
Exclusive Rights. The Company will have exclusive rights to any content created as a result of this Agreement. in perpetuity
Payment
Payment Rate. Provided Influencer is in full compliance with its obligations hereunder, Influencer will be paid in exchange for the completion of services described in this Agreement. Influencer acknowledges that the agreed upon compensation represents Influencer's entire compensation with respect to this Agreement, including, but not limited to, with respect to any Influencer Personnel, and Company shall have no other obligation for any other compensation other than for reasonable expenses incurred and substantiated by Influencer.
Invoicing. Influencer will submit invoice for payment to the Company at . Influencer will receive payment within of date of invoicing.
Other
Force Majeure. In no event shall the parties be responsible or liable for any failure or delay in the performance of its obligations hereunder arising out of or caused by, directly or indirectly, forces beyond its control, including (but not limited to) accidents, acts of war or terrorism, natural catastrophes, pandemics, or acts of God, and interruptions, loss or malfunctions of utilities, communications or computer (software and hardware) services; it being understood that the parties shall use reasonable efforts which are consistent with accepted practices in the industry to resume performance as soon as practicable under the circumstances.
Entire Agreement. This Agreement, including and together with any related exhibits, schedules, attachments, and appendices, constitutes the sole and entire agreement between the Parties with respect to the subject matter contained herein, and supersedes all prior and contemporaneous understandings, agreements, representations, and warranties, both written and oral, regarding such subject matter.
The terms and conditions contained in this Agreement expressly exclude any of Influencer's general terms and conditions or any other document issued by Influencer in connection with this Agreement.
Signatories. This Agreement shall be signed by and by and is effective as of the date first above written.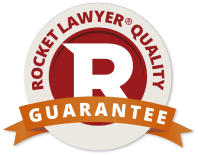 Our quality guarantee
We guarantee our service is safe and secure, and that properly executed Rocket Lawyer legal documents are legally enforceable under applicable US laws.
Need help? No problem!
Ask a question for free or get affordable legal advice when you connect with a Rocket Lawyer network attorney.
Influencer Agreement checklist
Complete your free Influencer Agreement with our Make it Legal™ checklist