Complaint to Neighbor Basics
Good relations with your neighbors are important, so if you unfortunately have a dispute with a neighbor, you can use a Complaint to Neighbor to help minimize ill will and resolve issues amicably. And if it is unsuccessful, you'll at least have a paper trail to document your complaint, if you need to advise local law enforcement.
Use the Complaint to Neighbor document if:
You need to complain to your neighbor - about anything.
You manage a homeowners association.
A Complaint to Neighbor can help you fix an issue before it gets out of hand. It can be challenging living next to someone, whose lifestyle -- and ideas of being a good neighbor -- might be very different from yours. Before it becomes really acrimonious, there's time to properly address problems: with a Complaint to Neighbor letter. Detailing your complaint in the document, and then sending a Complaint to Neighbor to your neighbor can help you open up a conversation and hopefully get things resolved.

Other names for this document: Letter of Complaint to Neighbor, Neighbor Complaint Letter, Complaint Letter to Neighbor
---
<![CDATA[ ]]>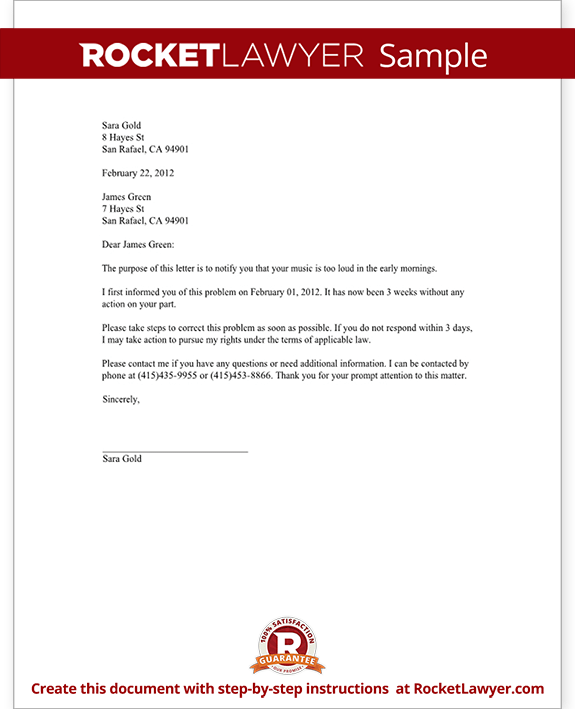 View Sample
Sample Complaint to Neighbor
More than just a template, our step-by-step interview process makes it easy to create a Complaint to Neighbor.

Save, sign, print, and download your document when you are done.

Sample Complaint to Neighbor
Our step-by-step interview process makes creating a printable Complaint to Neighbor easy.
Make Document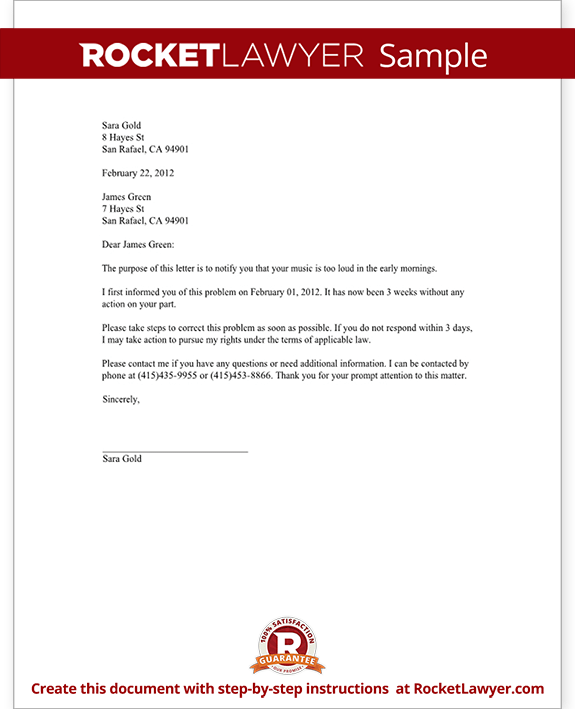 Why choose Rocket Lawyer?
Legally reviewed
Researched by lawyers
and legal staff.
Specialists to help
We're here to answer your
questions.
Free Trial
Your document is free with your subscription.
Our quality guarantee
We guarantee our service is
safe and secure.