Borrowing and lending money is a serious commitment; if the borrower hasn't upheld their end of the bargain a Collection Letter can help. Just because someone hasn't paid off their balance doesn't mean they're trying to shrug off their obligations: they might have issue with certain charges, believe they've already paid, or might have simply forgotten. An effective Collection Letter can help you address possible issues, resolve debts, and move forward.
Use the Collection Letter document if:
You want to collect payment for an outstanding debt.
You are considering more forceful collection measures.
A Collection Letter should account for likely complications by being detailed and thorough. Cite the principal amount, any interest or fees, and a description of what the original balance is for--including dates and locations. By clearly conveying all the relevant information you may be able to avoid future misunderstandings or any challenges to your claim.

If the other party isn't acting in good faith a Collection Letter can do more than simply relaying the amount to the debtor. If the debt remains unpaid you'll need to have solid documentation that you provided the borrower sufficient notice before you can increase collection activity. No one lends money expecting to run into issues, but having your efforts recorded in writing can help you take the next steps if needed. A Collection Letter is an important first action to receiving what you're owed.

Other names for this document: Demand Letter, Debt Collection Letter, Past Due Letter
---
<![CDATA[ ]]>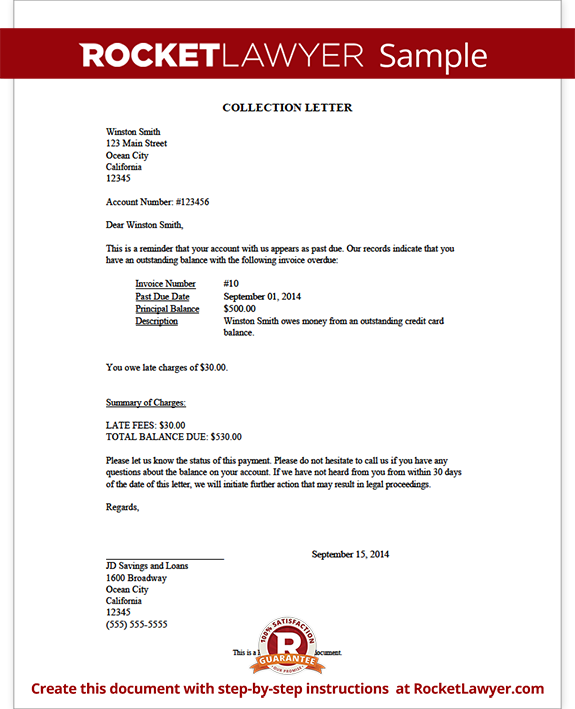 View Sample
Sample Collection Letter
More than just a template, our step-by-step interview process makes it easy to create a Collection Letter.

Save, sign, print, and download your document when you are done.

Sample Collection Letter
Our step-by-step interview process makes creating a printable Collection Letter easy.
Make Document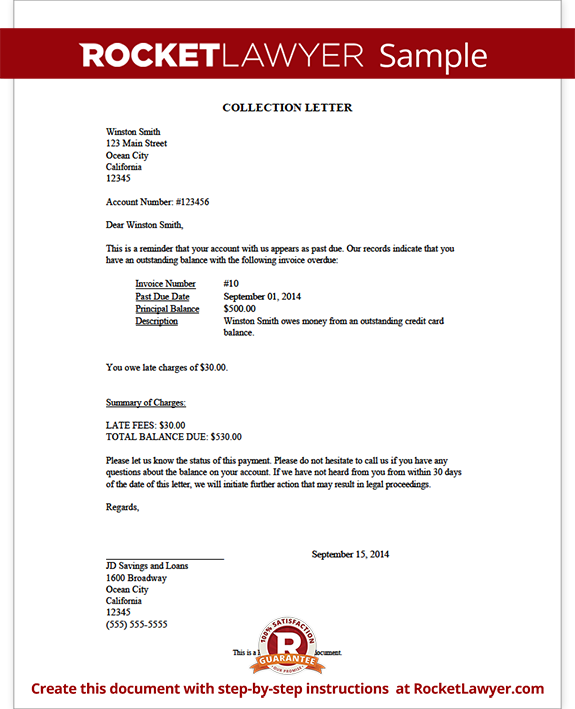 Why choose Rocket Lawyer?
Legally reviewed
Researched by lawyers
and legal staff.
Specialists to help
We're here to answer your
questions.
Free Trial
Your document is free with your subscription.
Our quality guarantee
We guarantee our service is
safe and secure.