MAKE YOUR FREE
Bankruptcy Worksheet
Answer simple questions to create your document

Sign & share your document online

Save progress and finish on any device; download & print at home
Start Now

Preparing your document questions
We've sent you an email
with information about how to access your document from any device

Make your Free
Bankruptcy Worksheet
Bankruptcy Worksheet Basics
If you're thinking about filing for bankruptcy a Bankruptcy Worksheet can help you organize the information you'll need. Maybe you're not sure if it's the right move for you or if it's even an option at all. Either way, it can help to play with the figures first. A Bankruptcy Worksheet is a great tool for helping you make an informed decision.
Use the Bankruptcy Worksheet document if:
You're thinking about filing bankruptcy.
You're helping someone else with the bankruptcy process.
In an uncertain economic climate bankruptcy can be a shrewd option, not just a last resort. When making this personal decision a Bankruptcy Worksheet is still one of the best ways to help you decide if you should file. It's certainly not an easy choice, and it's not right for everyone. You'll need to figure out your assets and debts: who do you owe money to? Is your income going to work with bankruptcy? What are your expenses that you can't clear? Working with a bankruptcy attorney can certainly help, but you can figure out some of the important details yourself. A little preparation can help you save time and money - Using a Bankruptcy Worksheet can help you see the big picture and decide where to go from there.
---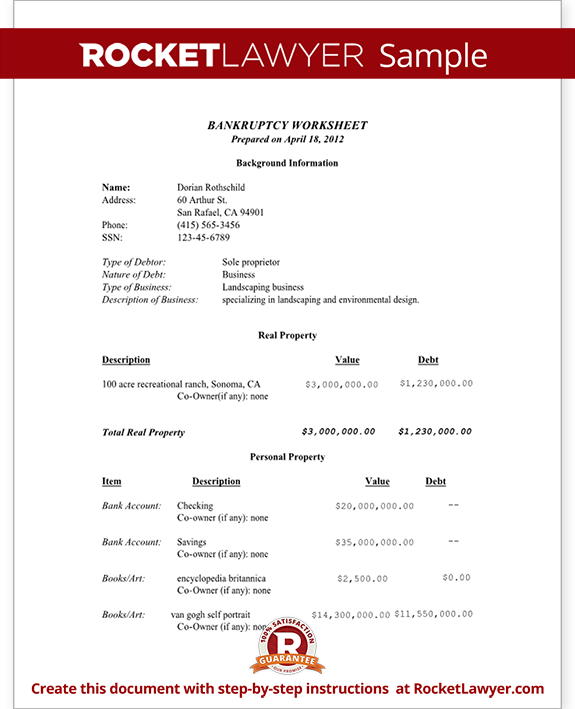 View Sample
Sample Bankruptcy Worksheet
More than just a template, our step-by-step interview process makes it easy to create a Bankruptcy Worksheet.

Save, sign, print, and download your document when you are done.

Sample Bankruptcy Worksheet
Our step-by-step interview process makes creating a printable Bankruptcy Worksheet easy.
Make Document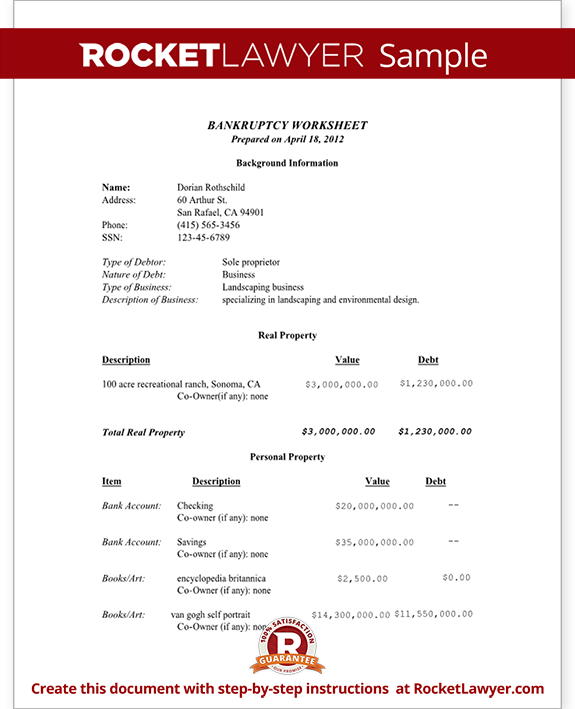 ---
Ready to create your Free Bankruptcy Worksheet?
Your document is free within your one week membership trial.
Make Document