Affidavit of Identity Basics
You know who you are, but sometimes you've got to prove it. An Affidavit of Identity can prove your identity when requested by a court or financial institution. Create an Affidavit of Identity when you need evidence of your identity or signature.
Use the Affidavit of Identity document if:
A bank, court, or business has requested proof of your signature or identity.
You operate a business and would like to prepare a form to verify the identity of a customer.
Courts, banks and savings institutions often require you to verify your signature or identity for certain transactions or signing documents. An Affidavit of Identity can be used to verify your identity or signature. In the Affidavit you provide your personal and identifiable information including legal name, date of birth and home address. You'll be asked to swear that the information given is true and correct. You'll also need to have the Affidavit witnessed, signed and sealed by a notary public.

Other names for this document: Notarized Affidavit of Identity, Identity Affidavit
---
<![CDATA[ ]]>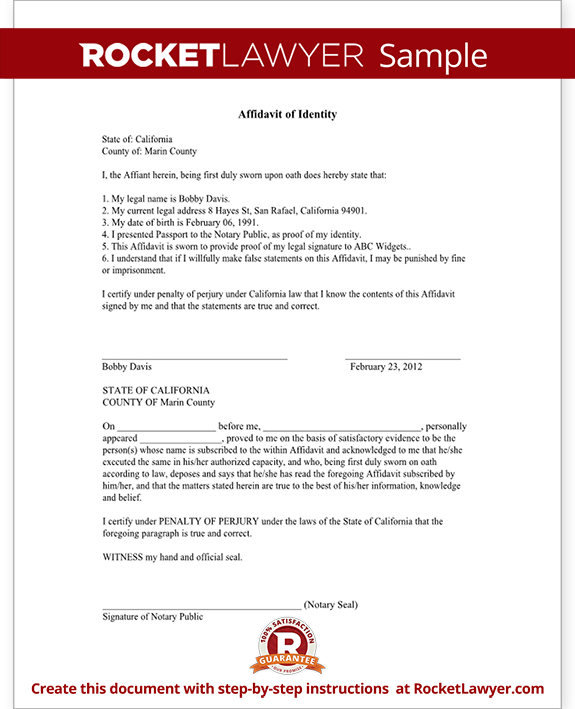 View Sample
Sample Affidavit of Identity
More than just a template, our step-by-step interview process makes it easy to create an Affidavit of Identity.

Save, sign, print, and download your document when you are done.

Sample Affidavit of Identity
Our step-by-step interview process makes creating a printable Affidavit of Identity easy.
Make Document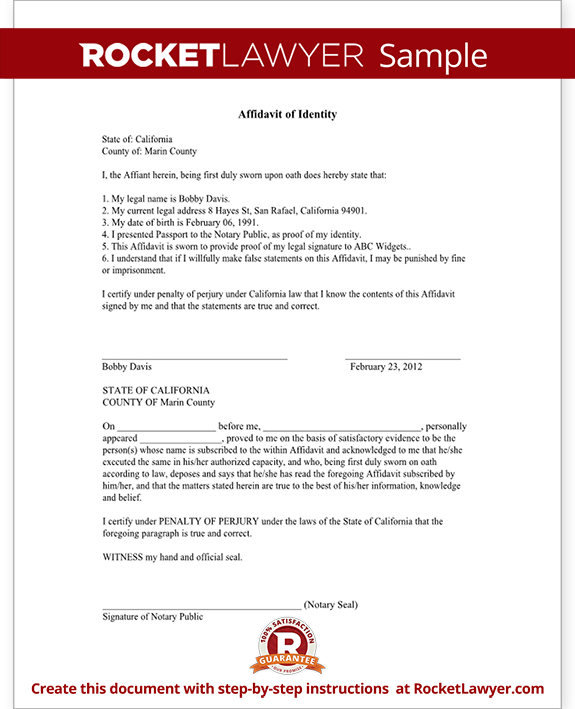 Why choose Rocket Lawyer?
Legally reviewed
Researched by lawyers
and legal staff.
Specialists to help
We're here to answer your
questions.
Free Trial
Your document is free with your subscription.
Our quality guarantee
We guarantee our service is
safe and secure.