MAKE YOUR FREE

Vacation Policy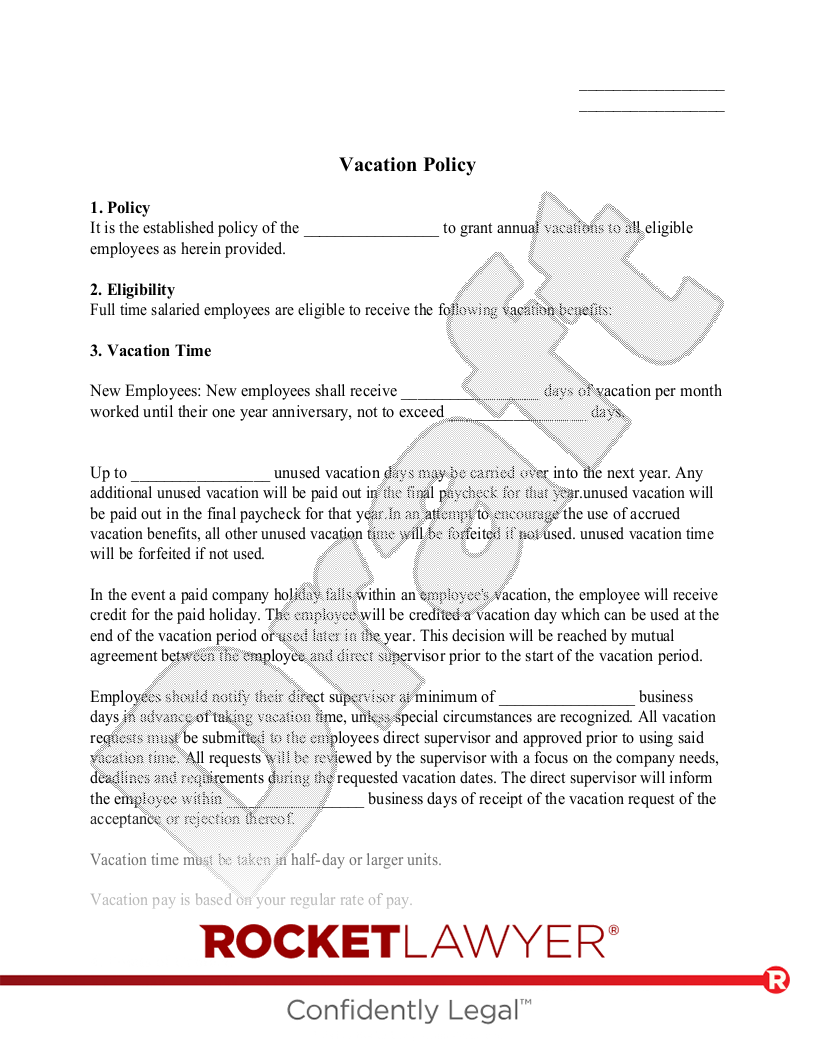 What is a Vacation Policy?
Your employees deserve a little R&R, but as a business, it makes sense to set some limits. Make sure that your Vacation Policy is down on paper. How many days per year do employees get? Does it change if they've been there longer? Paid or unpaid? Spell it out so it's easy for employees (and you) to plan ahead for leave time. A Vacation Policy can help.

You're a good boss, which is why you're looking up a Vacation Policy in the first place. When you're employees are happy, your business thrives. And they work hard for you. Everyone needs a break to recharge. You just have to make sure vacations are fair and that there aren't any gray areas. Do unused vacation days roll over? How do employees request days off? What about the busy seasons around Christmas, Labor Day Weekend, or the Fourth of July? Are you going to let them tack on vacation days to company holidays? We'll walk you through creating a custom policy that works for your business. A Vacation Policy can help you plan your approach and put it in writing so it's clear to workers and managers.
When to use a Vacation Policy:
You are an employer and you would like to provide your employees with a clear guideline on how vacation benefits are accrued and who is eligible.
Sample Vacation Policy
The terms in your document will update based on the information you provide
This document has been customized over 20.2K times
Legally binding and enforceable
Ask a lawyer questions about your document
Vacation Policy
1. Policy
It is the established policy of the to grant annual vacations to all eligible employees as herein provided.
2. Eligibility
Full time salaried employees are eligible to receive the following vacation benefits:
3. Vacation Time
New Employees: New employees shall receive days of vacation per month worked until their one year anniversary, not to exceed days.
Years to Years of Employment: The employee shall be entitled to vacation days each year.
Any In an attempt to encourage the use of accrued vacation benefits, all
In the event a paid company holiday falls within an employee's vacation, the employee will receive credit for the paid holiday.
Employees should notify their direct supervisor at minimum of business days in advance of taking vacation time, unless special circumstances are recognized. All vacation requests must be submitted to the employees direct supervisor and approved prior to using said vacation time. All requests will be reviewed by the supervisor with a focus on the company needs, deadlines and requirements during the requested vacation dates. The direct supervisor will inform the employee within business days of receipt of the vacation request of the acceptance or rejection thereof.
Vacation time must be taken in half-day or larger units.
Vacation pay is based on your regular rate of pay.
4. Points of Contact.
Questions concerning the Vacation Policy should be directed to , by phone at or email at .
5. Declaration.
I have read, understand, and acknowledge receipt of the Vacation Policy. I will comply with the guidelines set out in this policy and understand that failure to do so may result in disciplinary action, loss of vacation time, up to termination of employment and potential legal action.
________________________________
____________________________