MAKE YOUR FREE

Repair Release
Other Names:
Repair Release Form
Liability Release for Repairs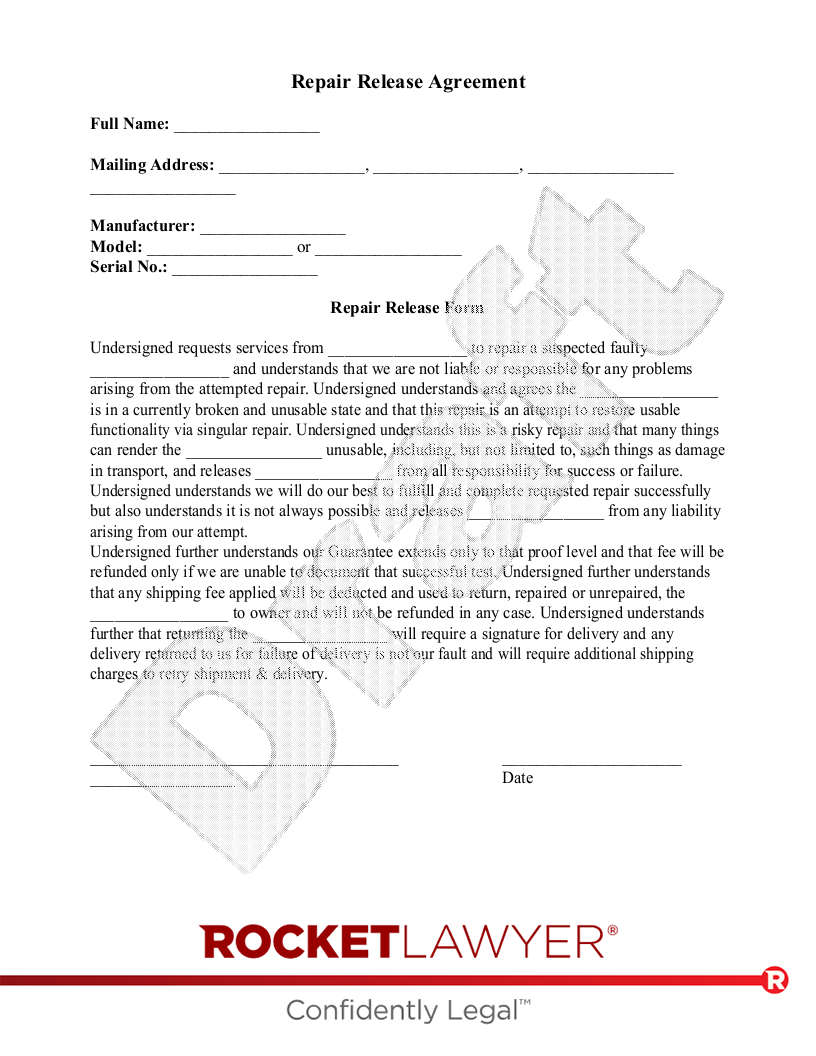 What is a Repair Release?
If you're in the business of making repairs, it's a good idea to add the Repair Release to your tool belt. You can't control what someone does after you've fixed a leaky sink or laptop. Make sure you're not held liable. A Repair Release will help make your business watertight.

It doesn't matter whether you're a handyman or you know your way around a hard drive - no one's immune from Murphy's Law. But when your customer has signed a Repair Release, you'll know they can't blame you when they drop their smartphone in the toilet as soon as you hand it back to them. Even if you're a pro, however, sometimes things just go wrong. Protect yourself by asking customers to release you or your company from liability for any damages that may occur during your repair. Spell out the scope of your work, and how long you'll vouch for it. And if you're a customer? You probably understand that someone who repairs things for a living needs a little armor. When you choose a reputable, qualified professional, you're playing it safe. A Repair Release can help ensure that a repair pro can do their best to help you.
When to use a Repair Release:
You provide repair services and you would like a customer to release you from any liability before you start repairs.
Sample Repair Release
The terms in your document will update based on the information you provide
This document has been customized over 20K times
Legally binding and enforceable
Ask a lawyer questions about your document
Full Name:
Mailing Address: , ,
Manufacturer:
Model: or
Serial No.:
Repair Release Form
Undersigned requests services from to repair a suspected faulty and understands that we are not liable or responsible for any problems arising from the attempted repair. Undersigned understands and agrees the is in a currently broken and unusable state and that this repair is an attempt to restore usable functionality via singular repair. Undersigned understands this is a risky repair and that many things can render the unusable, including, but not limited to, such things as damage in transport, and releases from all responsibility for success or failure. Undersigned understands we will do our best to fulfill and complete requested repair successfully but also understands it is not always possible and releases from any liability arising from our attempt.
Undersigned also understands that a successful repair is defined as .
Undersigned further understands our Guarantee extends only to that proof level and that fee will be refunded only if we are unable to document that successful test. Undersigned further understands that any shipping fee applied will be deducted and used to return, repaired or unrepaired, the to owner and will not be refunded in any case. Undersigned understands further that returning the will require a signature for delivery and any delivery returned to us for failure of delivery is not our fault and will require additional shipping charges to retry shipment & delivery.
____________________________________
_____________________