MAKE YOUR FREE

Exit Agreement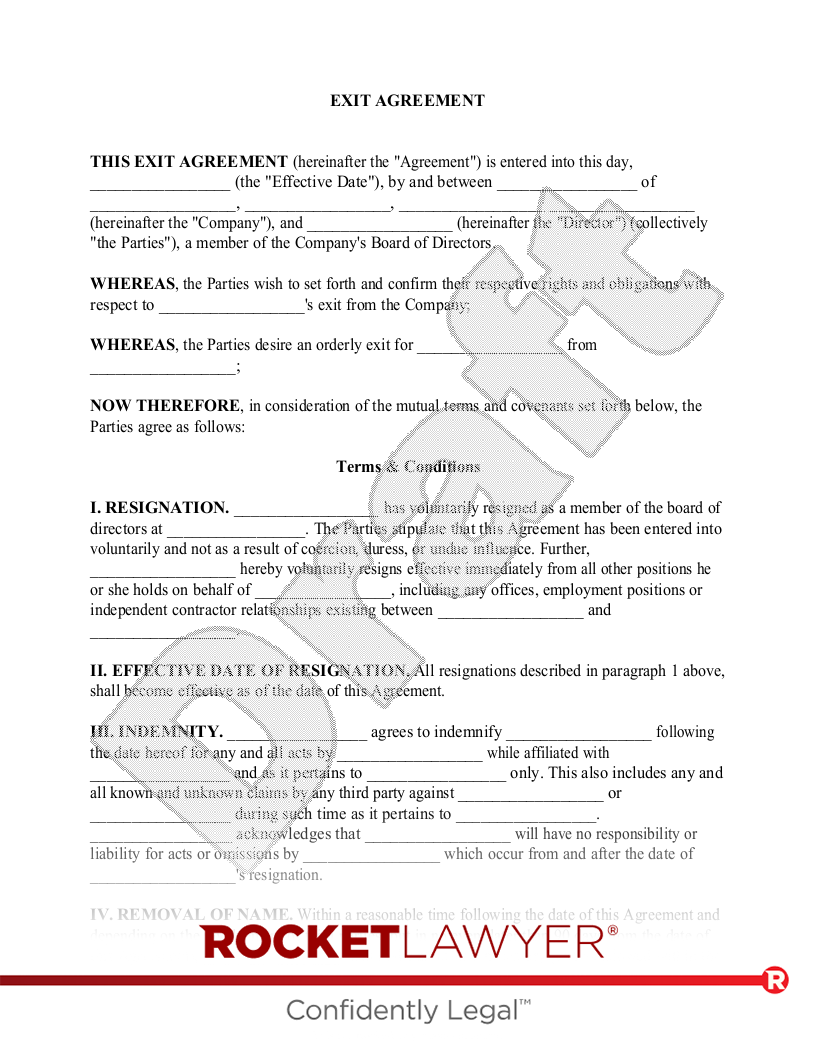 What is an Exit Agreement?
When a board member resigns and leaves on good terms from a company, there still can be many financial, legal, and reputational issues to consider. This is especially true if the governing documents of the company aren't really clear on what happens when a board member leaves the board of directors. An Exit Agreement can help with this process by sorting out complicated issues that may arise while easing the transition for both the departing member and the company that he or she is leaving.

This easy to create Exit Agreement turns a potentially challenging situation into something manageable. The agreement lays out any remaining obligations the parties may have to each other while making sure that the professional reputations of the departing member and the company remain intact. This agreement also lays out the dates and terms of the board member's resignation and includes confidentiality provisions that help protect both parties.
When to use an Exit Agreement:
You want to create a concise exit agreement when a board member leaves the corporation.
You want to make sure that both parties are clear about any further obligations.
You want to get on record that the departing board member is leaving the company voluntarily and on good terms.
Sample Exit Agreement
The terms in your document will update based on the information you provide
This document has been customized over 13.4K times
Legally binding and enforceable
Ask a lawyer questions about your document
Sign this document online for free with RocketSign®
EXIT AGREEMENT
THIS EXIT AGREEMENT (hereinafter the "Agreement") is entered into this day, (the "Effective Date"), by and between of , , (hereinafter the "Company"), and (hereinafter the "Director") (collectively "the Parties"), a member of the Company's Board of Directors.
WHEREAS, the Parties wish to set forth and confirm their respective rights and obligations with respect to 's exit from the Company;
WHEREAS, the Parties desire an orderly exit for from ;
NOW THEREFORE, in consideration of the mutual terms and covenants set forth below, the Parties agree as follows:
Terms & Conditions
. RESIGNATION. has voluntarily resigned as a member of the board of directors at . The Parties stipulate that this Agreement has been entered into voluntarily and not as a result of coercion, duress, or undue influence. Further, hereby voluntarily resigns effective immediately from all other positions he or she holds on behalf of , including any offices, employment positions or independent contractor relationships existing between and .
. EFFECTIVE DATE OF RESIGNATION. All resignations described in paragraph 1 above, shall become effective as of the date of this Agreement.
. INDEMNITY. agrees to indemnify following the date hereof for any and all acts by while affiliated with and as it pertains to only. This also includes any and all known and unknown claims by any third party against or during such time as it pertains to . acknowledges that will have no responsibility or liability for acts or omissions by which occur from and after the date of 's resignation.
. FURTHER OBLIGATIONS. Additionally, will need to perform the following actions upon or after leaving the company:
. REMOVAL OF NAME. Within a reasonable time following the date of this Agreement and depending on the involvement of third parties (but in no event later than 90 days from the date of this Agreement), shall make all efforts necessary (and as allowed within the terms of the agreements with third parties) to remove from all company contracts, liabilities and statements, bank account(s), merchant account(s), corporate documents, and any other contracts bearing 's name. Notwithstanding the foregoing, agrees that any renewals of such agreements shall not have named in the agreement.
. CONFIDENTIALITY AND RETURN OF PROPERTY. understands and agrees that all company property must be returned to on or before the Effective Date. By signing this Exit Agreement, represents and warrants that he or she has returned to on or before the Effective Date, all company property, data and information belonging to and agrees that will not use or disclose to others any confidential or proprietary information of the company.
. DISPUTE RESOLUTION AND ARBITRATION. and agree that, if a dispute arises concerning or relating to this Agreement, the dispute shall be submitted to binding arbitration under the rules of the American Arbitration Association (AAA), or a similar dispute resolution service, then in effect. The arbitration shall take place in and both Director and Company agree to submit to the jurisdiction of the arbitrator selected in accordance with AAA, or similar dispute resolution service, rules and procedures. The Parties agree that the arbitrator's award shall be final and binding on both parties, and non-appealable. The arbitrator shall have discretion to award monetary and other damages, or to award no damages, and to fashion any other relief the arbitrator deems appropriate. The arbitrator shall have discretion to award the prevailing party reasonable costs and attorney's fees incurred in bringing or defending an action under this paragraph.
. ATTORNEY'S FEES. If any legal proceeding is necessary to enforce or interpret the terms of this Agreement, or to recover damages for breach of this Agreement, the prevailing party shall be entitled to reasonable attorney's fees, as well as costs and disbursements, in addition to any other relief to which the prevailing party may be entitled.
. SEVERABILITY. If any term, provision, or part of this Agreement is found by a court to be invalid, illegal, or incapable of being enforced by any rule of law or public policy, all other terms, provisions, and parts of this Agreement shall nevertheless remain in full force and effect as long as the economic or legal substance of the transactions contemplated hereby is not affected in any manner materially adverse to any party. On such determination that any term, provision, or part of this Agreement is invalid, illegal or incapable of being enforced, this Agreement shall be deemed to be modified so as to effect the Parties' original intent as closely as possible to the end that the transactions contemplated by this Agreement and the terms and provisions of this Agreement are fulfilled to the greatest extent possible.
. ENTIRE AGREEMENT. This document constitutes the final, complete, and exclusive embodiment of the entire agreement and understanding between the Parties related to the subject matter of the Agreement and supersedes and preempts any prior or contemporaneous understandings, agreements, or representations by or between the Parties, written or oral.
. SIGNATORIES. This Agreement shall be signed by and , on behalf of and shall be effective as of the date first above written.
IN WITNESS WHEREOF, the Parties now execute this Agreement, to be effective on the date first stated in this Agreement.
ACCEPTED AND AGREED:
DIRECTOR:
COMPANY:
, on behalf of