MAKE YOUR FREE

Stock Certificate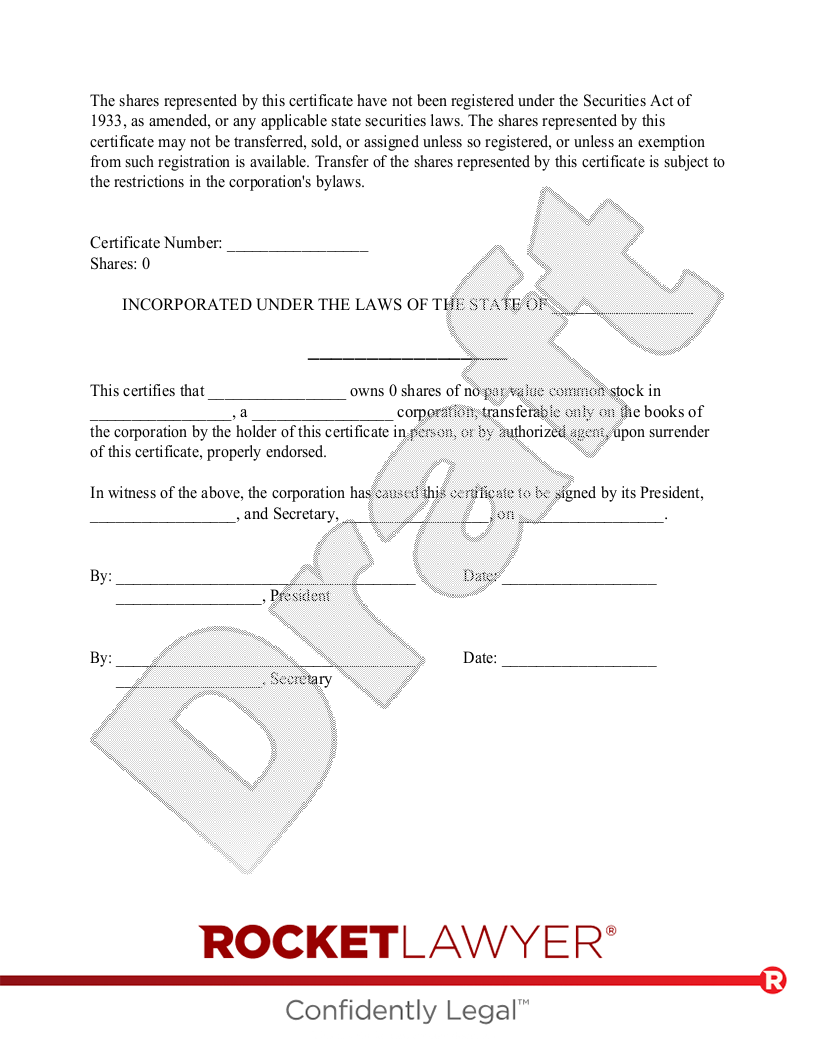 What is a Stock Certificate?
A stock certificate serves as physical proof that the certificate holder owns shares in a company. Stock holdings are usually tracked using digital technologies, but you are still required to issue a paper share certificate if your investor requests it.
When to use a Stock Certificate:
You want to give a stockholder proof of purchase of stock.
You want to give new stockholders evidence of their ownership of stock shares that were issued by a newly-formed corporation.
You want to give a stockholder evidence of ownership of stock shares that were transferred to the stockholder from a former stockholder.
Sample Stock Certificate
The terms in your document will update based on the information you provide
This document has been customized over 163.1K times
Legally binding and enforceable
Ask a lawyer questions about your document
Sign this document online for free with RocketSign®
The shares represented by this certificate have not been registered under the Securities Act of 1933, as amended, or any applicable state securities laws. The shares represented by this certificate may not be transferred, sold, or assigned unless so registered, or unless an exemption from such registration is available. Transfer of the shares represented by this certificate is subject to the restrictions in the corporation's bylaws and the Texas Business Organizations Code.
Certificate Number:
Shares:
INCORPORATED UNDER THE LAWS OF THE STATE OF COMMONWEALTH OF
This certifies that and , as joint tenants with rights of survivorship, , as tenants in common, , as community property, owns shares of own shares of no par value par value common preferred stock in , a corporation, an corporation, transferable only on the books of the corporation by the holder of this certificate in person, or by authorized agent, upon surrender of this certificate, properly endorsed.
In witness of the above, the corporation has caused this certificate to be signed by its President, , and Secretary, , and to be sealed with the seal of the corporation on .
______________________________________________________________________________
Transfer Section
For value received, I, , we, and transfer to _______________________ the shares represented by this certificate, and instruct the corporate Secretary to record this transfer on the books of the corporation. Transfer restrictions, if any, are shown above.
Dated this _____ day of ____________, _______.
_______________________________
Stock Certificate Checklist
Make It Legal™
Find out next steps for your document
___Sign this document. This document needs to be signed by:
The Stock Certificate can be signed online. It becomes effective as of the date specified in the Stock Certificate.
___Store and share your copy. The stockholder(s) named in the document should receive one copy of the signed Stock Certificate. If you sign this document online a copy will be securely stored in your account. You can share your document from your account.
Important Details
The details of the Stock Certificate should be recorded in the corporate "stock transfer ledger."
After the Stock Certificate is signed (and sealed), the certificate should be delivered to the named owner(s).
The transfer section on the bottom of the Stock Certificate should not be used at this time. It is available for use when the stock is sold or transferred by the stockholder(s).
Stock Certificate FAQs
How do you get a stock certificate?

Making a free Stock Certificate online is simple. Just answer a few questions, and Rocket Lawyer will build your document for you. Consider these questions beforehand to make the process speedier:

Does the stock have a par value?
What type of stock will be issued?
What is the stock certificate number?
Is the stock subject to transfer restrictions?

If you don't have all of the details you need, you can skip questions, and save your document for later.

Are stock certificates worth anything?

It depends on whether the company still exists. If the company does exist, then the next step would be to contact the transfer agent, the individual who will inform you of any changes in corporate ownership. If the company no longer exists, the certificate will most likely not be worth anything.

Can you still buy paper stock certificates?

Nowadays, many companies issue shares electronically, however you can get paper certificates if the corporation offers them. Contact your broker or a transfer agent to determine if paper stock certificates can be bought.