MAKE YOUR FREE

Maintenance Report Form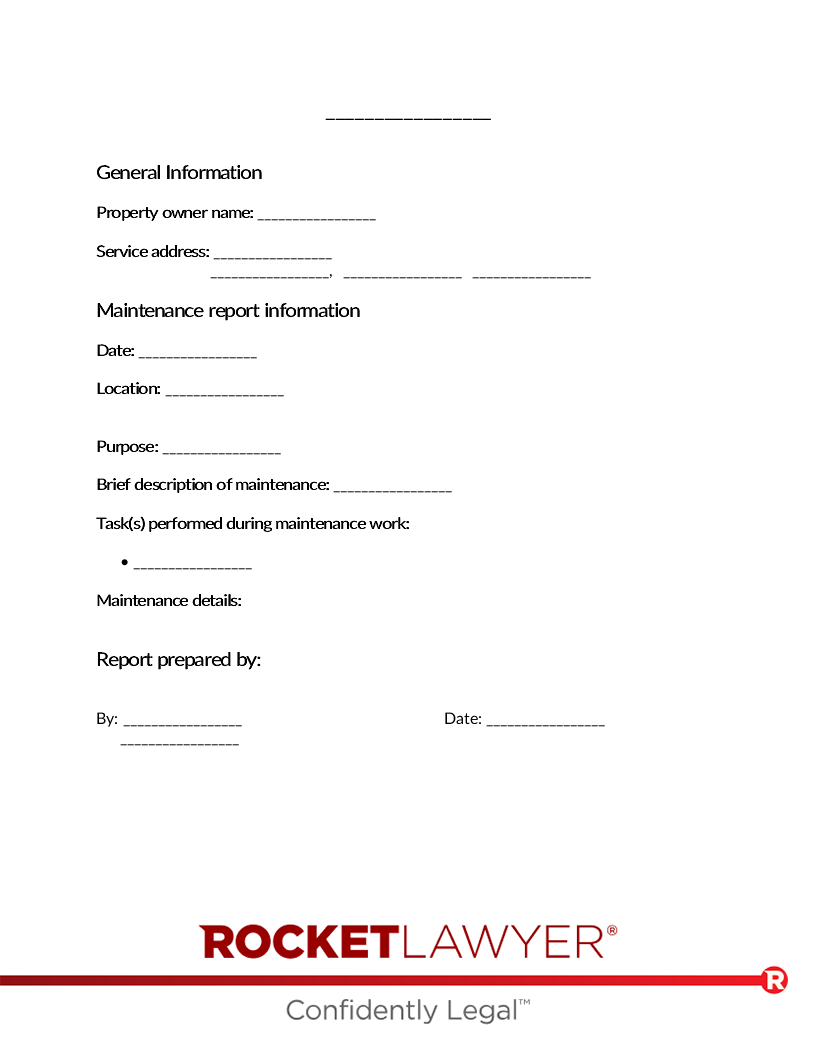 What is a Maintenance Report Form?
When maintenance or repair is needed, a Maintenance Report Form helps to document the details of the work performed. Typically used by a property manager or a maintenance provider, this document outlines what issue was reported, when it was addressed and by whom, and whether or not a repair or replacement was made.
Sample Maintenance Report Form
The terms in your document will update based on the information you provide
Rocket Lawyer members have customized over 93.5M documents

Documents and communicates
Ask a lawyer questions about your document
General Information
Property owner name:
Service address:
,
Maintenance report information
Date:
Location:
Purpose:
Brief description of maintenance:
Task(s) performed during maintenance work:
Maintenance details:
Report prepared by:
Maintenance Report Form FAQs
What is included in a Maintenance Report Form?

Maintenance Report Forms are relatively straightforward documents. They usually contain the following information:

The name of the organization or individual receiving and providing maintenance services

A description of the maintenance work being done

Any major complaints or repairs being made

When and where maintenance work was performed

How do I get a Maintenance Report Form?

Making a Maintenance Report Form with Rocket Lawyer is simple and easy. You will need to answer a few simple questions and the document builder will create a custom Maintenance Report Form for you. You should consider the following questions beforehand:

Who should the service provider contact for issues concerning maintenance?

What tasks were performed during the maintenance work?

If applicable, what replacements were made?

If you are missing any pieces of information, you may save the document and fill it in later.