MAKE YOUR FREE

Parking Space Lease
Other Names:
Parking Space Rental Agreement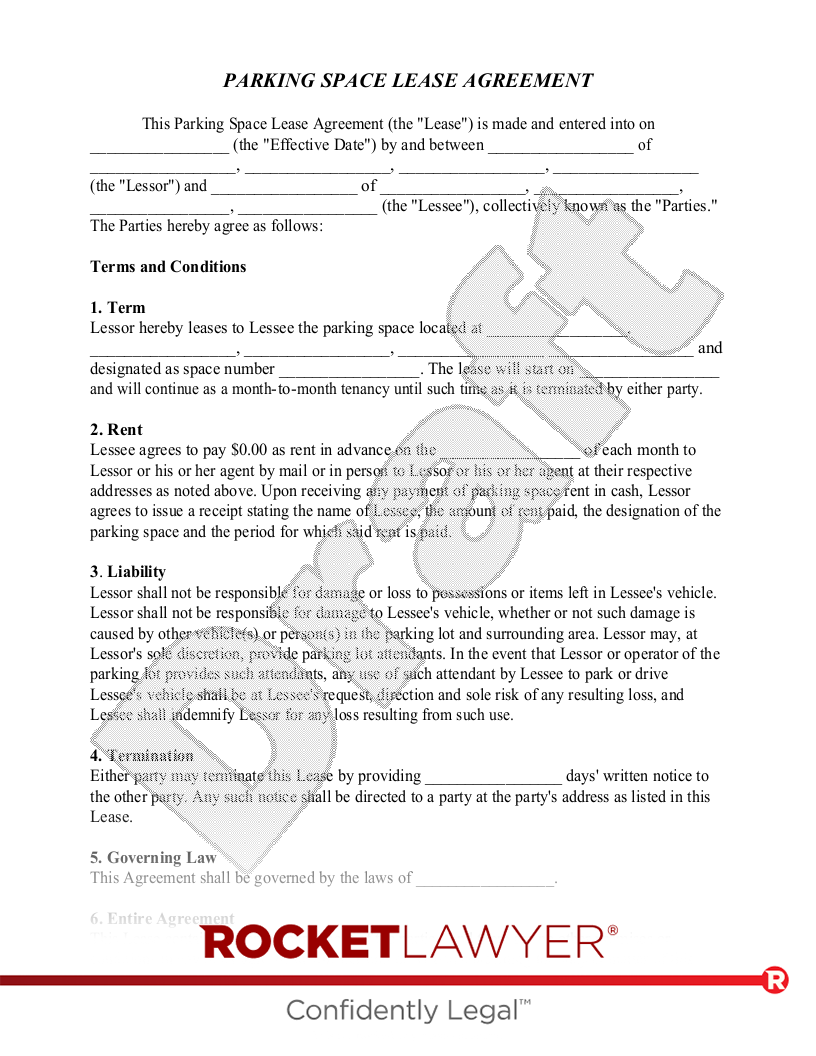 What is a Parking Space Lease?
Parking spaces can be profitable assets to lease. A Parking Space Lease Agreement can help you formalize agreements between you and your parking space renter. Renting a parking space is advantageous for both the parking spot owners and the renter. In urban areas, parking spots may be scarce and valuable. Perhaps you have extra parking spots available at your apartment building or rental property that you'd like to rent out separately. Either way, you can easily make a legal and professional Parking Space Lease Agreement using our template. When ready, you can click on "Make document" to take a closer look at the sample Parking Space Lease.
When to use a Parking Space Lease:
You want to lease to others your parking spaces.
You want to rent someone else's parking spot.
Sample Parking Space Lease
The terms in your document will update based on the information you provide
This document has been customized over 33.7K times
Legally binding and enforceable
Ask a lawyer questions about your document
Sign this document online for free with RocketSign®
PARKING SPACE LEASE AGREEMENT
This Parking Space Lease Agreement (the "Lease") is made and entered into on (the "Effective Date") by and between of , , , (the "Lessor") and of , , , (the "Lessee"), collectively known as the "Parties." The Parties hereby agree as follows:
Terms and Conditions
1. Term
Lessor hereby leases to Lessee the parking space located at , , , and designated as space number . The lease will start on and will continue as a month-to-month tenancy until such time as it is terminated by either party.
2. Rent
Lessee agrees to pay as rent in advance on the of each month to Lessor or his or her agent by mail or in person to Lessor or his or her agent at their respective addresses as noted above. Upon receiving any payment of parking space rent in cash, Lessor agrees to issue a receipt stating the name of Lessee, the amount of rent paid, the designation of the parking space and the period for which said rent is paid.
3. Liability
Lessor shall not be responsible for damage or loss to possessions or items left in Lessee's vehicle. Lessor shall not be responsible for damage to Lessee's vehicle, whether or not such damage is caused by other vehicle(s) or person(s) in the parking lot and surrounding area. Lessor may, at Lessor's sole discretion, provide parking lot attendants. In the event that Lessor or operator of the parking lot provides such attendants, any use of such attendant by Lessee to park or drive Lessee's vehicle shall be at Lessee's request, direction and sole risk of any resulting loss, and Lessee shall indemnify Lessor for any loss resulting from such use.
4. Termination
Either party may terminate this Lease by providing days' written notice to the other party. Any such notice shall be directed to a party at the party's address as listed in this Lease.
5. Governing Law
This Agreement shall be governed by the laws of the .
6. Entire Agreement
This Lease contains the entire agreement of the parties, and there are no other promises or conditions in any other agreement whether oral or written concerning the subject matter of this Lease. This Lease supersedes any prior written or oral agreements between the parties.
7. Severability
If any provision of this Lease will be held to be invalid or unenforceable for any reason, the remaining provisions will continue to be valid and enforceable. If a court finds that any provision of this Lease is invalid or unenforceable, but that by limiting such provision it would become valid and enforceable, then such provision will be deemed to be written, construed, and enforced as so limited.
8. Amendment
This Lease may be modified or amended in writing, if the writing is signed by the party obligated under the amendment.
9. Waiver of Contractual Rights
The failure of either party to enforce any provision of this Lease shall not be construed as a waiver or limitation of that party's right to subsequently enforce and compel strict compliance with every provision of this Lease.
10. Assignment
Neither party may assign or transfer this Lease without the prior written consent of the non-assigning party, which approval shall not be unreasonably withheld.
Final Checklist for Parking Space Lease Agreement
Rocket Lawyer is the easy and affordable legal service for everyone -- giving you the legal help you need at a price you'll love. Our legal plans give families and businesses free legal documents, affordable access to licensed attorneys, plus a whole lot more.
Next Steps: Make it Legal
_____
Look over the Parking Space Lease to ensure it matches your intentions. If you'd like to make changes, you can download this document in Microsoft Word, or you can make edits using the Document Manager on Rocketlawyer.com.
_____
You can use Rocket Lawyer's e-signature service to electronically have each party sign the document. Or, have both parties sign and date duplicate hard copies of the Parking Space Lease.
_____ Deliver a copy of the Parking Space Lease to the other Party.
Copies
_____
Keep a copy of all documents for your own records and in case there is a problem.
_____
Each Party should receive an original signed copy of the Parking Space Lease. Your copy should be kept in a safe place. If you signed a paper copy of your document, you can use Rocket Lawyer to store and share it. Safe and secure in your Rocket Lawyer account, you can access it any time from any computer, as well as share it for future reference.
Members can always consult an attorney at no extra cost!
*
If you have quick questions or wish to review this document with an attorney, you can do so for free. Rocket Lawyer's On Call® service makes it fast and easy to speak with a local attorney. Get started by visiting the Find a Lawyer tab on our site, or calling (866) 243-2183.
Parking Space Lease FAQs
Is my Parking Space Rental Agreement legally binding under local law?

As with any other contract, Parking Space Leases will not be legally binding until they are signed by all parties. Unlike a Parking Space Lease template or blank PDF file that you may download elsewhere, your rental contract comes with the option of Document Defense®, so an Rocket Lawyer network attorney can assess the situation and take action if you need to demand payment or have another issue.

What is included in a Parking Space Lease Agreement?

Parking Rental Agreements are generally simple documents. It doesn't include as many details as a standard residential lease agreement. Most contracts include:

Contact information

Name, address and phone numbers for both parties.

Location of parking space

Specific location details, such as the main address and stall number. You could include GPS information, as well. If there are instructions, such as which gates to enter or directions on how to open and close the gate, you could include that information here.

Terms

When the rental agreement begins and how long it will last. It could be long-term, such as a year, or month-to-month. You could even stipulate the times the parking spots is available, such as Monday through Friday, 8:30 am to 6:00 pm PT.

Rent

How much the rent will be and when it is due. Include information about late fees and grace periods. Also, instructions on how the rent is to be paid. You could also add how long the rent will remain at that rate.

Description of vehicle

You may limit which vehicle can use the space and collect information such as license plate numbers. If they can park different vehicles, you could provide a placard or a dashboard note to identify that it is okay for the car to park there.

Limitations

You can set your own rules, such as no overnight parking or no sleeping in vehicles. You can also say that they are not allowed to share their parking spot with others without your permission. You can add that cars must be registered, insured and in working order (no oil leaks, for example).

Liability

This section explains what security you provide as well as what you are not liable for, such as items stolen from the vehicle, damage to the car or accidents that occur in the parking lot.

Termination

Actions that could terminate the contract such as nonpayment or violation of the agreement.

What does it typically cost for a lawyer to create a Parking Space Lease?

The cost of meeting and hiring the average lawyer could total a few hundred dollars or thousands. If you have decided to draft your free document with Rocket Lawyer, you can take in these instructions. Once you have created your contract, you may also find it helpful to submit it for review by a lawyer in our nationwide network of attorneys.

Can my Parking Space Rental Agreement be checked out by an attorney?

Having a professional double-check your agreement can take a lot of time if you try to do it on your own. An easier approach worth consideration is to get help via attorney services at Rocket Lawyer . Rocket Lawyer members have the ability to request a contract review from an Rocket Lawyer network attorney with relevant experience or ask additional questions. When it comes to managing your rentals, you can Work Confidently® knowing that Rocket Lawyer is here by your side.

Will there be any next steps that I should take once I make a Parking Space Lease?

Attached to each Parking Space Lease, there's a checklist of suggested steps you can take to finalize your document. You are encouraged to take any of the following actions related to your contract: editing it, adding electronic signatures with RocketSign®, printing it, and downloading it. Most importantly, you should ensure that the car owner has copies of your final agreement. Also, feel free to take a look at our larger collection of additional contracts and documents .

Can I rent out my driveway?

If you own the property, likely. If you are renting or part of a homeowners association, there may be rules against it. Conversely, if you are a renter and do not have a parking agreement included with your lease, it may be possible for your landlord to rent out what you thought was your parking space.

Do I need a permit to rent my parking spaces?

Some areas require a parking permit to rent parking spots, especially during special events such as parades, festivals, sport events or concerts. To take advantage of opportunities like this, you'll want to find out what your local requirements are well in advance of the event.

How much rent can I collect for a parking space?

Like most real estate, it varies by location and demand. In small cities or rural areas, a suitable monthly rate may be $50 per month. In urban areas such as NYC or DC, monthly rents often reach into the hundreds. Event parking can range from $5 to $30 for a limited duration.

Can I have a vehicle towed from my property?

Yes, you can. However, it is best to spell out in your lease agreement the events that could cause their car or truck to be towed. You'll also want to include information about who is liable for that expense. In most areas, all you must do is show the lease agreement to the towing company to provide permission for the tow. You might also include contact information for the towing company in your agreement. If your parking lot looks like public parking, you'll want to consider installing signage indicating that it is private parking only.