MAKE YOUR FREE

Billboard Lease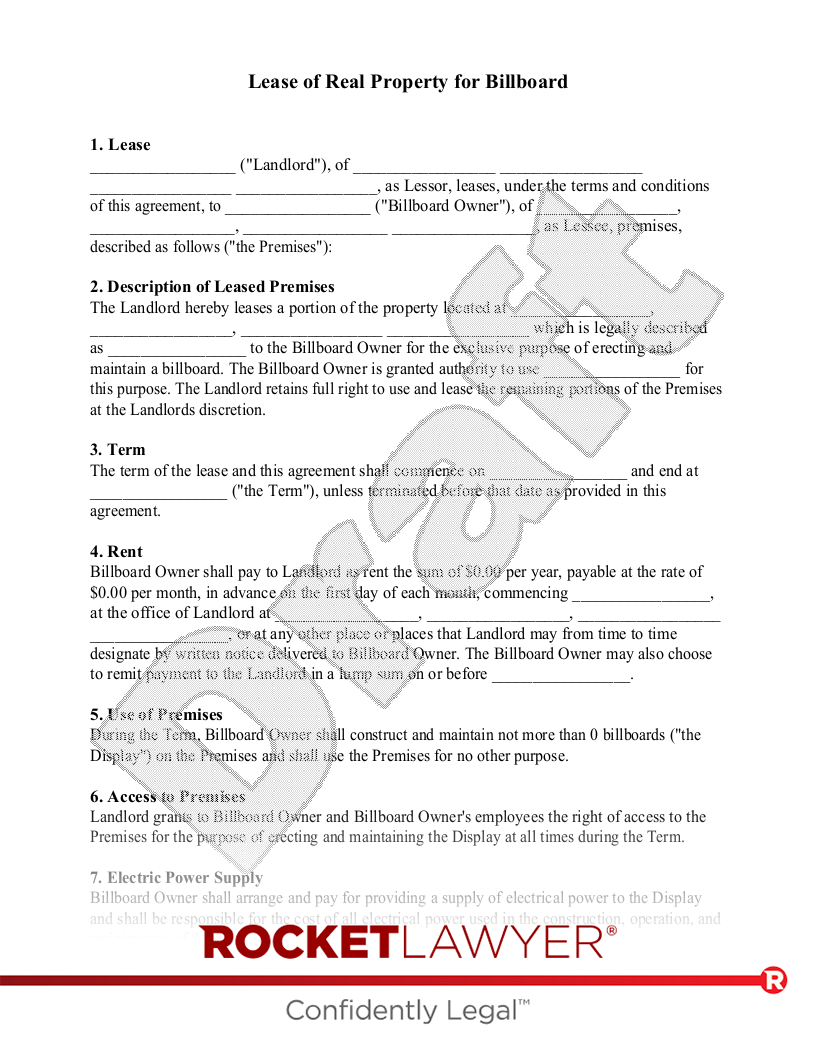 What is a Billboard Lease?
As a billboard owner, you can make Billboard Leases in order to protect yourself when you are planning to rent out your property. When drafted correctly, this legal agreement may limit disagreements by ensuring that there is a mutual understanding between the parties. You can tap or click on the "Make document" button to take a closer look at our sample Billboard Lease and see what information you'll need to create your document.
When to use a Billboard Lease:
You own certain real estate property and would like to earn income through leasing out the premises to billboard owners for advertising purpose.
You would like permission to place a billboard on real property owned by another individual.
Sample Billboard Lease
The terms in your document will update based on the information you provide
This document has been customized over 12.6K times
Legally binding and enforceable
Ask a lawyer questions about your document
Sign this document online for free with RocketSign®
Lease of Real Property for Billboard
1. Lease
("Landlord"), of , as Lessor, leases, under the terms and conditions of this agreement, to ("Billboard Owner"), of , , , as Lessee, premises, described as follows ("the Premises"):
2. Description of Leased Premises
The Landlord hereby leases a portion of the property located at , , which is legally described as to the Billboard Owner for the exclusive purpose of erecting and maintain a billboard. The Billboard Owner is granted authority to use for this purpose. The Landlord retains full right to use and lease the remaining portions of the Premises at the Landlords discretion.
3. Term
The term of the lease and this agreement shall commence on and end at ("the Term"), unless terminated before that date as provided in this agreement.
4. Rent
Billboard Owner shall pay to Landlord as rent the sum of per year, payable at the rate of per month, in advance on the first day of each month, commencing , at the office of Landlord at , , , or at any other place or places that Landlord may from time to time designate by written notice delivered to Billboard Owner. The Billboard Owner may also choose to remit payment to the Landlord in a lump sum on or before .
5. Use of Premises
During the Term, Billboard Owner shall construct and maintain not more than billboards ("the Display") on the Premises and shall use the Premises for no other purpose.
6. Access to Premises
Landlord grants to Billboard Owner and Billboard Owner's employees the right of access to the Premises for the purpose of erecting and maintaining the Display at all times during the Term.
7. Electric Power Supply
Billboard Owner shall arrange and pay for providing a supply of electrical power to the Display and shall be responsible for the cost of all electrical power used in the construction, operation, and maintenance of the Display.
8. Maintenance of Display
Billboard Owner, at its own cost and expense, shall keep and maintain the Display and all facilities appurtenant to the Display in good order and repair and in as safe, clean, and attractive a condition as when erected, and shall promptly repair any damage to the Display as a result of graffiti, vandalism, storms and weather, or other causes. If Billboard Owner fails to do so for any period of or more after receipt from Landlord of a notice to maintain the Display, then Landlord shall have the option to repair the Display and recoup the cost from Billboard Owner or to demolish and remove the Display at Billboard Owner's expense.
9. Government Requirements
Billboard Owner, at Billboard Owner's own cost and expense, shall comply with all statutes, ordinances, regulations, and requirements of all governmental entities, whether federal, state, county, or local, relating to Billboard Owner's use of the Premises, whether those statutes, ordinances, regulations, or requirements are now in force or are yet to be enacted. The judgment of any court of competent jurisdiction, or the admission by Billboard Owner in a proceeding brought against Billboard Owner by any government entity, that Billboard Owner has violated any such statute, ordinance, regulation, or requirement shall be conclusive as between Landlord and Billboard Owner and shall be ground for termination of this agreement by Landlord.
10. Taxes
Billboard Owner shall be responsible for and shall pay all taxes, federal, state, or local, imposed on account of the Display.
11. Maintenance of Premises
Billboard Owner accepts the Premises in present condition and acknowledges that the condition is satisfactory as of the date of this agreement. Billboard Owner shall maintain the Premises in the same condition (or better condition, at Landlord's option, from time to time) and shall make no alterations without the express prior written consent of Landlord.
12. Ownership of Display
The Display shall remain the personal property of Billboard Owner, shall not be considered for any purpose whatsoever to be a fixture on the Premises, and shall be removed by Billboard Owner, leaving no evidence that the Display ever was on the Premises, on termination of this agreement.
13. Indemnity and Insurance
Billboard Owner shall indemnify and hold Landlord and the Premises free and harmless from any and all claims, liability, loss, damage, or expense resulting from Billboard Owner's use of the Premises. Billboard Owner, at its own cost and expense, shall maintain during the Term, the following insurance policies, issued by an insurer or insurers approved by Landlord in at least the minimum amount required by State law (a) A broad form comprehensive coverage policy of public liability insurance insuring Landlord against loss or liability caused by or connected with Billboard Owner's use of the Premises, for personal injury and for property damage; and (b) A policy of fire insurance insuring Landlord against damage or destruction by fire caused by or connected with Billboard Owner's use of the Premises.
14. Option to Renew
Billboard Owner shall have an option to renew this agreement. Billboard Owner shall exercise that option by giving Landlord written notice of intention to do so not less than six months before the end of the Term.
15. Termination by Landlord
Landlord shall have the right to terminate this agreement by giving Billboard Owner notice in writing and reentering and regaining possession of the Premises in the manner provided by law if Billboard Owner breaches any of the covenants, conditions, or promises contained in this agreement. If Billboard Owner breaches this agreement or abandons the Premises before the expiration of the Term, Landlord in addition to terminating this agreement, may recover from Billboard Owner, any unpaid rent due at the time of termination and any other amount necessary to compensate Landlord for all detriment proximately caused by Billboard Owner's breach. The waiver by Landlord of any breach by Billboard Owner shall not constitute a continuing waiver or a waiver of any subsequent breach of the same or another provision of this agreement.
16. Termination by Billboard Owner
Billboard Owner shall have the right to terminate this agreement by giving Landlord days notice in writing in the event that any covenant or restriction or any statute, ordinance, regulation, or requirements of any governmental entity, whether federal, state, county, or local, relating to Billboard Owner's use of the Premises shall prohibit, limit, or restrict Billboard Owner's use of the Premises as contemplated by this agreement.
17. Notices
All notices required by this agreement or to be given pursuant to this agreement shall be in writing and either personally served on the other party or delivered to the other party at the address given for that party on the signature page of this agreement.
18. Time of Essence
Time is of the essence of this agreement.
19. Governing Law
This lease and agreement shall be construed according to, and the rights of the parties shall be governed by, the law of the .
20. Attorneys' Fees
If any legal action is necessary to enforce the terms of this agreement, the prevailing party shall be entitled to reasonable attorneys' fees in addition to any other relief to which that party may be entitled.
21. Entire Agreement
This writing sets forth the entire agreement between the parties with regard to the subject matter. No other agreements, representations, or warranties have been made by either party to the other with respect to the subject matter.
22. Severability
Any provision of this agreement found or deemed by a court of competent jurisdiction to be invalid or unenforceable shall be considered severable from the remainder of this agreement and shall not cause the invalidity or unenforceability of the remainder of this agreement.
23. Amendment
This agreement may be amended only by a written agreement signed by both parties.
IN WITNESS WHEREOF, the parties have executed and delivered this Agreement as of the date first above written.
LANDLORD
BILLBOARD OWNER
Billboard Lease FAQs
Is this Billboard Rental Agreement legally binding?

As with any legal agreement, a Billboard Rental Agreement will not be legally binding until it is signed. Different from the other websites that you may stumble upon, Rocket Lawyer offers much more than any run-of-the-mill Billboard Lease template or fillable PDF that you could obtain elsewhere. In the event of nonpayment or another issue related to your Billboard Rental Agreement, your membership offers the optional benefit of Document Defense® support from an attorney.

What if I choose not to create a Billboard Rental Agreement?

Regardless of who your renters are, it is always recommended that you have them sign a Billboard Lease. These benefits might help to inform your decision to use one:

Payment requirements are clearly defined
Roles and responsibilities are understood by all
Neither party is surprised by how long the rental period lasts

Any billboard owner deciding against using this document ought to expect some issues, including the inability to meet payment dates and unexpected changes to the arrangement.

How is a Billboard Lease template commonly organized?

The basic details that you should plan to include in your Billboard Lease are listed below:

A description of your property
The lessee's contact information
How long the rental will last
What fees will be charged and when they are due

Your Billboard Lease should also contain guidelines about access to the property, electrical power supply, and maintenance of the billboard. Additional modifications are possible, if necessary.

Where can I prepare a custom Billboard Rental Agreement online?

To create a free Billboard Lease online with Rocket Lawyer, you can get started by clicking the button that says "Make document." You will then answer several questions about your situation to build your custom contract. You can also consider sending your document for legal review by a lawyer in our nationwide network of attorneys. This method is often much less expensive and less time-consuming than finding and hiring the average provider, whose fees might total several hundred dollars or thousands, depending on the level of complexity.

Will I need to do anything else after I have drafted a Billboard Lease?

Attached to each Billboard Lease, there is a set of directions that you will need to finalize your document. You should feel free to try any of the following actions with your document: editing it, saving it in PDF format or as a Word document, printing it, and getting signatures with RocketSign®. Finally, you should ensure that everyone has a copy of the final contract. You should also feel free to explore more contracts and documents in our library.

How can I have my Billboard Lease looked at by a professional?

Depending on whom you contact, some lawyers may not even accept requests to review your rental contract if they didn't work on it. An easier approach would be through the On Call network . When you become a Premium member, you will be able to ask for feedback from an Rocket Lawyer network attorney with relevant experience or pose other questions about your Billboard Rental Agreement. As always, we're here for you.