Reviewed by Rocket Lawyer On Call Attorney Noah Davis, Esq.
Letter of Intent Overview:
When you're negotiating a business deal and the negotiation is getting serious, use a Letter of Intent. It helps protect everyone's rights and responsibilities, as well as solidifying the relationship between both parties. You'll want to get the letter in writing before the final negotiations, so that both parties know what to expect.
Use a Letter of Intent if:
You are ready to enter serious negotiations for the sale or purchase of a whole or part of a company or corporation and you would like to define your intentions formally in writing.
You are negotiating the purchase of a company or interest in a company and want to exclude the seller from negotiating with another party.
---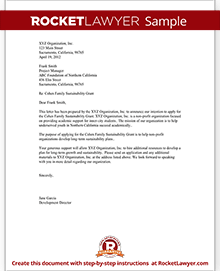 View Sample
Sample Letter of Intent
More than just a template, our step-by-step interview process makes it easy to create a Letter of Intent.
Save, sign, print, and download your document when you are done.

Sample Letter of Intent
Our step-by-step interview process makes creating a printable Letter of Intent easy.
Make Document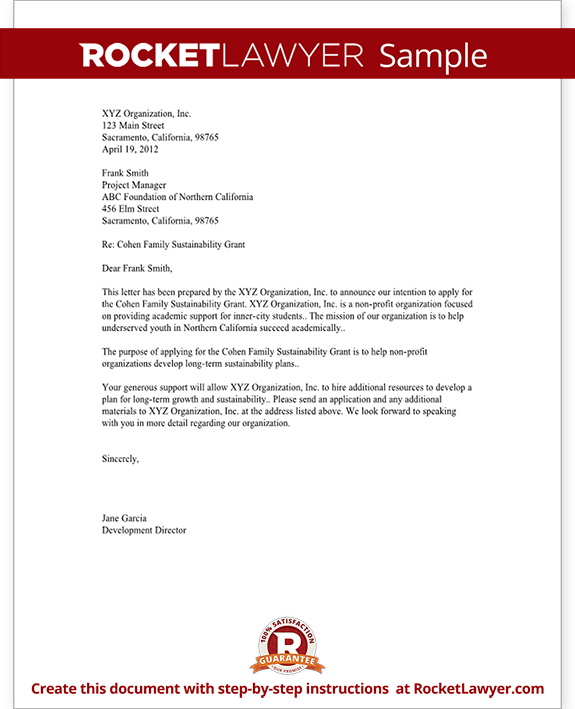 ---
Other Names for a Letter of Intent:
Intent Letter, Plan to Purchase Letter, Purchasing Letter, Letter of Intent to Purchase Business
Letter of Intent basics:
A Letter of Intent is used to outline the intentions of two individuals or companies entering into a business agreement. Whether you're buying or selling a company or interest in a corporation, a Letter of Intent shows that you and the other party are ready to reach a final transaction agreement. While it's not a binding contract, a Letter of Intent can give you some measure of assurance that the deal will go through, and it can even be used to secure exclusive negotiation rights. Typically a Letter of Intent includes details like: the company or interest that's being purchased or transferred; the name of the buyer(s) and the seller(s); the expiration date; the terms of payment; the state whose laws will govern the agreement; and whether there's an exclusive negotiations rights clause. You'll also be able to include special warranties like employee guarantees or other special clauses. We'll help you make the best document for your business deal.
What you'll need to complete your Letter of Intent:
There are a few key parts of a Letter of Intent that make it different from most other business documents. And, since a Letter of Intent is most often used to transfer part (or all) of a company or corporation to a buyer (be that an individual or another business entity), understanding those details is very, very important. We'll explain the main components of this document below, but it's highly recommend you speak with a business attorney so you can make sure your Letter of Intent is on the level.
Buyer and Seller: The most straightforward part of this letter are the buyer and seller portions. Simply enter the pertinent names, addresses, phone numbers, and other important details of the intended buyer and presumptive seller.
Governing State Law: Many times, a buyer and seller will live in the same state, if not the same town. But that's not always the case. You may be purchasing a portion of a hot new startup in Nebraska from your office in Silicon Valley. In that case, you'll want to figure out what law governs the sale you'll be participating in. Make sure you know where the company was incorporated, as this can make a big difference in the details and what exactly is legal in your unique transaction.
Exclusive negotiation rights: Since a Letter of Intent isn't a sale in and of itself, including an exclusive negotiation rights clause is often a great idea. This allows the buyer and seller to set a time frame during which they will only be negotiating with each other. That way, if new information comes to light that makes the company more or less valuable, bids can be changed without the fear of a new buyer swooping in and over- or under-bidding.
Special warranties: The most common special warranty is what's known as an "employee rights clause." If you include that in your Letter of Intent, it means that the buyer won't simply purchase the company (or part of the company) and start laying off employees. It means, basically, that the current employees of a company can rest assured that their jobs aren't simply being eliminated because the owner of the company they work for needed (or wanted) to sell. This clause allows the seller to know that their employees won't be tossed aside after their hard work and shows the employee that the buyer will have their best interests in mind.
If you're strongly intending to purchase or sell part or all of a company, a Letter of Intent is a smart way to move the process along. It's not a sale document itself, but it's often the penultimate step. Create yours with our step-by-step interview and don't hesitate to contact an attorney to look it over. This could be the most important business transaction of your life. Be diligent and thorough by starting with a Letter of Intent.
Other documents for you and your business:
If you're using a Letter of Intent, chances are you might need one of the following:
If you have any questions about what's right for you and your business, we can connect you with a lawyer for quick answers or a document review.