MAKE YOUR FREE

Business Credit Application
Other Names:
Small Business Credit Application
Business Credit Application Form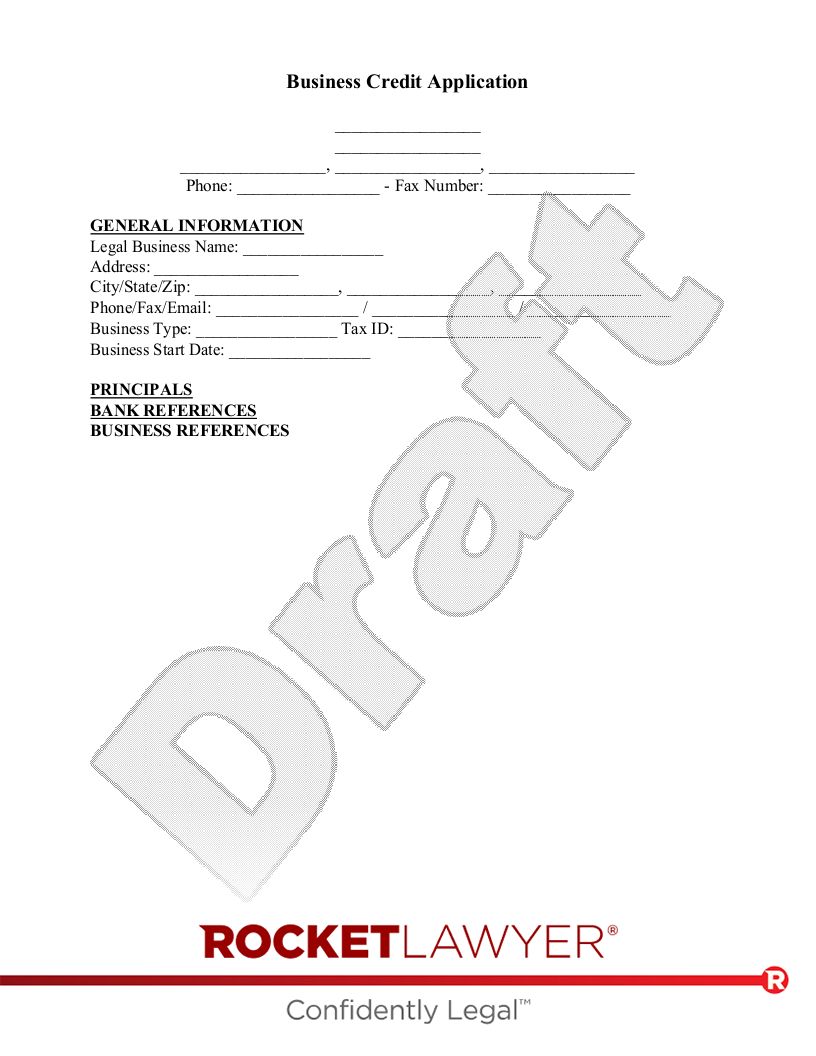 What is a Business Credit Application?
If you're seeking new capital for your business you'll probably need a Business Credit Application to make it happen. Or perhaps you're thinking about lending to a business owner. It could be prudent to check their references, background, and credit history first. A Business Credit Application can help you get, and organize, all that information.

Nobody wants to dwell on the possibility of debt collection - especially if it's not even on the horizon. A Business Credit Application can help you prepare for the worst. What if you lend money to a small business and they don't repay the loan? Having the details already laid out can make collection easier. What if you're the one who needs credit? After all, it can be difficult for a small business to expand and thrive on personal capital alone. A Business Credit Application helps gather your information into one document so both the creditor and applicant can make an informed decision.
When to use a Business Credit Application:
You're a business owner who wants to apply for credit.
You're considering lending credit to a business owner.
You regularly lend credit to businesses, but want to update your client profiles.
Sample Business Credit Application
The terms in your document will update based on the information you provide
This document has been customized over 23K times
Ask a lawyer questions about your document
Business Credit Application
, ,
Phone: - Fax Number:
GENERAL INFORMATION
Legal Business Name:
Address:
City/State/Zip: , ,
Phone/Fax/Email: / /
Business Start Date:
Name:
Title:
Address:
City/State/Zip: , ,
Phone/Fax: /
Email:
Name:
Address:
City/State: ,
Phone:
Account #:
Name:
Contact:
Address:
City/State: ,
Phone:
Amount of Credit Requested:
* I hereby certify that the information provided herein is complete and accurate. This information has been furnished with the understanding that it is confidential and is solely to be used to determine the amount and conditions of the credit to be extended. This signature hereby authorizes the lending institution to furnish with relevant credit information. By applying for the extension of credit and by executing this Business Credit Application and Agreement, Applicant also acknowledges and agrees to the terms and conditions stated on the following page.
Applicant Signature:
_______________________________
Date:
Applicant Name: Title:
Applicant Signature: _______________________________ Date:
PAYMENT AGREEMENT
This Payment Agreement (the "Agreement") is entered into as of by and between (hereafter "Creditor") and (hereafter "Applicant").
In consideration of the processing by Creditor of this application, and/or the extension of any credit to Applicant and/or the making of any sale to applicant subsequent to signing of this document by Applicant, Applicant agrees as follows:
1. Representation of Applicant. Applicant hereby represents and warrants to Creditor that the information provided in the Business Credit Application is true and accurate.
2. Payment Terms. Applicant shall make payment to Creditor in accordance with the terms of invoices submitted to Applicant by Creditor.
3. Late Payment. If Applicant fails to make any payment or payments when due, Applicant agrees to pay Creditor late charges at the rate of eighteen percent (18%) per annum on all past due, unpaid amounts. If for any reason the rate of eighteen percent (18%) is found to be unenforceable, Applicant agrees to pay Creditor late charges at the maximum rate then permitted by law. Applicant agrees to pay all costs of collection including legal expenses and reasonable attorney fees incurred by Creditor to collect any amounts due to Creditor from Applicant which are not paid on time.
4. Credit Limit. Creditor reserves the right to approve or refuse credit at Creditor's discretion. Also, Creditor may establish and advise Applicant of its credit limit if and when Creditor opens Applicant's account. Applicant may increase or decrease the credit limit at any time and without notice.
5. Notices. The Business Credit Application and Agreement shall continue in full force and effect until such time as one party shall receive from the other party (by personal delivery or by certified or registered mail) written notice of revocation and/or change of status. Such notice shall be delivered or sent to the party at its address listed on the Business Credit Application. Notice of Revocation and/or Change in Status shall not in any way relieve Applicant from liability for any indebtedness incurred prior to the actual receipt of such notice. Moreover, receipt by Creditor of a check or checks or correspondence showing a different name than the name on the account shall not constitute written notice of a change of status.
6. Jurisdiction. The parties hereby agree that they submit to the personal jurisdiction of any state district court in for any matters relating to this Agreement or with respect to goods purchased by Applicant from Creditor. The parties further agree that in the event a dispute or claim should arise, both Creditor and Applicant stipulate that such a claim shall be venued in the state district courts of .
7. Construction. This Agreement shall be construed on the rights and obligations of the parties hereunder and shall be governed by the laws of the State of .
8. Modification. This writing is intended as the entire Agreement between the parties and a complete and exclusive statement of the terms and conditions of their Agreement which will only be modified or rescinded as expressly provided for hereby or in writing signed by both parties.