MAKE YOUR FREE

Missouri Living Will
Other Names:
Missouri Advance Directive
Missouri Advance Healthcare Directive
Missouri Medical Directive
Missouri Advance Medical Directive
Missouri Advance Health Care Directive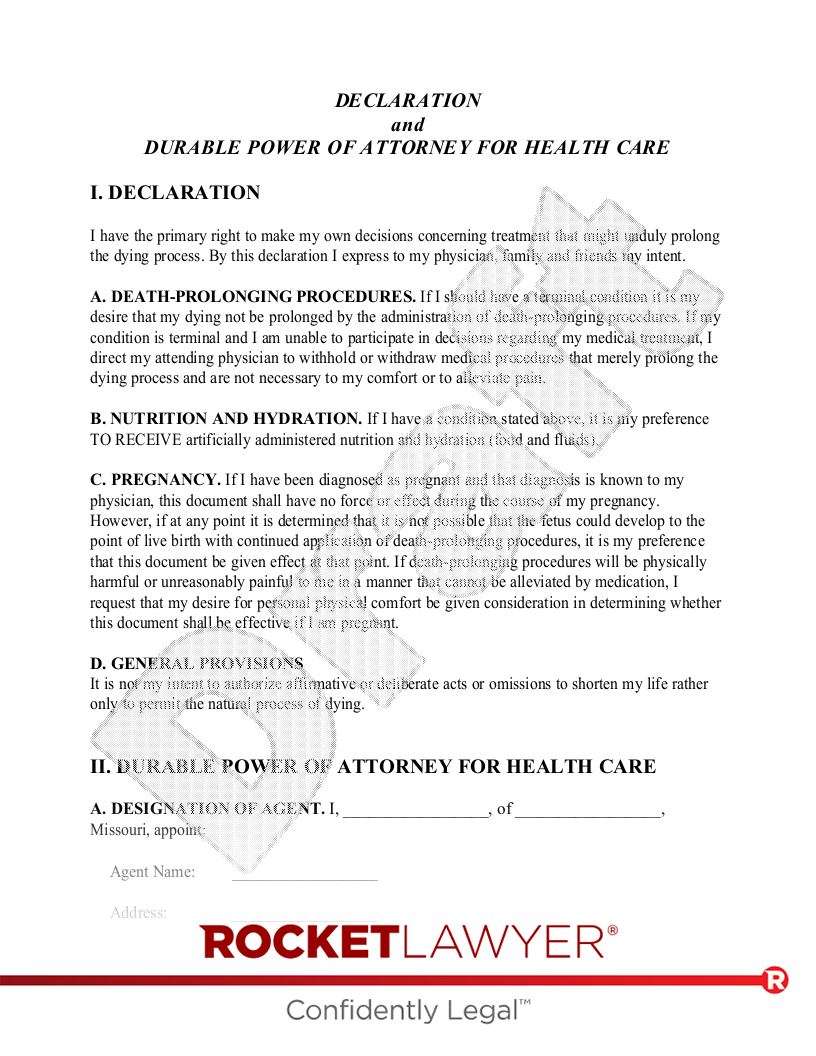 What is a Missouri Living Will?
A Missouri Living Will is a legal document that lays out your wishes related to health care, such as your refusal of or request for a certain medical treatment, along with the (optional) selection of a trusted healthcare agent.

The person making a Living Will is called the "principal," and the individuals or entities receiving authority to carry out the principal's wishes are called "agents." Suitable for residents of Missouri, this Living Will is made for use in Jefferson County, St. Louis County, Clay County, and in all other counties and municipalities in the state. Any Missouri Living Will form from Rocket Lawyer can be customized for your unique situation. As a result of this document, your healthcare institutions will have a record of your decisions, and your agent will be able to offer proof that they have the authority to act in your interest when you are not able.
When to use a Missouri Living Will:
You want to let your loved ones and doctor know what end-of-life medical care you want.
You're about to prepare a full estate plan.
Missouri Living Will FAQs
How do I write a Living Will in Missouri?

It is fast and easy to document your medical wishes using a free Missouri Living Will template from Rocket Lawyer:

Make the document - Answer a few simple questions, and we will do the rest
Send and share it - Discuss your wishes with your healthcare agent or get legal advice
Sign it - Mandatory or not, notarization and witnesses are a best practice

This route, in many cases, will be much less time-consuming than hiring the average lawyer. If needed, you can start a Living Will on behalf of your spouse, an elderly parent, or another family member, and then have them sign once you've drafted it. Please keep in mind that for this document to be legally valid, the principal must be a mentally competent adult when they sign. In the event that the principal has already been declared legally incompetent, a conservatorship could be required. In such a situation, it is a good idea to speak with an attorney .

Do I need to make a Living Will?

Anyone who is over 18 years old ought to have a Living Will. While it may be unpleasant to think about, there might come a day when you are no longer able to make your own healthcare decisions. Common circumstances in which it may be helpful to make or update your Living Will include:

You are undergoing a medical procedure that requires anesthesia
You are getting older or dealing with ongoing health issues
You are managing a terminal condition
You are planning to live in a care facility

Regardless of whether your Missouri Living Will has been produced as a result of a change in your health or as part of a long-term plan, witnesses and notarization can often help to protect your document if its credibility is disputed. Under Missouri law, this document is invalid during pregnancy.

Do I need to hire a lawyer to review my Living Will in Missouri?

Making a Living Will is typically simple to do, but you or your agent(s) could have legal questions. Hiring an attorney to review your document can take longer than you expect on your own. An easier approach to consider is to get help via the Rocket Lawyer On Call® network of attorneys. Rocket Lawyer members are able to request feedback from an Rocket Lawyer network attorney with relevant experience or get answers to other questions. As always, you can be confident that Rocket Lawyer is by your side.

How much might I typically have to pay to make a Living Will in Missouri?

The fees associated with working with a lawyer to draft a Living Will might total between two hundred and one thousand dollars. Different from most other Living Will template providers that you might discover elsewhere, Rocket Lawyer provides Premium members up to 40% in savings when hiring a lawyer, so an Rocket Lawyer network attorney can represent you if you ever need help.

Will there be any next steps that I should be sure to take once I have drafted my Missouri Living Will?

After creating the document using Rocket Lawyer, you will be able to retrieve it from your account on any device. You can also engage with your document in any or all of these ways: making edits, downloading it as a PDF document or Word file, printing it, and signing it. Attached to each Missouri Living Will form, there's a set of proposed steps you can take to finalize the document. Your agent(s), care providers, and other impacted parties should receive copies of your fully executed document.

Does a Living Will need to be notarized or witnessed in Missouri?

The rules and restrictions will vary by state; however, in Missouri, your Living Will document must be signed by two witnesses. If you are naming a healthcare agent, then you also need a notary. As a general principle, witnesses should be over 18 years old, and none should also be your agent.