MAKE YOUR FREE

Maine Living Will
Other Names:
Maine Advance Directive
Maine Advance Healthcare Directive
Maine Medical Directive
Maine Advance Medical Directive
Maine Advance Health Care Directive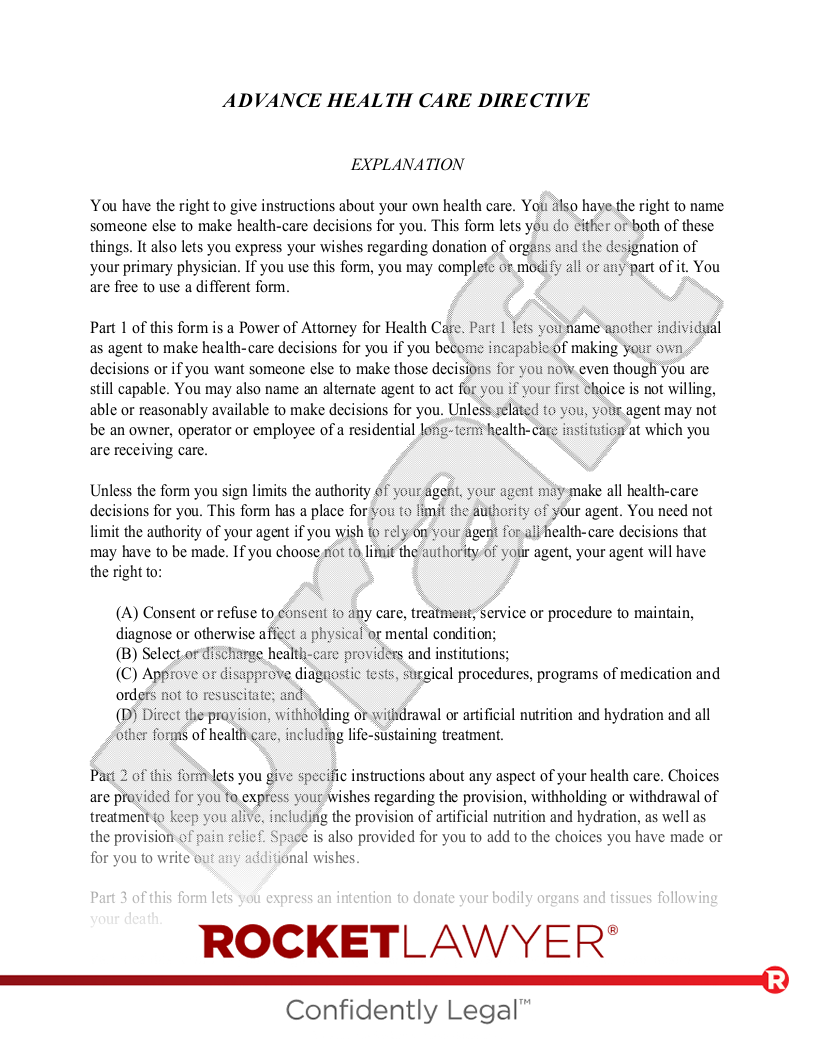 What is a Maine Living Will?
A Maine Living Will is a legal document that lays out your wishes with regard to health care, such as your acceptance or refusal of medical treatment, in addition to the optional appointment of a trusted decision maker.

The person making a Living Will is called the "principal," and the person or organization gaining permission to carry out the principal's wishes is called the "agent." Designed for Maine residents, this free Living Will can be used in Penobscot County, Cumberland County, York County, and in every other region in the state. Any Maine Living Will form from Rocket Lawyer can be edited to address your specific situation. This essential legal document provides a record of your preferences to healthcare providers, and it will confirm that your selected representatives have been authorized to make choices for you.
When to use a Maine Living Will:
You're about to start drafting a complete estate plan.
You'd like to make sure your medical treatment wishes are upheld while keeping your family informed and safeguarded.
Maine Living Will FAQs
How do I write a Living Will in Maine?

It's fast and simple to set forth your medical preferences using a free Maine Living Will template from Rocket Lawyer:

Make your Living Will - Answer a few questions, and we will do the rest
Send and share - Discuss your wishes with your healthcare agent or get legal help
Sign it and make it legal - Required or not, notarization and witnesses are recommended

This method will often end up being notably less time-consuming than hiring a conventional attorney. If necessary, you can prepare this Living Will on behalf of your spouse, an elderly parent, or another relative, and then help that person sign it once you've drafted it. Please remember that for this document to be legally valid, the principal must be mentally competent at the time of signing. If the principal has already been declared legally incompetent, a conservatorship might be required. In this situation, it's a good idea for you to connect with a lawyer .

Do I need to write a Living Will?

Every person over 18 years old ought to have a Living Will in place. Though it can be unpleasant to acknowledge, there will likely come a time when you can no longer make healthcare decisions on your own. Here are some common occasions where it would be useful to make or update your Living Will:

You are currently managing a terminal illness
You are planning for an upcoming medical procedure or period of hospitalization
You are planning to live in a residential care facility
You are aging or have declining health

Whether your Maine Living Will is being made in response to a recent change in your health or as part of a forward-looking plan, witnesses and/or notarization can help to protect your agent if someone challenges their privileges and authority.

Do I need to work with an attorney to review my Living Will in Maine?

Making a Living Will is usually simple to do; however, you could still need legal advice. Finding an attorney to proofread your Maine Living Will can be costly. An easier and more cost-effective route would be to go through Rocket Lawyer attorney services. As a Premium member, you can get your documents reviewed or ask specific questions. As always, Rocket Lawyer is here to support you.

On average, what would I usually have to pay to make a Living Will in Maine?

The cost of finding and working with a lawyer to produce a Living Will might total between $200 and $1,000, depending on where you are located. Different from many other sites you might come across, Rocket Lawyer offers much more than a Living Will template. If you ever require support from a lawyer, your membership provides up to a 40% discount when you hire an attorney from our network.

What happens once I make my Maine Living Will?

When you're done making this customized Living Will form on Rocket Lawyer, you will be able to see it on any device at any time. You can also engage with it in one or all of these ways: making edits, downloading it as a Word document or PDF file, printing it out, and signing it. Attached to your Maine Living Will form, there's a checklist of tips to follow while finalizing the document. Take care to ensure that your agent(s) and care providers get a copy of the fully executed document.

Does a Living Will need to be notarized or witnessed in Maine?

The rules governing Living Wills vary by state; however, in Maine, your Living Will needs the signatures of two witnesses. As a basic rule, witnesses will need to be over 18 years old, and no witness should simultaneously be acting as your healthcare agent.