MAKE YOUR FREE

Kansas Living Will
Other Names:
Kansas Advance Directive
Kansas Advance Healthcare Directive
Kansas Medical Directive
Kansas Advance Medical Directive
Kansas Advance Health Care Directive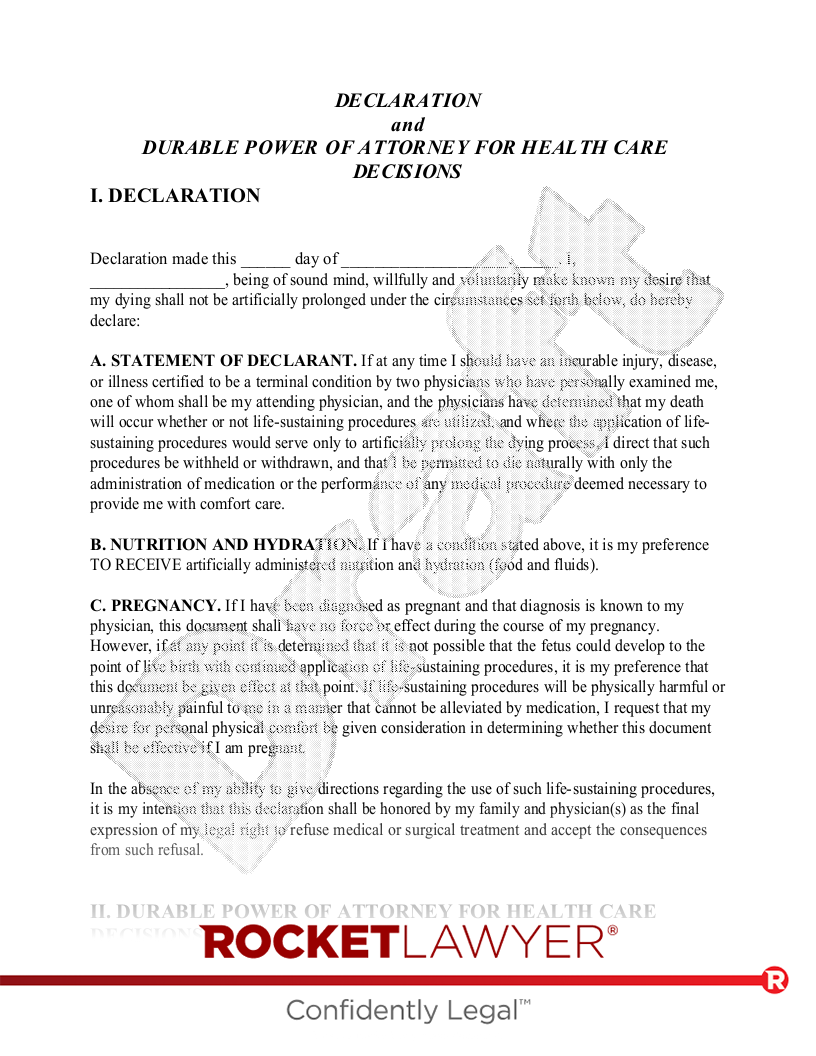 What is a Kansas Living Will?
A Kansas Living Will is a legal document that outlines your wishes related to medical care, such as your refusal of or request for a specific medical treatment, in addition to the (optional) selection of a chosen decision maker or "agent."

The person making a Living Will is called the "principal," and the people or entities receiving permission to carry out the principal's wishes are called "agents." Suited for Kansas residents, this free Living Will can be used in Shawnee County, Johnson County, Sedgwick County, and in all other regions in the state. Any Kansas Living Will form from Rocket Lawyer can be customized to address your specific situation. As a result of having this essential document, your healthcare providers will have a point of reference for your decisions, and your representative(s) will be able to provide verification that they have the authority to make choices for you when you are not able.
When to use a Kansas Living Will:
You want to appoint someone to make medical decisions for you in case you're unable to.
You're drafting a complete estate plan and want to include information on end-of-life healthcare treatments.
Kansas Living Will FAQs
How do I write a Living Will in Kansas?

It's very easy to record your medical preferences using a free Kansas Living Will template from Rocket Lawyer:

Make the document - Provide a few simple details,, and we will do the rest
Send or share it - Go over it with your healthcare agent(s) or ask a lawyer
Sign it and make it legal - Required or not, notarization/witnesses are a best practice

This method will often end up being much less expensive than meeting and hiring a traditional law firm. If needed, you may start this Living Will on behalf of your spouse, an elderly parent, or another family member, and then have that person sign when ready. Keep in mind that for a Living Will to be considered valid, the principal must be an adult who is mentally competent when they sign. In the event that the principal is already unable to make their own decisions, a court-appointed conservatorship could be necessary. In such a situation, it would be a good idea to work with a lawyer .

Why should I have a Living Will?

Anyone who is over 18 years old ought to have a Living Will. While it may be difficult to acknowledge, there could come a time when you cannot make important decisions on your own. Common situations in which it can be helpful to make or update your Living Will include:

You will be in the hospital for a medical procedure
You are getting older or have declining health
You have been diagnosed with a terminal condition
You intend to live in a care facility

Regardless of whether this Kansas Living Will is being created as a result of a change in your health or as part of a forward-looking plan, notarization and/or witnesses will often help to protect your document if anyone doubts its credibility.

Do I need an attorney for my Living Will in Kansas?

Making a Living Will is generally straightforward, but you could need legal advice. Hiring an attorney to provide feedback on your Kansas Living Will might be costly. An easier and more cost-effective option is via Rocket Lawyer attorney services. If you sign up for a Premium membership, you can have your documents reviewed by an Rocket Lawyer network attorney with relevant experience. You can rest assured that Rocket Lawyer is here to help.

How much would it usually cost for a lawyer to help me make a Living Will in Kansas?

The fees associated with hiring a legal provider to make a Living Will might be anywhere from $200 to $1,000, depending on where you are located. Different from many other sites that you might stumble upon, Rocket Lawyer offers more than a Living Will template. If you ever require assistance from a lawyer, your Premium membership provides up to 40% in savings when you hire an Rocket Lawyer network attorney.

What are my next steps after making my Kansas Living Will?

When you're done creating this customized Living Will form on Rocket Lawyer, you can view it anytime and anywhere. You also may take any of the following actions with your document: editing it, saving it as a PDF document or Word file, or signing it. Alongside your Kansas Living Will form, you'll find a series of instructions on what you can do next. You should send a copy of your fully signed document to your agent(s), care providers, and other impacted parties.

Does a Living Will need to be notarized or witnessed in Kansas?

The rules will vary by state; however, in Kansas, your Living Will needs to be signed by a notary public or two witnesses. The witnesses to your document should not be anyone who is responsible for the cost of your health care, nor should they be family members (including your spouse or adopted children), heirs, or any other beneficiaries. As a general principle, your witnesses should not be under 18 years old, and none of them should simultaneously be designated as your agent.