MAKE YOUR FREE

Indiana Living Will
Other Names:
Indiana Advance Directive
Indiana Advance Healthcare Directive
Indiana Medical Directive
Indiana Advance Medical Directive
Indiana Advance Health Care Directive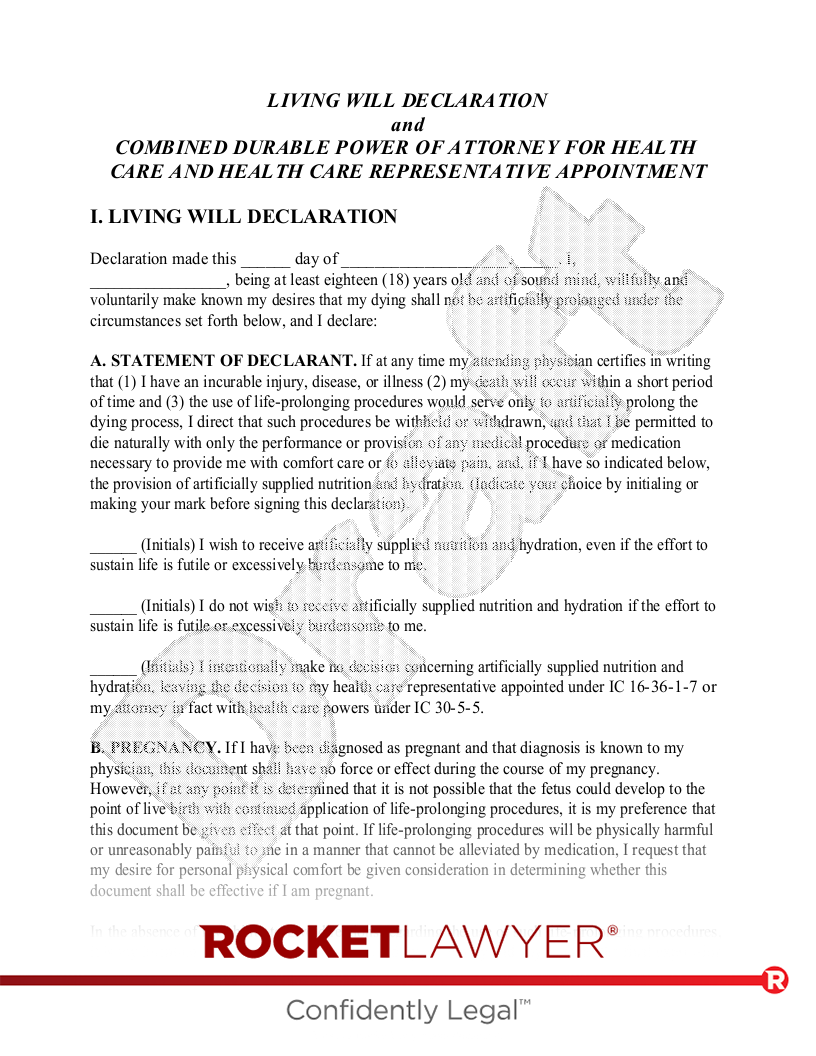 What is an Indiana Living Will?
An Indiana Living Will is a legal document that lays out your preferences related to medical care, such as your acceptance or refusal of specific medical treatments and procedures, in addition to the optional appointment of a chosen healthcare agent.

The person making a Living Will is known as the "principal," and the people or organizations receiving permission to carry out the principal's wishes are known as "agents." Suitable for residents of Indiana, this Living Will is made for use in Allen County, Marion County, Lake County, and in every other part of the state. Any Indiana Living Will form from Rocket Lawyer can be edited to address your specific circumstances. This official document will provide proof of your decisions to medical providers, and it will certify that your selected agents have been given the authority to act in your interest.
When to use an Indiana Living Will:
You want to make sure - clearly - that your family and doctors know what you want.
You're about to draft a comprehensive estate plan.
Indiana Living Will FAQs
How do I write a Living Will in Indiana?

It is fast and easy to outline your medical wishes with a free Indiana Living Will template from Rocket Lawyer:

Make the document - Provide a few basic details, and we will do the rest
Send and share it - Discuss your wishes with your healthcare agent(s) or seek legal advice
Sign it - Mandatory or not, notarization/witnesses are recommended

This solution is, in many cases, notably more affordable than meeting and hiring the average provider. If necessary, you can fill out a Living Will on behalf of your spouse or another relative, and then have that person sign after you've drafted it. Keep in mind that for a Living Will to be considered valid, the principal must be a mentally competent adult when they sign. In the event that the principal is already incapacitated and unable to make their own decisions, a conservatorship generally will be necessary. When managing such a scenario, it's important for you to connect with a lawyer .

Why should I make a Living Will?

Every person over 18 ought to have a Living Will. Even though it can be tough to think about, there will likely come a time when you aren't able to make healthcare decisions on your own. Typical occasions in which you may consider it useful to make or update your Living Will include:

You are preparing to live in a care facility
You are currently managing a terminal condition
You are aging or have declining health
You are facing the possibility of medical procedure or hospitalization

Whether your Indiana Living Will is being created as a result of a recent change in your health or as part of a forward-looking plan, witnesses and notarization are strongly recommended for protecting your document if a third party doubts its lawfulness. Please note that a Living Will declaration is not valid during pregnancy in Indiana.

Do I need to hire an attorney to review my Living Will in Indiana?

Making a Living Will is usually straightforward; however, you or your agent may still have legal questions. Having a professional double-check your document can take a long time if you attempt to do it by yourself. An alternate approach might be via the Rocket Lawyer On Call® attorney network. Rocket Lawyer Premium members are able to request advice from an experienced attorney or ask other legal questions. As always, you can live confidently with Rocket Lawyer by your side.

What would I typically have to pay to make a Living Will in Indiana?

The cost of hiring and working with your average lawyer to produce a Living Will might range between $200 and $1,000. Unlike other Living Will template websites that you might discover elsewhere, Rocket Lawyer offers Premium members up to a 40% discount when hiring a lawyer, so an attorney from our network can review the situation and take action if you ever need support.

Are there any next steps that I should be sure to take once I have drafted my Indiana Living Will?

Your Indiana Living Will form has a list of tips to follow while finalizing the document. As a Rocket Lawyer member, you may edit it, print it, and/or sign it. Finally, you will need to give a final copy of your fully signed document to your agent(s), care providers, and other impacted parties.

Does a Living Will need to be notarized or witnessed in Indiana?

The specifications for Living Wills vary in each state; however, in Indiana, your Living Will needs two witnesses. As a general rule, witnesses will need to be over the age of 18, and no witness should simultaneously be designated as your healthcare agent.