MAKE YOUR FREE

Delaware Living Will
Other Names:
Delaware Advance Directive
Delaware Advance Healthcare Directive
Delaware Medical Directive
Delaware Advance Medical Directive
Delaware Advance Health Care Directive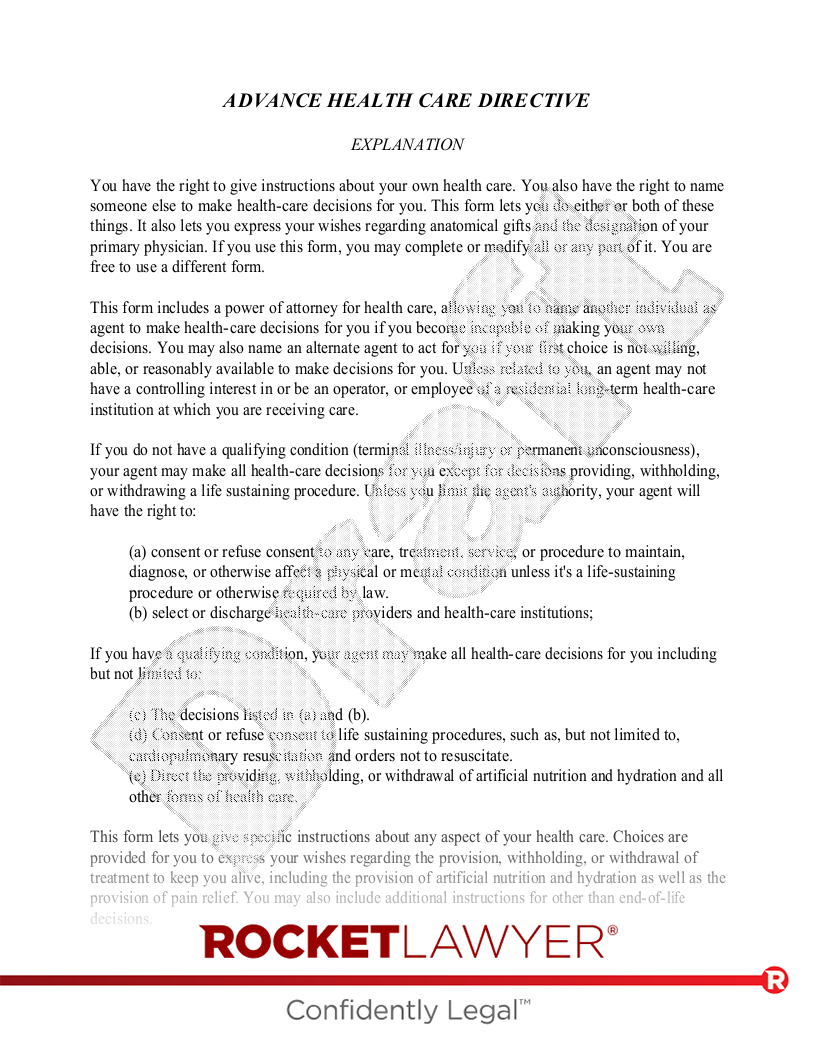 What is a Delaware Living Will?
A Delaware Living Will is a legal document that sets forth your preferences related to medical care, such as your refusal of or request for a specific medical treatment or procedure, along with the optional selection of a trusted agent or healthcare decision maker.

The person making a Living Will is known as the "principal," and the person or entity obtaining permission to carry out the principal's wishes is known as the "agent." Suited for Delaware residents, this free Living Will is made for use in Kent County, New Castle County, Sussex County, and in all other counties throughout the state. Each Delaware Living Will form from Rocket Lawyer can be tailored to address your specific circumstances. With this document on hand, your healthcare institutions will have a record of your decisions, and your agent(s) will be able to offer verification that they have the authority to act in your interest.
When to use a Delaware Living Will:
You want to make sure your doctor and loved ones know your end-of-life preferences.
You're about to draft a comprehensive estate plan.
Sample Delaware Living Will
The terms in your document will update based on the information you provide
This document has been customized over 7.5K times
Legally binding and enforceable
Complies with relevant laws
Ask a lawyer questions about your document
Delaware Living Will FAQs
How do I write a Living Will in Delaware?

It is very easy to document your medical preferences using a free Delaware Living Will template from Rocket Lawyer:

Make your Living Will - Provide a few basic details,, and we will do the rest
Send and share it - Review the document with your healthcare agent(s) or ask a legal question
Sign it - Optional or not, witnesses/notarization are ideal

This method will often end up being much less time-consuming than finding and hiring a traditional lawyer. If needed, you may prepare this Living Will on behalf of an elderly parent, a spouse, or another family member, and then help them sign it once you've drafted it. Please remember that for a Living Will to be accepted as legally valid, the principal must be a mentally competent adult when they sign. If the principal is already incapacitated and unable to make their own decisions, a conservatorship might be necessary. When managing this scenario, it's best to talk to an attorney .

Who should have a Living Will?

Everyone over 18 years old ought to have a Living Will in place. Although it may be challenging to acknowledge, there will likely come a time when you are not able to make your own medical decisions. Here are some common occasions in which you might consider it useful to make or update your Living Will:

You are managing a terminal illness
You will be hospitalized for a surgical procedure
You are planning to live in an adult care facility
You are getting older or dealing with ongoing health issues

Regardless of whether this Delaware Living Will has been created in response to a recent change in your health or as part of a long-term plan, witnesses and/or notarization are strongly recommended for protecting this document and/or your agent if their privileges are doubted by a third party.

Should I work with an attorney for my Living Will in Delaware?

Making a Living Will is usually simple to do; however, you or your agent could still have legal questions. Hiring an attorney to proofread your Delaware Living Will may be fairly time-consuming. An easier way to get a second pair of eyes on your document is via Rocket Lawyer attorney services. With a Premium membership, you can have your documents reviewed by an attorney with relevant experience. As always, Rocket Lawyer is here for you.

On average, how much would it usually cost me to make a Living Will in Delaware?

The fees associated with meeting and hiring a legal provider to write a Living Will could be anywhere between two hundred and one thousand dollars. Different from other Living Will template providers that you might come across, Rocket Lawyer provides members up to a 40% discount when hiring a lawyer, so an attorney from our network can act on your behalf if you ever need support.

Will I need to take additional actions after I have drafted a Delaware Living Will?

With a Premium membership, you will be able to make edits, download it in PDF format or as a Word document, or print it out. When you are ready to complete your Delaware Living Will form, it needs to be signed. Be sure that your agent(s) and care providers receive a copy of your fully executed document.

Does a Living Will need to be notarized or witnessed in Delaware?

The requirements and restrictions are different by state; however, in Delaware, your document must be signed by two witnesses. The witnesses to your form should not be anyone who is responsible for your healthcare costs or who is affiliated with the healthcare facility that is providing your care. They should also not be your family members (including your spouse), heirs, or any other beneficiaries. As a basic rule, witnesses must not be under the age of 18, and no witness should also be named as your healthcare agent.