MAKE YOUR FREE

District of Columbia Living Will
Other Names:
District of Columbia Advance Directive
District of Columbia Advance Healthcare Directive
District of Columbia Medical Directive
District of Columbia Advance Medical Directive
District of Columbia Advance Health Care Directive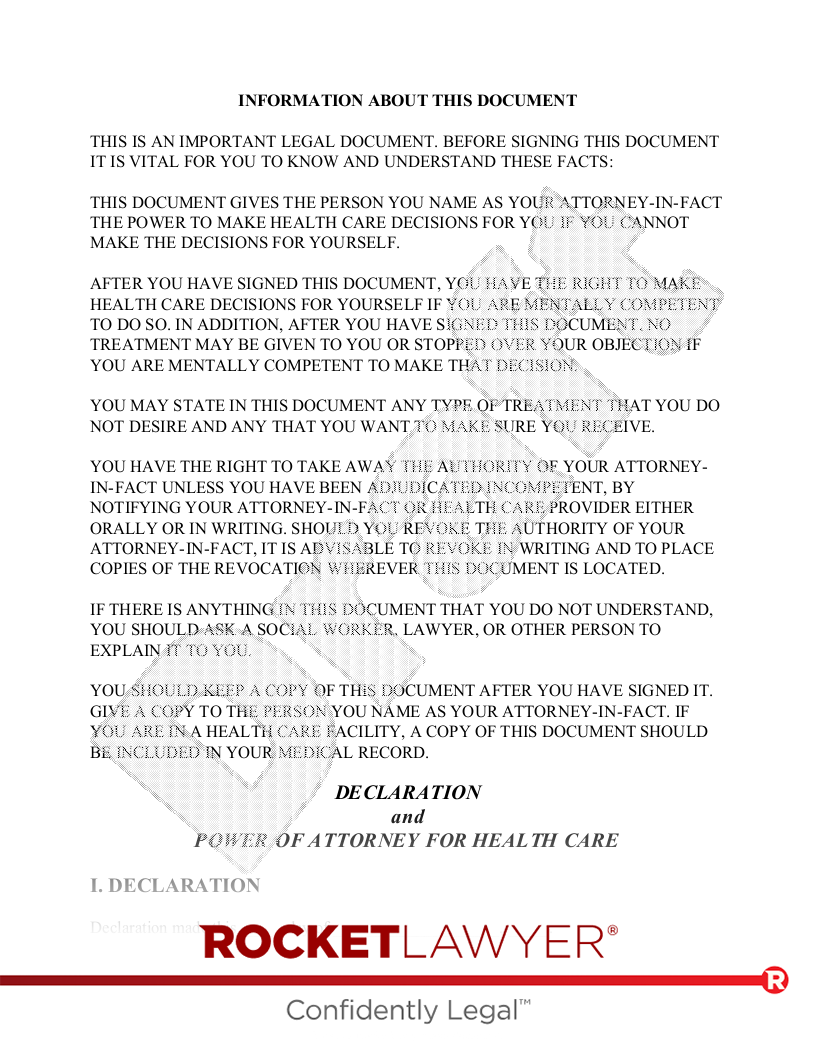 What is a District of Columbia Living Will?
A District of Columbia Living Will is a legal document that sets forth your wishes regarding health care, such as your refusal or acceptance of medical treatment, along with the optional appointment of a trusted decision maker or "agent."

The individual making a Living Will is called the "principal," while the people or entities gaining permission to carry out the principal's wishes are called "agents." Suitable for DC residents, our free Living Will can be used throughout the district. Any District of Columbia Living Will form from Rocket Lawyer can be personalized to address your particular situation. With this legal document on hand, your healthcare providers will have a point of reference for your decisions, and your agent(s) will be able to provide verification that they have been authorized to act in your interest.
When to use a District of Columbia Living Will:
You're preparing to draft a complete estate plan.
YYou'd like to protect your family and get some reassurance that your end-of-life treatment wishes will be granted.
District of Columbia Living Will FAQs
How do I write a Living Will in the District of Columbia?

It is very simple to record your medical wishes with a free District of Columbia Living Will template from Rocket Lawyer:

Make the document - Provide a few basic details,, and we will do the rest
Send or share - Look over your wishes with your healthcare agent or ask a legal question
Sign it and make it legal - Required or not, notarization and witnesses are encouraged

This solution, in many cases, will end up being notably more affordable and convenient than meeting and hiring a traditional lawyer. If needed, you may start this Living Will on behalf of an elderly parent, a spouse, or another family member, and then help them sign after you've drafted it. Please note that for a Living Will to be legally valid, the principal must be mentally competent when they sign. In the event that the principal is already unable to make their own decisions, a court-appointed conservatorship might be required. When facing this scenario, it is a good idea to connect with an attorney .

Do I need to have a Living Will?

Every person over 18 years old ought to have a Living Will. While it may be difficult to think about, a time might come when you cannot make medical decisions on your own. Here are some typical circumstances where it might be useful to make or update your Living Will:

You intend to live in a care facility
You've been diagnosed with a terminal condition
You are aging or dealing with ongoing health issue
You will be planning to undergo a medical procedure that requires anesthesia

Whether this District of Columbia Living Will has been generated as part of a forward-looking plan or produced in response to a recent change in your health, witnesses and/or notarization are highly recommended for protecting this document and your agent if their privileges and authority are doubted.

Do I need a lawyer to review my Living Will in the District of Columbia?

Making a Living Will is typically straightforward; however, you or your agent might still have legal questions. Hiring an attorney to give feedback on your District of Columbia Living Will could be costly. An easier route is to request help from Rocket Lawyer attorney services. By becoming a Premium member, you can get your documents reviewed or ask any questions. You can rest assured that Rocket Lawyer is here to support you.

On average, how much would I normally have to pay to make a Living Will in Washington DC?

The cost of finding and hiring a law firm to produce a Living Will might total between $200 and $1,000, depending on where you are located. Unlike other websites you may stumble upon, Rocket Lawyer offers much more than a Living Will template. If you ever require support from a lawyer, your Premium membership offers up to a 40% discount when you hire an attorney.

Will I need to take additional actions after writing my District of Columbia Living Will?

After making your Living Will form, you can retrieve it anytime, anywhere. You are encouraged to take any or all of the following actions related to your document: editing it, downloading it as a Word or PDF document, or signing it. Each District of Columbia Living Will form comes with its own list of next steps you can take to finalize your document. You should ensure that your agent(s), care providers, and other impacted parties receive a copy of the final document.

Does a Living Will need to be notarized or witnessed in the District of Columbia?

The specific guidelines and restrictions for Living Wills will vary by state; however, in the District of Columbia, your Living Will must be signed by two witnesses. Your witnesses should not be people who are financially responsible for your health care, nor should they be individuals who are employees of your attending physician or healthcare facility. Heirs, beneficiaries, and family members (including adopted children or your spouse) are also prohibited. As a basic principle, witnesses must not be under 18 years old, and no witness should simultaneously be designated as your agent.