MAKE YOUR FREE

Connecticut Living Will
Other Names:
Connecticut Advance Directive
Connecticut Advance Healthcare Directive
Connecticut Medical Directive
Connecticut Advance Medical Directive
Connecticut Advance Health Care Directive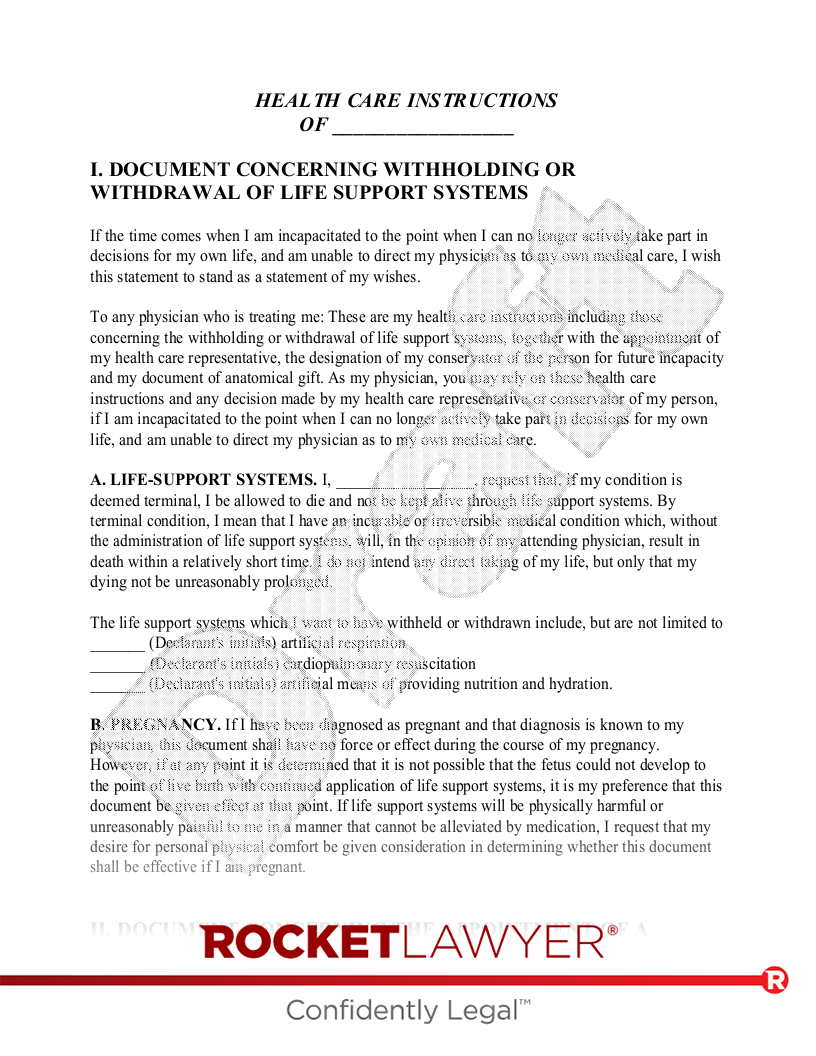 What is a Connecticut Living Will?
A Connecticut Living Will is a legal document that sets forth your wishes regarding medical care, such as your acceptance or refusal of medical treatment, in addition to the optional selection of a trusted agent or decision maker.

The person making a Living Will is known as the "principal," while the individuals or organizations receiving permission to carry out the principal's wishes are called "agents." Designed for Connecticut residents, this Living Will can be used in New Haven County, Fairfield County, Hartford County, and in all other regions in the state. Each Connecticut Living Will form from Rocket Lawyer can be fully personalized to address your specific situation. As a result of this legal document, your healthcare institutions will have a record of your preferences, and your agent can offer confirmation that they have the authority to act in your interest when you are not able.
When to use a Connecticut Living Will:
You're drafting a complete estate plan, or want the document to stand alone.
You'd like to protect your loved ones and give them the legal tools necessary to make the right healthcare decisions for you in case of an emergency.
Connecticut Living Will FAQs
How do I write a Living Will in Connecticut?

It is quick and easy to outline your medical wishes using a free Connecticut Living Will template from Rocket Lawyer:

Make the document - Provide a few simple details,, and we will do the rest
Send and share it - Go over it with your healthcare agent(s) or get legal advice
Sign it - Optional or not, notarization and witnesses are a best practice

This method will often be notably more affordable and convenient than finding and hiring a traditional lawyer. If necessary, you can fill out this Living Will on behalf of your spouse or another family member, and then have that person sign it after you've drafted it. Please keep in mind that for this document to be considered legally valid, the principal must be mentally competent when they sign. In the event that the principal is already unable to make their own decisions, a conservatorship could be necessary. When facing this situation, it would be best for you to speak with an attorney .

Who should have a Living Will?

If you are over 18 years old, you should have a Living Will in place. While it's tough to think about, a time may come when you are no longer able to make medical decisions on your own. Common situations where you might find it helpful to make or update your Living Will include:

You will be undergoing a medical procedure that requires anesthesia
You are aging or have declining health
You are managing a terminal illness
You currently reside in or intend to move into a community care facility

Regardless of whether your Connecticut Living Will is being generated as part of a forward-looking plan or produced as a result of a change in your health, witnesses and notarization are highly recommended as a best practice for protecting your document if anyone questions its credibility.

Do I need to hire a lawyer for my Living Will in Connecticut?

Making a Living Will is usually easy to do, but you or your agent(s) could still have questions. Getting another set of eyes on the document can take longer than you expect if you try to do it on your own. An easier approach could be to request help from Rocket Lawyer attorney services. Premium members have the ability to ask for a document review from an experienced lawyer or ask other questions. As always, you can Live Confidently® with Rocket Lawyer by your side.

What would it normally cost me to make a Living Will in Connecticut?

The cost of hiring and working with an attorney to write a Living Will might be anywhere between two hundred and one thousand dollars, depending on where you are. Rocket Lawyer isn't a run-of-the-mill Living Will template website. With our service, anyone under a Premium membership can take advantage of up to a 40% discount when hiring an attorney from our network.

Would I need to do anything else once I write my Connecticut Living Will?

Upon finishing the document with Rocket Lawyer, you'll have the ability to see it at any time and place. With a Rocket Lawyer membership, you can edit it, download it as a Word document or PDF file, print it, or sign it. Alongside your Connecticut Living Will form, there will be a list of proposed actions you can take after your document is finished. Your agent(s), care providers, and other impacted parties should receive copies of the final document.

Does a Living Will need to be notarized or witnessed in Connecticut?

The requirements and restrictions for Living Wills vary in each state; however, in Connecticut, your document needs to be signed by two witnesses. As a general rule, witnesses will need to be over 18 years old, and no witness should simultaneously be your healthcare agent.