MAKE YOUR FREE

Arizona Living Will
Other Names:
Arizona Advance Directive
Arizona Advance Healthcare Directive
Arizona Medical Directive
Arizona Advance Medical Directive
Arizona Advance Health Care Directive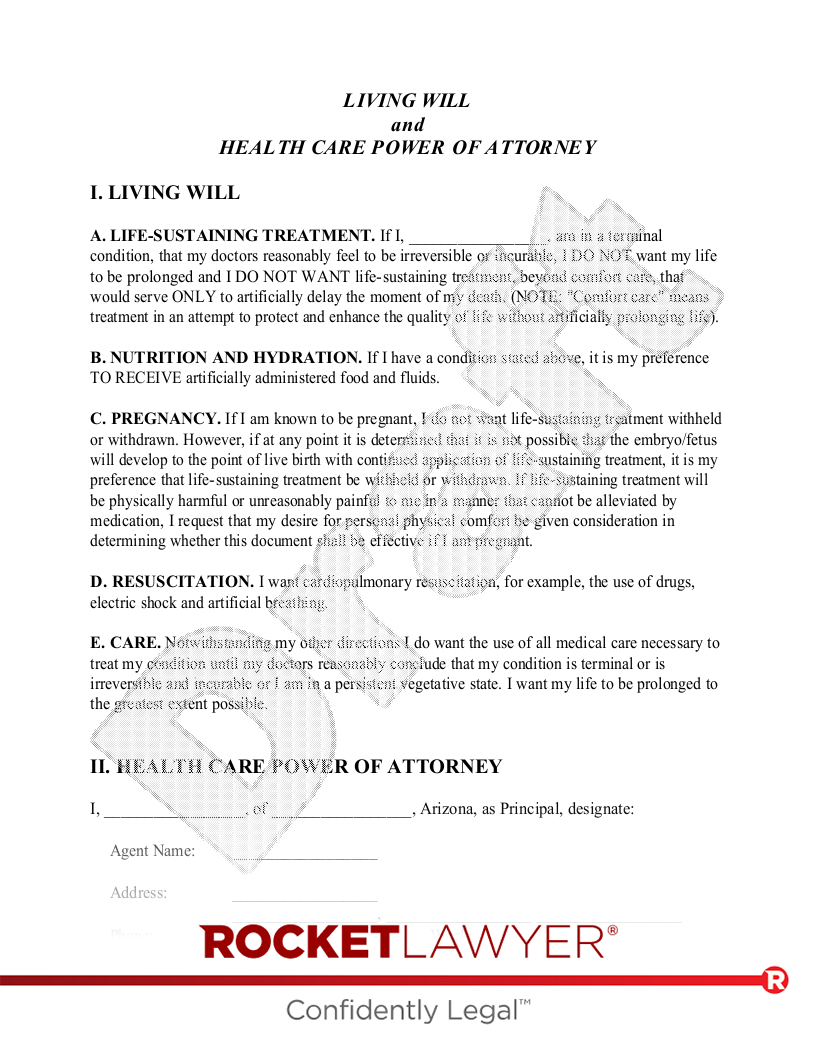 What is an Arizona Living Will?
An Arizona Living Will is a legal document that lays out your preferences with regard to medical care, such as your request for or refusal of medical treatment, in addition to the (optional) selection of a trusted healthcare agent.

The person making a Living Will is called the "principal," while the people or organizations obtaining authority to carry out the principal's wishes are called "agents." Suited for Arizona residents, this free Living Will is made for use in Pinal County, Maricopa County, Pima County, and in all other parts of the state. Any Arizona Living Will form from Rocket Lawyer can be completely customized for your specific situation. This official legal document provides verification of your preferences to healthcare facilities, and it will confirm that your chosen representative has been authorized to act in your interest when you are not able.
When to use an Arizona Living Will:
You'd like to communicate how any end of life treatments are - or aren't - to be given if you're ever incapacitated and facing an end-of-life situation.
You're in the midst of creating a total estate plan and want to keep control of your health care.
Arizona Living Will FAQs
How do I write a Living Will in Arizona?

It is fast and simple to document your medical preferences with a free Arizona Living Will template from Rocket Lawyer:

Make the document - Answer a few questions, and we will do the rest
Send and share it - Go over your wishes with your healthcare agent(s) or get legal help
Sign it and make it legal - Mandatory or not, notarization and witnesses are a best practice

This method will often be notably more affordable and convenient than hiring a traditional provider. If necessary, you can fill out this Living Will on behalf of your spouse, an elderly parent, or another family member, and then have that person sign after you've drafted it. Keep in mind that for a Living Will to be valid, the principal must be mentally competent at the time of signing. If the principal is already incapacitated and unable to make their own decisions, a court-appointed conservatorship may be required. In this situation, it would be important for you to work with an attorney .

Who should make a Living Will?

If you are over 18 years old, you ought to have a Living Will. Even though it can be difficult to think about, there could come a day when you aren't able to make your own healthcare decisions. Here are a few common occasions in which it would be useful to make or update your Living Will:

You are facing the possibility of medical procedure or hospitalization
You are getting older or dealing with ongoing health issues
You have been given a terminal diagnosis
You reside in or intend to move into a community care facility

Whether this Arizona Living Will has been made in response to a change in your health or as part of a long-term plan, notarization and/or witnesses are highly recommended as a best practice for protecting this document and/or your agent if their privileges are challenged by a third party.

Do I need a lawyer for my Living Will in Arizona?

Making a Living Will is usually simple, but you or your agent may need advice. Getting a legal professional to double-check your document might take longer than you'd expect on your own. An easier approach would be through the On Call network. Rocket Lawyer Premium members can ask for advice from an Rocket Lawyer network attorney with relevant experience or send additional questions. As always, you can Live Confidently® knowing that Rocket Lawyer is by your side.

What would it traditionally cost for me to make a Living Will in Arizona?

The cost of finding and working with a conventional law firm to make a Living Will could add up to between two hundred and one thousand dollars. Rocket Lawyer isn't a run-of-the-mill Living Will template provider. With our service, anyone under a Rocket Lawyer membership can take advantage of up to a 40% discount when hiring an attorney.

What should I do once I write an Arizona Living Will?

With a Premium membership, you may edit it, download it as a PDF document or Word file, and/or print it out. When you are ready to wrap up your Arizona Living Will form, it should be signed. You should give a final copy of your fully signed document to your agent(s), care providers, and other impacted parties. If you'd like, you can also file your Living Will in the Arizona Healthcare Directives Registry .

Does a Living Will need to be notarized or witnessed in Arizona?

The requirements will be different in each state; however, in Arizona, your Living Will needs notarization or the signature of one witness. Your chosen witness must not be anyone involved in your care, nor any relative, spouse, adoptee, heir, or any other beneficiary. As a basic principle, witnesses should be over 18 years old, and no witness should also be acting as your agent.