MAKE YOUR FREE

Arkansas Living Will
Other Names:
Arkansas Advance Directive
Arkansas Advance Healthcare Directive
Arkansas Medical Directive
Arkansas Advance Medical Directive
Arkansas Advance Health Care Directive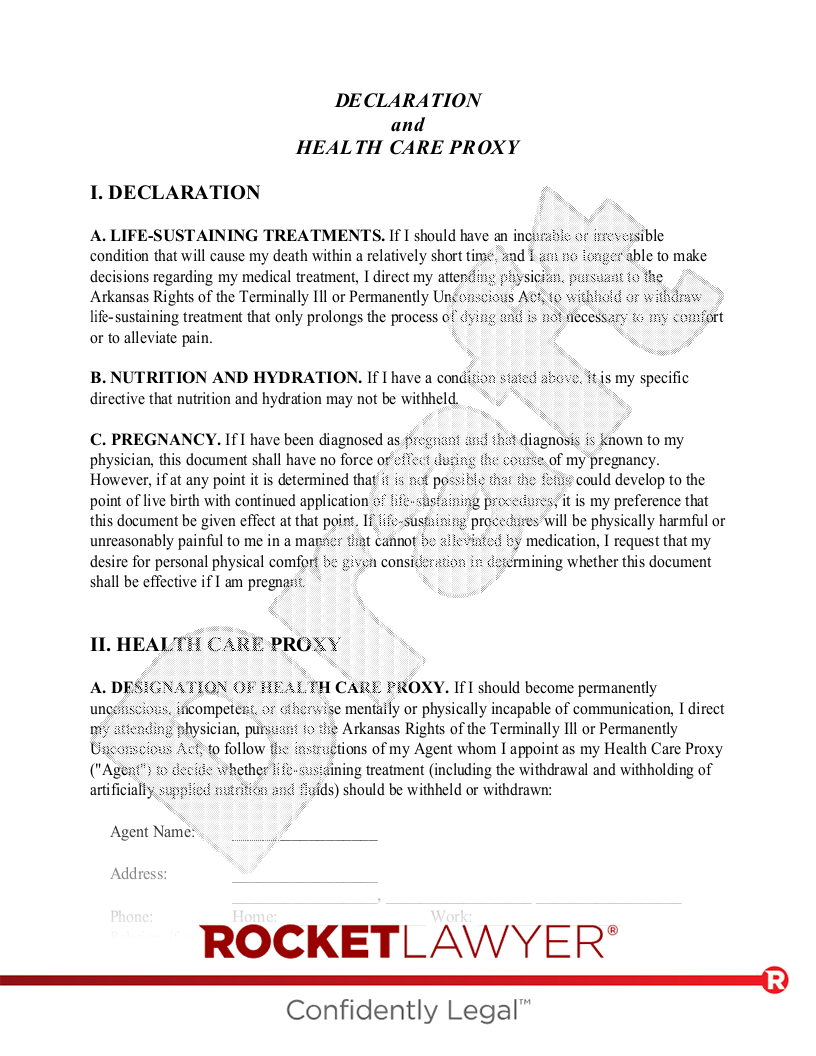 What is an Arkansas Living Will?
An Arkansas Living Will is a legal document that sets forth your preferences related to health care, such as your acceptance or refusal of medical treatment, along with the (optional) naming of a trusted agent or decision maker.

The person making a Living Will is called the "principal," and the people or organizations gaining authority to carry out the principal's wishes are called "agents." Suited for Arkansas residents, this Living Will can be used in Washington County, Pulaski County, Benton County, and in all other counties and municipalities across the state. Each Arkansas Living Will form from Rocket Lawyer can be customized to address your unique circumstances. This official legal document will provide a record of your preferences to healthcare institutions, and it will certify that your chosen representatives have been authorized to act in your interest.
When to use an Arkansas Living Will:
You want to have control of your end-of-life care, even if you're incapacitated.
You're getting ready for a complete estate plan.
Arkansas Living Will FAQs
How do I write a Living Will in Arkansas?

It is very easy to record your medical preferences using a free Arkansas Living Will template from Rocket Lawyer:

Make the document - Answer a few simple questions, and we will do the rest
Send or share it - Discuss your wishes with your healthcare agent or ask a lawyer
Sign it - Mandatory or not, witnesses/notarization are a best practice

This solution, in many cases, will end up being much less expensive than meeting and hiring a traditional provider. If necessary, you can start this Living Will on behalf of an elderly parent, a spouse, or another family member, and then help that person sign it when ready. Please note that for this document to be considered legally valid, the principal must be a mentally competent adult when they sign. In the event that the principal has already been declared incompetent, a conservatorship might be necessary. When managing such a situation, it is a good idea to speak to a lawyer .

Why should I write a Living Will?

Every person over 18 should have a Living Will. Even though it can be tough to acknowledge, a time may come when you are not able to make your own healthcare decisions. Here are some common occasions in which you may consider it useful to make or update your Living Will:

You are facing the possibility of medical procedure or period of hospitalization
You are getting older or dealing with ongoing health issues
You are currently managing a terminal illness
You reside in or have plans to move into an adult care facility

Whether this Arkansas Living Will is being produced in response to a change in your health or as part of a forward-looking plan, witnesses and/or notarization can help to protect your document if its legitimacy is disputed. Please keep in mind that, in Arkansas, this document is not valid if you are pregnant.

Do I need to hire an attorney to review my Living Will in Arkansas?

Making a Living Will is normally straightforward; however, you might have legal questions. Depending on whom you approach, some attorneys may not even accept requests to review a document that they did not work on. A more favorable approach would be to request help from the Rocket Lawyer attorney network. By becoming a Premium member, you will be able to ask for guidance from an attorney with relevant experience or get answers to other legal questions about your Living Will. We're always available to answer any questions.

How much would it normally cost for an attorney to help me make a Living Will in Arkansas?

The cost of finding and hiring the average legal provider to make a Living Will might be anywhere from two hundred to one thousand dollars, depending on where you are. Rocket Lawyer isn't your average Living Will template website. With us, anyone under a Rocket Lawyer Premium membership can take advantage of up to a 40% discount when hiring an Rocket Lawyer network attorney.

Will I have to do anything else after I make an Arkansas Living Will?

After completing your document using Rocket Lawyer, you will have the ability to retrieve it wherever and whenever you choose. Feel free to engage with your document in any of the following ways: editing it, printing it out, and signing it. Alongside your Arkansas Living Will form, there will be a checklist of proposed steps you should take after the document is finished. You should be sure to send a final copy of your fully signed document to your agent(s), care providers, and other impacted parties.

Does a Living Will need to be notarized or witnessed in Arkansas?

The requirements vary by state; however, in Arkansas, your document requires the signatures of two witnesses or a notary public. At least one witness to this Living Will must be someone who is not a relative, spouse, adoptee, heir, or any other beneficiary. As a basic principle, your witnesses should not be under the age of 18, and no witness should also be your agent.