MAKE YOUR FREE

Do-Not-Resuscitate Guide
Other Names:
DNR Form
Allow Natural Death Form
Do-Not-Resuscitate Order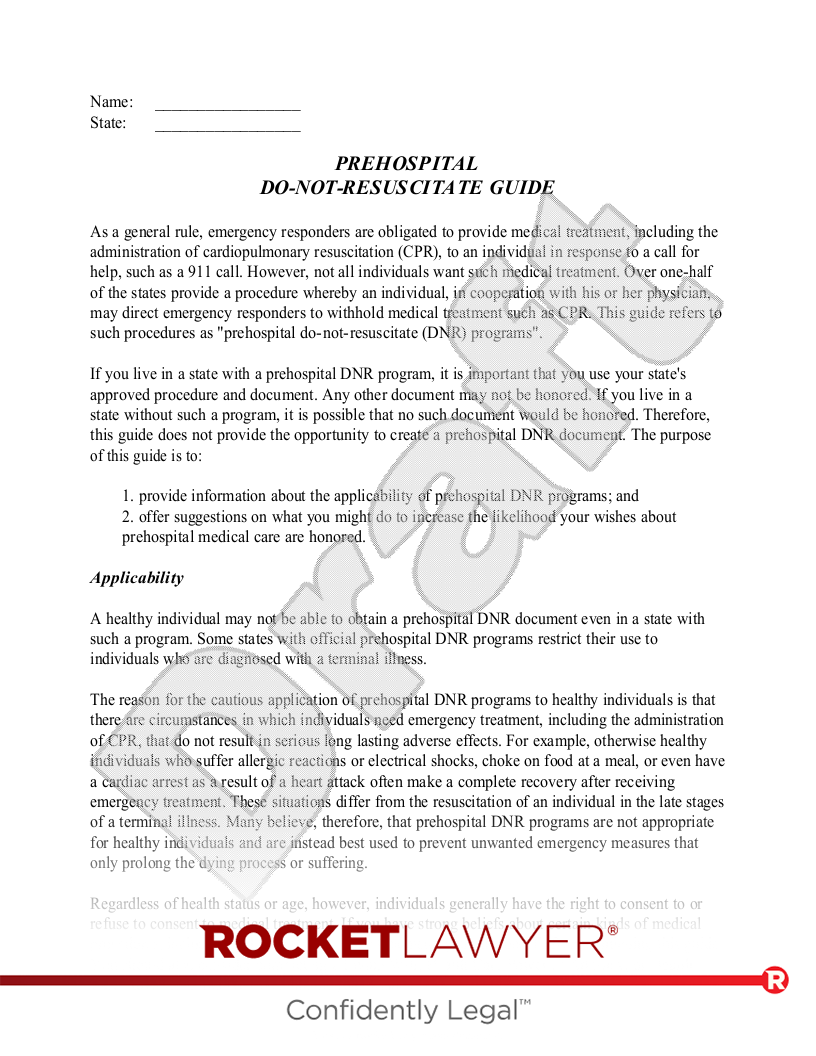 What is a Do-Not-Resuscitate Guide?
Sometimes you cannot make decisions about your health care, like whether or not you're resuscitated in an emergency, but with a Do-Not-Resuscitate (DNR) Guide you can empower yourself before something happens. Getting a Do-Not-Resuscitate Guide helps you make an informed decision.

It's never easy to plan for worst case scenarios, but you can get information and help in making a decision with a Do-Not-Resuscitate Guide. Many states have passed legislation or regulations that provide a "prehospital DNR program," which means that a physician's DNR order can be honored outside of the hospital setting. With a Do-Not-Resuscitate Guide you can think about possibilities in advance. If the worst happens, you want your wishes granted. Choosing a DNR program means that medical professionals can legally withhold certain treatments according to what you've decided. You should also talk to your family about your wishes.

Getting a Do-Not-Resuscitate Guide helps you open a discussion with your loved ones, and make a choice that is right for you.
When to use a Do-Not-Resuscitate Guide:
You want to compare DNR programs.
You'd like more info on DNR options in your state.
Sample Do-Not-Resuscitate Guide
The terms in your document will update based on the information you provide
This document has been customized over 121.6K times

Documents and communicates
Ask a lawyer questions about your document
PREHOSPITAL
DO-NOT-RESUSCITATE GUIDE
As a general rule, emergency responders are obligated to provide medical treatment, including the administration of cardiopulmonary resuscitation (CPR), to an individual in response to a call for help, such as a 911 call. However, not all individuals want such medical treatment. Over one-half of the states provide a procedure whereby an individual, in cooperation with his or her physician, may direct emergency responders to withhold medical treatment such as CPR. This guide refers to such procedures as "prehospital do-not-resuscitate (DNR) programs".
If you live in a state with a prehospital DNR program, it is important that you use your state's approved procedure and document. Any other document may not be honored. If you live in a state without such a program, it is possible that no such document would be honored. Therefore, this guide does not provide the opportunity to create a prehospital DNR document. The purpose of this guide is to:
1. provide information about the applicability of prehospital DNR programs; and
2. offer suggestions on what you might do to increase the likelihood your wishes about prehospital medical care are honored.