You found the right contractor to install the plumbing, electrical wiring or HVACs for your improvement project. Or maybe you're having your house remodeled. Creating a Warranty Bond protects your investment in your house, business or side project by guaranteeing the work the contractor performs.
Use the Warranty Bond document if:
You are a contractor and the project documents or owner requires that you provide a guarantee regarding the repair of any defects in your work.
You are a project Owner who would like a guarantee in the event the Contractor fails to repair any defects in the project.
Repairs and remodels can be stressful, so you'll want to know that they're done right. As an owner, a Warranty Bond helps you cut the risk of defective construction by insuring the work performed. You can also benefit from a Warranty Bond since your money will be reimbursed if your contractor goes out of business or can't repair the construction work. A Warranty Bond is a contract between an owner, a contractor, and a surety company. It guarantees that any work defects found in the original construction will be repaired during the warranty period. If the contractor can't fix the defects, the owner will be repaid. Your state or a surety company usually issues Warranty Bonds.
---
<![CDATA[ ]]>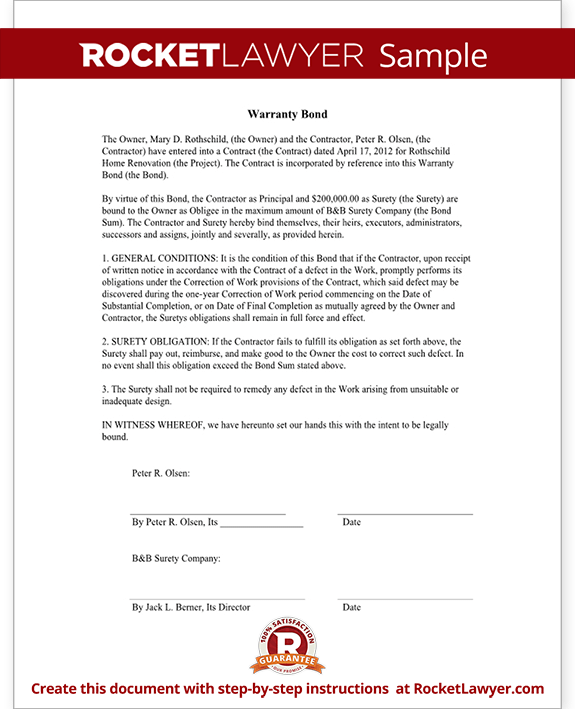 View Sample
Sample Warranty Bond
More than just a template, our step-by-step interview process makes it easy to create a Warranty Bond Form Template.

Save, sign, print, and download your document when you are done.

Sample Warranty Bond
Our step-by-step interview process makes creating a printable Warranty Bond easy.
Make Document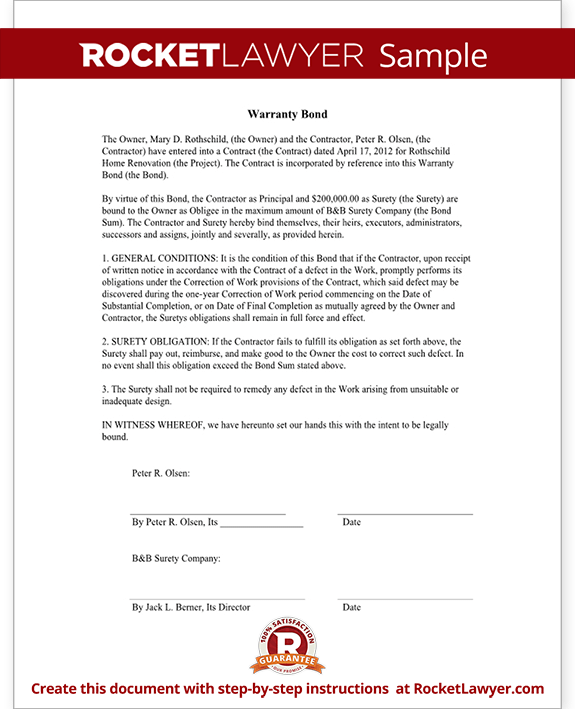 Why choose Rocket Lawyer?
Legally reviewed
Researched by lawyers
and legal staff.
Specialists to help
We're here to answer your
questions.
Free Trial
Your document is free with your subscription.
Our quality guarantee
We guarantee our service is
safe and secure.