MAKE YOUR FREE

Remodeling Contract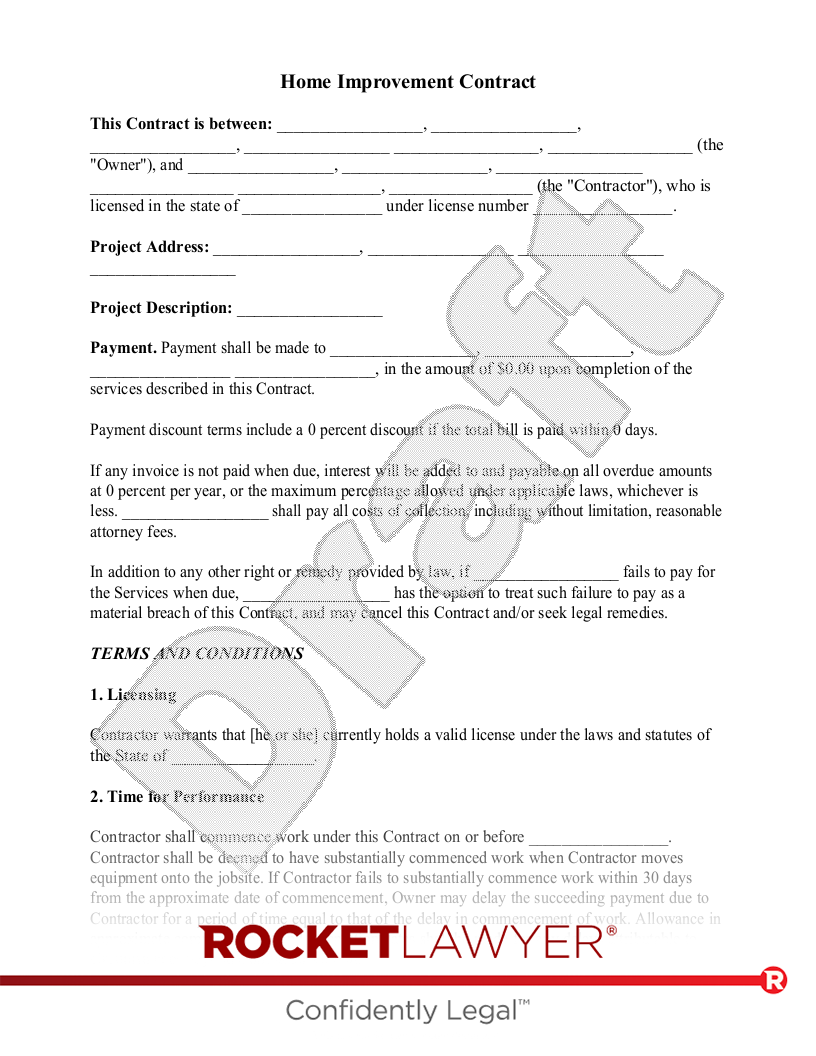 What is a Remodeling Contract?
If you are a remodeling contractor, you should consider making Remodeling Contracts to safeguard your business when you are providing remodeling. By accepting this agreement, both parties will know what to expect. With Rocket Lawyer, your Remodeling Agreement is not just a template. If you ever need help from an attorney in the event of missed payments or another problem, your Rocket Lawyer membership provides the optional benefit of Document Defense®.
When to use a Remodeling Contract:
You are a licensed contractor who would like to provide a potential client with a written contract detailing the verbal agreements you have made concerning a remodeling job.
You are a homeowner and your home requires remodeling or improvement and you would like to hire a licensed contractor to complete the work.
Sample Remodeling Contract
The terms in your document will update based on the information you provide
This document has been customized over 71.1K times
Legally binding and enforceable
Ask a lawyer questions about your document
Sign this document online for free with RocketSign®
Home Improvement Contract
This Contract is between: , , , , (the "Owner"), and , , , (the "Contractor"), who is licensed in the state of
Project Address:
Contract Price: Owner agrees to pay Contractor for completing the Work described as the Project.
Total sales price including all labor and materials:
-
In addition to any other right or remedy provided by law, if fails to pay for the Services when due, has the option to treat such failure to pay as a material breach of this Contract, and may cancel this Contract and/or seek legal remedies.
TERMS AND CONDITIONS
. Licensing
Contractor warrants that [he or she] currently holds a valid license under the laws and statutes of the State of .
.
Contractor shall commence work under this Contract on or before . Contractor shall be deemed to have substantially commenced work when Contractor moves equipment onto the jobsite. If Contractor fails to substantially commence work within 30 days from the approximate date of commencement, Owner may delay the succeeding payment due to Contractor for a period of time equal to that of the delay in commencement of work. Allowance in approximate commencement and completion dates shall be made for any delays attributable to circumstances beyond Contractor's control.
. Drawings, Specifications, and Permits
The project will be constructed according to the drawings and specifications contained in , incorporated into this Contract by reference, which have been examined by Owner and which have been or may be signed by the parties to this Contract. Unless otherwise specifically provided in the drawings or specifications, Contractor will obtain and pay for all required building permits and Owner will pay assessments and charges required by public bodies and utilities for financing or repaying the cost of sewers, storm drains, water service, and other utilities including charges for sewer and storm drain reimbursement, revolving funds, hookup, and other similar charges.
Owner will locate and point out the property lines to Contractor, and will engage a licensed land surveyor to provide boundary stakes if Owner is in doubt as to property boundaries. Owner assumes all responsibility for the accuracy of the boundary markers. Owner shall give copies of any restrictions, easements, or rights of way to Contractor before work is commenced.
Unless otherwise specified, work does not include any changes or alterations from the drawings or specifications that may be required by any public body, utility, or inspector. Contractor, at Contractor's option, may alter specifications only so as to comply with requirements of governmental agencies having jurisdiction over same. The cost of any alteration undertaken to comply with any such requirements shall be in addition to the Contract price specified herein.
. Property Lines
Unless otherwise specified, Owner will provide all water, sewer, gas, and electric utilities from the point of entry at Owner's property line or, if metering devices are required, to those devices. In compliance with federal and state law, Owner agrees to make drinking water and toilet facilities available to all workers or to compensate Contractor for the cost of rented facilities. Owner agrees to provide the electricity that Contractor requires at the jobsite to complete the work.
. Access to Work
Owner shall grant free access to work areas for workers and vehicles and shall provide areas for storage of materials and debris. Owner agrees to keep driveways clear and available for movement and parking of trucks during scheduled working hours. Owner shall be responsible for securing all entrances to the jobsite in a manner adequate to prevent persons other than Owner, Contractor, and any authorized workers or material suppliers from gaining access to that site. Contractor shall be responsible, at the end of every workday, for storing all equipment and materials in the facilities provided by Owner. Contractor shall not be liable for damage to driveways, walks, lawns, shrubs, or other vegetation by movement of trucks, workers, equipment, materials, or debris.
Contractor shall keep Owner advised as to the hours during which work is scheduled to be performed at the jobsite. If Owner denies access to any worker or supplier of materials during scheduled working hours, then Owner will be deemed in breach of this Contract and subject to liability for any damages caused by the breach.
. Financing
Owner is responsible for obtaining all financing that is or may be necessary to fund the work specified in this Contract. Owner represents that Owner has sufficient funds or has arranged sufficient financing to comply with this Contract.
. Hazardous Materials
Unless otherwise specified in this Contract, the removal, disturbance, or transportation of hazardous materials, including asbestos, is not Contractor's responsibility under this Contract. The parties agree that, if Contractor encounters hazardous materials in the course of the Project, Contractor shall stop work immediately and notify Owner who may then retain a qualified Contractor to perform the work. Such work shall be considered Extra Work under Paragraph 13.
. Work Allowance, Conflict, and Abnormal Conditions
There shall be a reasonable allowance on all dimensions specified in work plans. All sizes are outside approximate sizes. If there is any conflict between sketches, renderings, views, pictures, plans, blueprints, etc., and the terms of this Contract, then this Contract shall be controlling. Contractor is not responsible for any existing illegal conditions. Contractor is not responsible for any unusual or abnormal concrete footings, foundations, retaining walls, or piers required, or any unusual depth requirements, such as, but not limited to, conditions caused by poor soil, lack of compaction, hillside, or other slope conditions. Contractor may, but is not obligated to, correct those conditions. All work necessary to correct abnormal conditions that is required by public bodies shall constitute an extra work item and the cost shall be in addition to the Contract price specified herein.
. Change Orders, Amendments, and Modifications
Any subsequent amendment, modification, or Contract, which alters this Contract, and which is signed or initialed by Contractor and Owner, shall be deemed a part of this Contract and shall be controlling in case of conflict with any other provision in Contract.
. Preparation, Work, and Material
Unless agreed on in writing between Contractor and Owner and included in this Contract under "Specifications", this Contract does not include painting and preparation, filling, finishing, grading, retaining walls, new or relocated gutters and downspouts, screen doors, stair railings, or weather stripping. Contractor shall have the option of selecting all floor coverings.
. Extra Work and Changes
. Plumbing
Unless specifically authorized by this Contract, Contractor shall not change plumbing, gas, waste, or water lines outside of the foundation of an existing building. Unless otherwise specifically provided for, this Contract does not cover work done on cesspools or septic tanks. The Contract price does not include rerouting, relocation, or replacement of vents, pipes, ducts, or conduits not shown, or pipes that may be encountered in areas of alteration or excavation.
. Electrical Service
Unless specifically included in this Contract, electrical work shall not involve a change to any existing service panel other than the addition of circuit breakers or fuse blocks to distribute electric current to new outlets. This Contract does not include changes to existing wiring in areas undisturbed by alterations. All existing electrical wiring systems are assumed to be, and Owner represents them to be, adequate to carry the load imposed by existing work. Any work necessary to correct these existing conditions shall be an extra work item subject to Paragraph 13 of this Contract.
. Plaster
Contractor calls Owner's attention to, and Owner acknowledges, the limitations of patching plaster. While Contractor shall make every effort to match existing textures, colors, and planes, exact duplication is not promised.
. Filled Ground or Rock
Unless this Contract specifically provides otherwise, excavating does not include work on filled ground, ground of inadequate bearing capacity, or rock or any other material not removable by ordinary hand tools. This work shall be an extra work item subject to Paragraph 13 of this Contract.
. Termite Work
Contractor is not obligated to perform any work to correct damage caused by termites or dry rot. Any such work shall be an extra work item subject to Paragraph 13 of this Contract.
. Removal of Material and Debris
Except for items designated by Owner in writing prior to the commencement of construction, Contractor shall dispose of all material removed from structures in the course of alteration. Contractor shall remove all construction debris on termination of work and shall leave the premises in neat, broom-clean condition.
. Extra Time
Contractor shall start and diligently pursue work through to completion, but shall not be responsible for delays caused by any of the following: failure of the issuance of all necessary building permits within a reasonable length of time; funding of loans; disbursement of funds into funding control or escrow; acts of neglect or omission by Owner or Owner's employees or agents; acts of God; stormy or inclement weather; strikes, lockouts, boycotts, or other labor union activities; extra work ordered by Owner; acts of public enemy; riots or civil commotion; inability to secure material through regular recognized channels; imposition of Government priority or allocation of materials; Owner's failure to make payments when due; delays caused by inspection or changes ordered by the inspectors of authorized governmental bodies; acts of independent Contractors; holidays; or any other circumstances beyond Contractor's control.
. Protection of Owner's Property
Owner agrees to remove from the jobsite or to otherwise protect any personal property including, but not limited to, carpets, rugs, drapes, furniture, shrubs, and plantings. Contractor shall not be held responsible for damage to or loss of any items of personal property.
. Guarantee of Materials and Workmanship
Contractor does not guarantee any materials, equipment, assemblies, or units that Contractor has purchased or will purchase as part of the work covered by this Contract. All of these items are subject to manufacturers or processor's guarantees or warranties.
. Work Stoppage
Contractor shall have the right to stop work and keep the job idle if payments are not made to Contractor when due. If the work is stopped, for any reason, for a period of 60 days, then Contractor may, at Contractor's option, on five days written notice, demand and receive payment for all work executed and materials ordered or supplied and any other loss sustained, including Contractor's normal overhead plus a profit of 10 percent of the Contract price. Thereafter, Contractor is relieved from any further liability. If work stops for any reason, Owner shall provide for protection of all material on the premises and shall be responsible for any damage, warpage, racking, or loss of that material.
. Completion and Occupancy
Owner agrees to sign and record a Notice of Completion within five days after the project is completed and ready for occupancy. If Owner fails to record the Notice of Completion, then Contractor shall, as Owner's agent, sign and record a Notice of Completion on Owner's behalf. This agency is irrevocable and is an agency coupled with an interest. Contractor may bar occupancy of the project by Owner or anyone else until Contractor has received all payments due under this Contract and until the appropriate Notice of Completion has been recorded. Use and/or occupancy shall constitute completion. If a funding control service is used, then Contractor and Owner agree that the funding control service shall be appointed as Owner's agent to sign and record a Notice of Completion on Owner's behalf.
. Notice
Any notice required or permitted under this Contract may be given by ordinary or electronic mail at the addresses specified in this Contract. If either party changes his or her address, that party shall provide written notice of the change to the other party. Notice shall be considered received one day after it is deposited in the mail with postage prepaid.
. Integration Clause
This document and all documents incorporated by reference constitute the parties' entire Contract. No other Contracts, oral or written, regarding the work to be performed under this Contract exist between the parties.
This Contract shall be construed in accordance with, and governed by, the laws of the State of .
. Corrective or Repair Work
If minor items of corrective or repair work remain to be accomplished by Contractor after the project is ready for occupancy, Contractor shall perform the work expeditiously and Owner shall not withhold any payment pending completion of that work.
If major items of corrective or repair work remain to be accomplished after the building is ready for occupancy, and the aggregate cost of that work exceeds one percent of the gross Contract price, then Owner, pending completion of the work, may withhold payment of a sufficient amount to pay for completion of the work, but shall not withhold any greater amount.
. Attorneys' Fees
In the event of any arbitration or litigation arising from this Contract, the prevailing party shall be entitled to recover its costs and reasonable attorneys' fees.
. Signatories
This Contract shall be executed by the homeowner, , and by the contractor, . The Contract shall be effective as of signing.
___A contractor or salesperson shall provide and deliver to the owner, without charge, a completed copy of the home improvement contract at the time the contract is executed.
Important Details
The requirements for a Home Improvement Contract are very strict in California. Be sure to read the interview questions carefully and please answer each question completely. Failure to answer a question could result in California-mandated clauses, or required information, to be missing and render the Contract void.
If the parties decide not to electronically sign this contract, be sure that the Notice of Right to Cancel is signed on the same day as the Contract itself is signed.
For further information and resources, please see California Business and Professions Code Sections 7150-7168 and the California Contractors State License Board website: http://www.cslb.ca.gov/
Attach a copy of the work description.
Remodeling Contract FAQs
Why should a remodeling contractor always write a Remodeling Contract?

Whether you are remodeling a home or a commercial space, it is valuable to record the details of your work in a contract. Using a Remodeling Contract most likely will be helpful for your business because of the benefits listed below:

Everyone knows when payments are due
The remodeling contractor and client both understand their responsibilities
Neither party is surprised by how long the engagement lasts

Ultimately, if you opt not to use this document, neither party will get to experience any of the aforementioned benefits.

How do you write a contract for remodeling work?

Before getting started, you may want to organize these critical details for the Remodeling Contract:

The name and address of the client
What tasks you will be performing once hired
Whether the work will be ongoing or if it will last for a predetermined period of time
How much it will cost and when payment is due

Your contract from Rocket Lawyer also contains the typical language regarding the independent work relationship between the parties, indemnity for losses, and lastly, dispute resolution. As you build your agreement, you also can select which state's jurisdiction it will fall under. Using the Rocket Lawyer document tool, you have the ability to implement additional adjustments and edits, such as license details, if necessary.

How much should a licensed remodeling contractor charge up front?

Remodeling contract deposits typically fall somewhere between ten and fifteen percent of the estimated total cost. However, the amount you charge upfront depends on where you operate, as some states have limitations for the maximum upfront payment that a contractor can require. If the contractor has to order certain materials in advance, that also could affect the payment required before work gets started. You can conduct online research in your specific market or speak with peers who have done similar work to find out what the market rate is.

On average, what would it normally cost me to draft a Remodel Contract?

Luckily, you don't have to pay hundreds of dollars to get your contract in writing. With Rocket Lawyer, you can draft a free Remodeling Contract online today. Your agreement will be constructed piece by piece, as you enter more details throughout the process. Simply click on the "Make document" button to begin.

If you've got any particular questions or hesitations about how to move forward, talk to an attorney . Also feel free to explore more business documents in our library.

How much do remodeling contractors make?

Contractor rates are highly sensitive to their local markets. You can generally find information about rates by doing some geographically-specific research.

How can I get a remodeling contract template reviewed by an attorney?

Finding a legal professional to give feedback on your contract can take a long time if you do it by yourself. An easier approach worth consideration is to get help via the Rocket Lawyer On Call® network of attorneys. Rocket Lawyer members have the ability to request guidance from an Rocket Lawyer network attorney with experience in business or send additional questions. As a business owner, you can Work Confidently® with Rocket Lawyer by your side.

Would I have to do anything else after I have created a Remodeling Contract?

In order to finalize your agreement, it must be signed by both you and the client. As a best practice, make sure to send a final copy of your fully signed contract to your client. With a membership, you also may print out, copy, and download it as a Word document or PDF file as necessary.