When you've found the perfect person to sublet a room in your house or apartment, you can use a Room Rental Agreement (also known as a sublease) to protect everyone's rights and define the terms so they're crystal clear. We'll make it easy to get the necessary agreement in writing with our step-by-step Room Rental Agreement.
Use the Room Rental Agreement document if:
You want to rent out your room while you are away.
Our Room Rental Agreement is also known as a Sublease Agreement. You may have heard of people who "sublet" their rooms, and wondered what that means. Basically, it's when someone rents a room from someone who's already renting the room from someone else. A Room Rental Agreement is made between the original tenant who is leaving and the person taking over the original tenant's room. Although the landlord isn't part of the Agreement, tenants often have to get their landlord's approval to sublease. Once you get permission, a Room Rental Agreement is a great idea because it explains the rights and responsibilities of each party for the sublease of the room. The Room Rental Agreement also incorporates the terms of the Residential Lease between the original tenant and landlord. This means that the new tenant agrees to all the terms in the original lease. However, rental payments are made to the original tenant, who in turn pays the Landlord. The term of a Room Rental Agreement can vary. The new tenant may sublease only for a month, or continue renting for the remainder of the original tenant's term.

Other names for this document: Room Rental Agreement Form, Room Lease Agreement, Room Rental Contract
---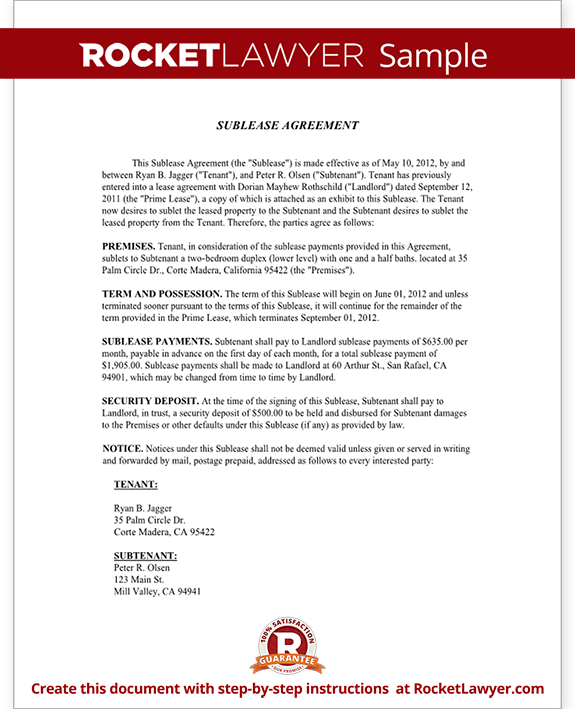 View Sample
Sample Room Rental Agreement
More than just a template, our step-by-step interview process makes it easy to create a Room Rental Agreement.

Save, sign, print, and download your document when you are done.
This document is sometimes called a Sublease Agreement.