You're taking out a mortgage on your house, or maybe you're lending someone money and want some security on the loan. Either way, a Mortgage Deed helps you protect your legal rights and responsibilities. You'll want to get it signed before money changes hands. With a deed in place, both parties get a sense of security regarding the terms of the arrangement.


Use the Mortgage Deed document if:
You are loaning money to another person or business and want to hold an interest in certain property they own as security until they repay their debt.
You are borrowing money and want to offer property you currently own as security to the lender that you will repay the debt in full or they can take claim on the property.
If you're a borrower, a Mortgage Deed allows you to put up your property as collateral in exchange for a loan. It gives the lender an interest in the property as a guarantee of the debt, with rights to the property until the mortgage amount is completely paid off. Once the debt is repaid, all rights revert to the borrower. With a Mortgage Deed, you can outline the terms and conditions of the loan, and come up with a termination plan. You'll want to include details like: the property's physical address and a legal description; the mortgage amount; when the deed goes into effect; whether the lender, the borrower, or a third party is creating the document; whether the parties are individuals, married couples, businesses, or trusts; the contact information of both parties; and where each party will sign the deed. Once you've gotten the document signed by both parties, file it at the county recorder's office.

Other names for this document: Mortgage Deed Form
---
<![CDATA[ ]]>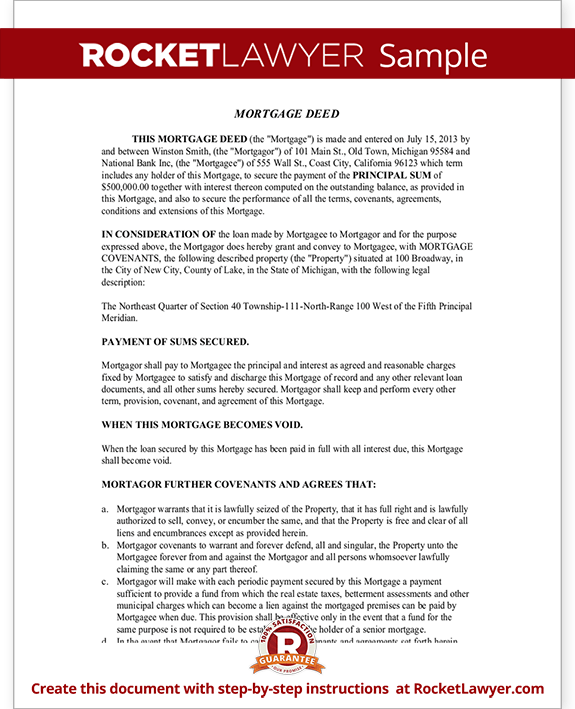 View Sample
Sample Mortgage Deed
More than just a template, our step-by-step interview process makes it easy to create a Mortgage Deed.

Save, sign, print, and download your document when you are done.

Sample Mortgage Deed
Our step-by-step interview process makes creating a printable Mortgage Deed easy.
Make Document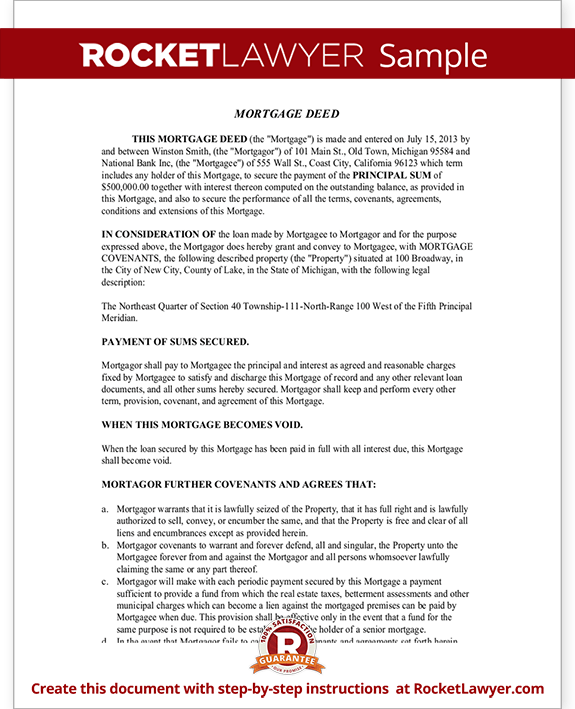 Why choose Rocket Lawyer?
Legally reviewed
Researched by lawyers
and legal staff.
Specialists to help
We're here to answer your
questions.
Free Trial
Your document is free with your subscription.
Our quality guarantee
We guarantee our service is
safe and secure.