If you have a position at a business and need a break from work, or you're an employer who would like to grant such a break, you can use a Leave of Absence. Employees typically request a leave of absence for a specific personal reason, like additional training or education, a special research program, or for family or health reasons; a Leave of Absence helps enable the employer to maintain the employee's status at the business during their absence, so that their position is there for them when they return to work.
Use the Leave of Absence document if:
You need to take a leave of absence from work.
You're an employer who needs to work out a leave of absence with an employee.
You're in HR and need to update documents for employees.
A Leave of Absence is a clear way to set out the terms and conditions that the employee needs to fulfill during their time away from the business, in addition to the compensation and any other benefits he or she is entitled to during the period specified in the document. A Leave of Absence document can be used to specify the length of time away from work, and whether the leave (which is generally considered a 'fringe benefit') is with or without pay.

Other names for this document: Leave of Absence Letter, Leave of Absence Form, Leave of Absence Policy
---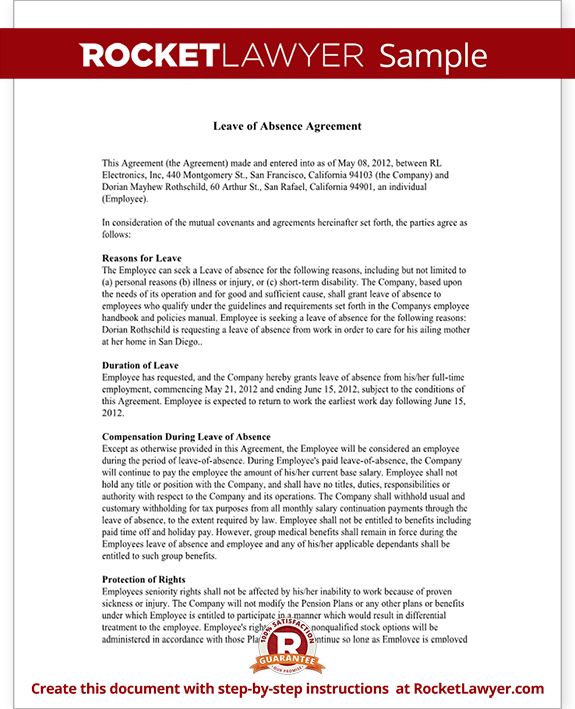 View Sample
Sample Leave of Absence
More than just a template, our step-by-step interview process makes it easy to create a Leave of Absence.

Save, sign, print, and download your document when you are done.
This document is sometimes called a Leave of Absence Agreement.