Commercial Sublease Basics
Do you need to move your business? If you're already leasing a property, a Commercial Sublease may be a good option. A Commercial Sublease is an agreement between an existing tenant of a commercial property and another person, know as the "subtenant," who wants to sublease the property for business or commercial purposes. This is usually for the remaining term of the original lease, known as the "Prime Lease."
Use the Commercial Sublease document if:
You're renting commercial property and want to sublease it.
You're a landlord who leases commercial property and approve of subleasing it.
You're interested in subleasing commercial property.
You can use a Commercial Sublease if the original lease specifically allows subleasing, or the tenant has the landlord's written approval and permission. The original landlord or owner of the commercial property will continue to be referred to as the "Landlord" in the sublease. After signing the Commercial Sublease and obtaining any necessary consent from the landlord, the subtenant is entitled to possession of the property for the duration of the sublease. If the parties expect to modify other provisions from the Prime Lease, you should consult an attorney who can prepare a more flexible document.

Other names for this document: Commercial Sublease Agreement, Commercial Real Estate Sublease, Commercial Sublease Contract
---
<![CDATA[ ]]>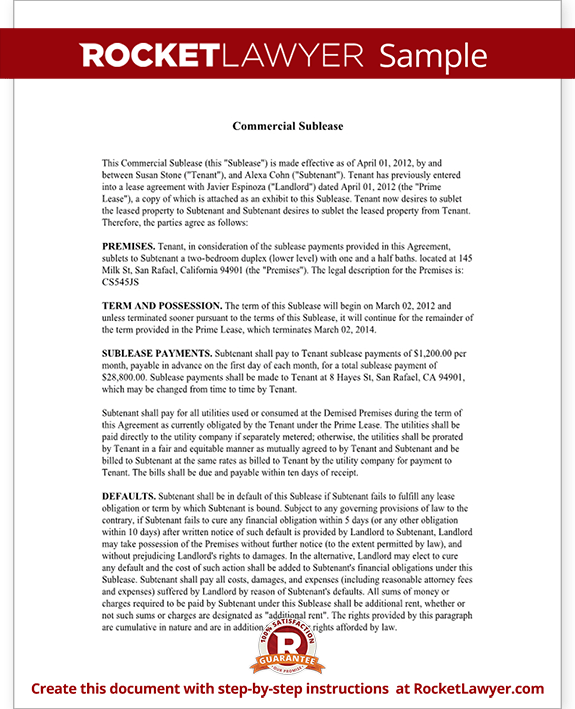 View Sample
Sample Commercial Sublease
More than just a template, our step-by-step interview process makes it easy to create a Commercial Sublease.

Save, sign, print, and download your document when you are done.

Sample Commercial Sublease
Our step-by-step interview process makes creating a printable Commercial Sublease easy.
Make Document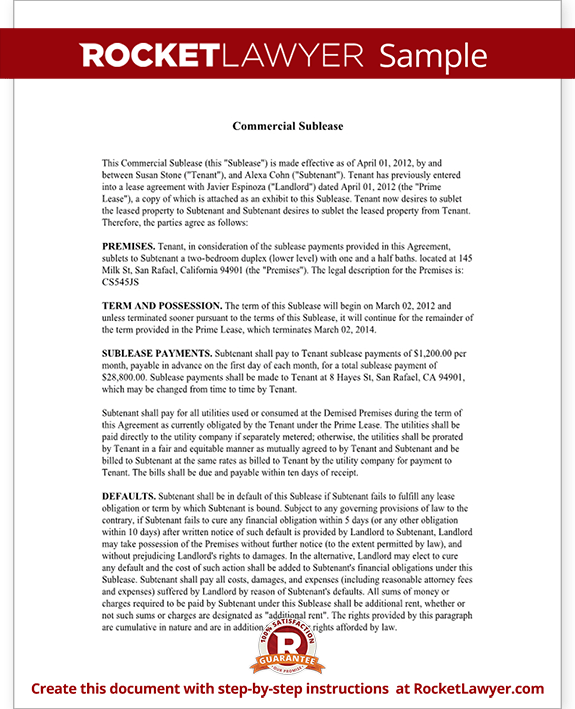 Why choose Rocket Lawyer?
Legally reviewed
Researched by lawyers
and legal staff.
Specialists to help
We're here to answer your
questions.
Free Trial
Your document is free with your subscription.
Our quality guarantee
We guarantee our service is
safe and secure.