Landlords, tenants, and lenders all have different interests in a mortgaged rental property. Whoever you are, an Attornment Agreement can help you clarify your claim, and help protect your legal rights. You'll want to create the agreement before the move-in date. That way, if there are any questions about the lease or mortgage, you'll have a written record clarifying everything.
Use the Attornment Agreement document if:
You are a Landlord leasing a mortgaged property.
You are a Tenant leasing a mortgaged property.
An Attornment Agreement helps clarify the interests of all the parties involved in a mortgaged rental property. Essentially, the agreement says that the landlord's lender - not the tenant - has the greatest claim to the property. In other words, the tenant's rights are subordinate, which is why this document is also sometimes called a Subordination Agreement. The lender can agree to honor the terms of the lease even if the landlord defaults on the mortgage, so long as the tenant remains current on their rental payments. Our Attornment Agreement includes details like: the date of the agreement; the name of the lender or mortgage company (also called a "mortgagee"); the landlord's name; the tenant's name; the date of the lease agreement; the address and legal description of the property; and who will sign on behalf of the mortgagee. You can also include a non-disturbance provision so that the tenant's activities won't be affected by a change in landlord.

Other names for this document: Subordination Non-Disturbance and Attornment Agreement
---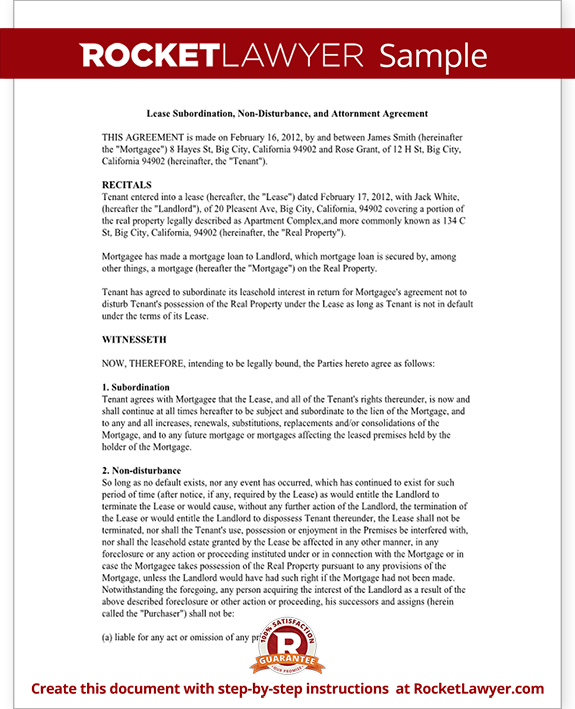 View Sample
Sample Attornment Agreement
More than just a template, our step-by-step interview process makes it easy to create an Attornment Agreement.

Save, sign, print, and download your document when you are done.
This document is sometimes called a Lease Subordination, Non-Disturbance, and Attornment Agreement.