MAKE YOUR FREE

Composer Agreement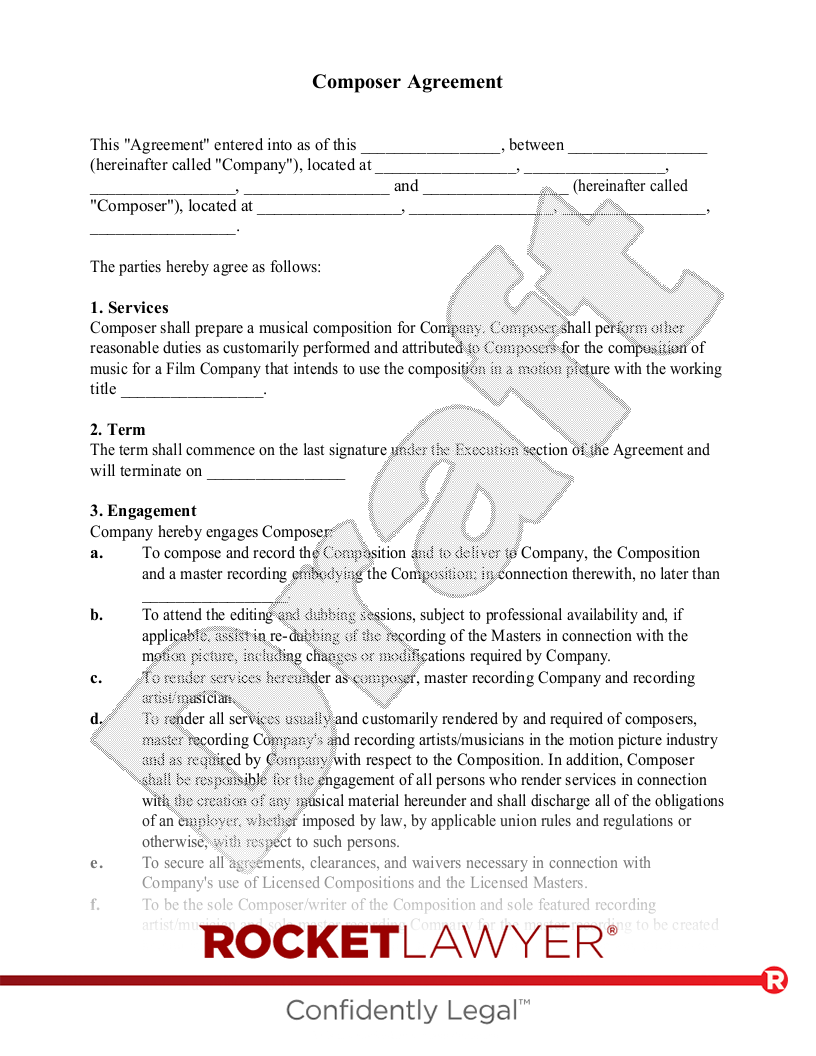 What is a Composer Agreement?
A Composer Agreement enables composers to outline the terms and conditions connected to a music composition project. With signatures from both the client and the composer, this essential document helps define each party's expectations. With Rocket Lawyer, your document isn't just a generic composer agreement template. If you ever need support from an attorney due to nonpayment or any other issue, your Premium membership provides the optional benefit of Document Defense® protection on each contract.
When to use a Composer Agreement:
You're hiring a composer to write some original music.
You're a composer being hired to create original music for a client.
Sample Composer Agreement
The terms in your document will update based on the information you provide
This document has been customized over 9.8K times
Legally binding and enforceable
Ask a lawyer questions about your document
Sign this document online for free with RocketSign®
Composer Agreement
This "Agreement" entered into as of this , between (hereinafter called "Company"), located at , , , and (hereinafter called "Composer"), located at , , , .
The parties hereby agree as follows:
1.Services
Composer shall prepare a musical composition for Company. Composer shall perform other reasonable duties as customarily performed and attributed to Composers for the composition of music for a Film Company that intends to use the composition in a motion picture with the working title .
2.Term
The term shall commence on the last signature under the Execution section of the Agreement and will terminate on
3.Engagement
Company hereby engages Composer:
a.
To compose and record the Composition and to deliver to Company, the Composition and a master recording embodying the Composition; in connection therewith, no later than .
b.
To attend the editing and dubbing sessions, subject to professional availability and, if applicable, assist in re-dubbing of the recording of the Masters in connection with the motion picture, including changes or modifications required by Company.
c.
To render services hereunder as composer, master recording Company and recording artist/musician.
d.
To render all services usually and customarily rendered by and required of composers, master recording Company's and recording artists/musicians in the motion picture industry and as required by Company with respect to the Composition. In addition, Composer shall be responsible for the engagement of all persons who render services in connection with the creation of any musical material hereunder and shall discharge all of the obligations of an employer, whether imposed by law, by applicable union rules and regulations or otherwise, with respect to such persons.
e.
To secure all agreements, clearances, and waivers necessary in connection with Company's use of Licensed Compositions and the Licensed Masters.
f.
To be the sole Composer/writer of the Composition and sole featured recording artist/musician and sole master recording Company for the master recording to be created hereunder; consequently: under no circumstances shall Composer engage any third parties to render services as co-composers, co-writers of the Composition and/or as recording artists/musicians and/or as master recording Company s of the master recording to be made here-under, without the express prior written authorization of Company; and Composer shall not collaborate with any third parties in the actual composing, writing, performance or production of musical material hereunder without Company's prior written approval.
g.
To comply with all reasonable directions, requests, rules and regulations of Company and perform all services and obligations as required by the Company hereunder to the best of Composer's ability. Company's Judgment shall be final in all matters.
4.Expenses
a.
If Composer incurs expenses as a result of necessary activities associated with services for Company required for fulfillment of services, Company agrees, in addition to other monies paid to Composer, to provide Composer reimbursement for all reasonable expenses incurred by Composer, presented to Company with supporting documentation within 60 days of incurring the expense.
b.
All travel arrangements shall require prior written consent from an authorized agent of Company.
5.Compensation
As full and complete consideration for all services performed hereunder and all rights granted herein, Company will provide fixed compensation of to Composer for the services rendered hereunder and use of the composition by Company.
6.Screen Credit
a.
Composer shall receive credit as Composer substantially as follows: "Composer" or "Composed by" or "Musical Score by" in the opening and closing credits. Size, type, style, placement and duration shall be determined by Company.
b.
Composer shall be given the above credits only in the event that the Film is produced and in the event of any inadvertent error with either credit, Composer is not entitled to any injunctive relief.
7.Royalties
a.
Company agrees to pay, or cause Distributor to pay to Composer, the following royalties for the sale of phonograph records containing the master recordings embodying compositions composed and recorded by Composer and included in the music soundtrack of the Picture (referred as the "Masters"). (a) A royalty at the rate of of the suggested retail list price from time to time for net sales of phonograph records embodying the "Soundtrack Album" through normal retail channels in the United States.
b.
Solely if Composer renders services as the Company of the Masters for the purposes of embodying same on the Soundtrack Album, Company will pay or cause to be paid to Composer an additional royalty at the rate of [8 Percentage] of the suggested retail list price from time to time for U.S. LP Retail Sales.
c.
The royalty payable to Composer as set forth above shall in all respects be reduced, computed and determined in the same manner as Company 's basic royalty under the Distribution Agreement (i.e., without regard to any sales escalations) is reduced, computed and determined for such sales (including, without limitation, based on the same percentage of net sales, subject to the same reserve and liquidation provisions, and subject to the same packaging deductions, free goods and discount reductions) and the royalty payable to Composer for all other sales of phonograph records and other exploitation of the Masters shall be subject to the same category variations, deductions and reductions as is Company 's basic royalty under the Distribution Agreement (including, without limitation, reductions for foreign sales, tape sales, "singles" sales, "mini-LP" sales, record club sales, mid-price and budget sales, PX sales, compact disc sales and coupling). No royalties shall be payable to Composer for any exploitation of the Masters for which Company is not entitled to receive or does not earn a royalty pursuant to the Distribution Agreement.
d.
Notwithstanding anything to the contrary contained herein, the royalty payable to Composer for sales of any phonograph record not consisting exclusively of the Masters shall be prorated on the basis of the number of Masters contained thereon divided by the total number of master recordings on such record. Royalties on Masters embodying Composer's performances, together with the performances of one or more other royalty bearing artists shall be prorated on the basis of the number of artists (including Composer) whose performances are embodied on such Master. If any Master is produced by Composer, jointly or separately, with another record Company to whom Company shall be obligated to pay a royalty, or if any other record Company to whom Company is obligated to pay a royalty shall perform additional services for the Master produced by Composer, then the royalty payable to Composer for such Master shall be reduced by the royalty payable to such other record Company.
e.
Notwithstanding any of the foregoing, no record royal-ties shall be payable to Composer unless and until all recording costs and conversion costs of the Masters shall be recouped by Distributor or Company, as the case may be, from royalties payable to Composer. After such recoupment, Composer's royalty shall be paid prospectively, commencing with the next record sold after such recoupment.
f.
At such time, if any, as Company 's royalty account under the Distribution Agreement is in a recouped position and Composer's royalty account is recouped ("Recoupment"), Company agrees to use its best efforts to cause Distributor to account for and pay Composer's royalties directly to Composer on a semi-annual basis, according to Distributor's standard accounting procedures, commencing with the accounting period immediately following Recoupment. If Company accounts directly to Composer, Company shall be entitled to rely on Distributor's royalty statements to Company in accounting to Composer. Composer shall be deemed to have consented to each royalty accounting to Composer, and each such accounting shall become final and binding upon Composer, unless Composer renders specific written objection, stating the basis thereof, at least sixty (60) days prior to the date Distributor's corresponding accounting to Company becomes binding on Company; and if Company gives Composer written notice that it denies the validity of the objection, unless suit is instituted thereon at least sixty (60) days prior to the last date Company may institute suit against Distributor on the corresponding account-ing to Composer. Composer shall have the right, at Composer's expense, to audit Company 's books and records which have not then been rendered incontestable, but no more often then once per twelve (12) month period, relating to the sale of phonograph records embodying the Masters, during normal business hours and on reasonable written notice. Composer has no independent right to audit Distributor's books and records unless Distributor shall have agreed to same. If Company elects to audit Distributor's books and records relating to phonograph records under the Distribution Agreement (which Company shall have no obligation to do), Composer shall receive Composer's pro rata share of any net recovery therefrom (i.e., after deduction of the costs of such audit) in the proportion which Composer's royalty for the record involved bears to the overall royalty for the record involved payable pursuant to the Distribution Agreement.
8.Reducing Costs
a.
Composer agrees to pay all costs and expenses in connection with the composing, arranging, copying and delivery of the complete musical composition. Company shall not be any financial obligation whatsoever with respect to the foregoing. Composer agrees that any and all recording costs shall be their sole responsibility.
b.
Composer agrees to pay all musician's fees (if any) and any union fees or residuals (if any) that may be owing for the musical composition. Composer further agrees to indemnify and hold company harmless in connection therewith. Company shall not be required to pay any sums in connection with the musical composition, the Composer's services hereunder in connection with the advertising and exploitation of the motion picture or Company's other uses as provided hereunder.
9.Rights
a.
Composer agrees that all musical material created by Composer hereunder is "work made for hire" (for the purpose of U.S. copyright law and all other copyright laws throughout the Universe) created pursuant to this employment Agreement in the regular course of Composer's employment hereunder. If or to the extent for any reason in any country, any or all such musical material is not recognized to be a "work made for hire" then Composer hereby irrevocably and absolutely assigns to Company all rights (copyrights, rights under copyright and otherwise, whether now or hereafter known) and all renewals and extensions (as may now or hereafter exist) thereof, in and to all such musical material, throughout the Universe and in perpetuity.
b.
Company shall be deemed to be the author of such musical material. Company as author shall own all rights (copyrights, rights under copyright and otherwise, whether now or hereafter known) and all renewals and ex-tensions (as may now or hereafter exist) thereof, in and to said musical material, throughout the Universe and forever with the right to make such changes therein and such uses thereof including but not limited to derivative works, as Company may determine as author, in all media /formats/methods/manner now or hereafter known.
c.
Company shall have the sole exclusive perpetual and universal right to use, perform, adapt, arrange, rearrange, change, add to, subtract from, and dramatize the musical composition. Company shall also have the right to combine the musical composition with other musical and/or literary material in connection with the motion picture, or other motion pictures and/or the advertising and promotion thereof or of the Company, for exploitation in any and all media now known or hereafter devised, including but not limited to theatrical, non-theatrical, free pay, subscription, toll, direct broadcast, cable and closed circuit television, video cassettes, video discs, laser discs, video tape, interactive multimedia, and any other form of audio visual device now known or hereafter devised, throughout the universe, and in advertisements, trailers, featurettes and other promotions and co-promotions of the motion picture.
d.
Composer hereby assigns to Company in perpetuity, on Composer's own behalf and on behalf of Composer's respective successors-in-interest, heirs, executors, administrators, and assigns, all of Composer's economic rights in all musical material created hereunder, in the motion picture and any derivative works based on such aforesaid musical material and/or the motion picture which are, at any time, granted by domestic, foreign, or multi-national legislation, including, but not limited to European Economic Community ("EEC") or other legislation or directives concerning remuneration pursuant to any blank audio/visual tape levy, rental, lending, public performance rights, so-called "performer's property rights" and/or rights in respect of satellite and cable retransmission broadcasts in EEC member states or otherwise. Composer acknowledges that the compensation set forth in this Agreement includes full, equitable and adequate consideration for this assignment and that such consideration is an adequate part of the revenues derived or to be derived by Company from such rights.
10.Warranties
Composer represents, warrants and agrees as follows:
a.
The results and proceeds of Composer's services here-under shall be wholly original and shall not be copied in whole or in part from or based upon or adapted from any other work; neither the Composition nor the results and proceeds of any other services rendered by Composer hereunder shall infringe upon or violate the right of privacy or constitute a libel or slander against or violate any common law rights or any other rights of any person, firm or corporation; the Composition, shall not have previously been exploited or performed in any medium whatsoever and no copyright application has been filed in the United States or in any other country or territory with respect to all or any portion of the Composition.
b.
Composer has the full right and power and is free to enter into this Agreement and to perform all services required to be per-formed by him hereunder and neither the Composition nor any other material created hereunder shall be subject to any claims or encumbrances which would derogate from the rights to be acquired by Company hereunder.
c.
Composer agrees to hold Company and its respective agents, successors, licensees, assigns, employees, officers and directors, etc. (collectively referred to herein as "indemnified parties") harmless from and against all claims, demands, losses and expenses, including reasonable attorneys' fees, arising out of any breach or claim of breach by Composer of any of his/her representations, warranties or agreements hereunder. In the event any claim is brought against Company and/or any other indemnified parties, which is inconsistent with any of the warranties, representations or covenants made by Composer under this Agreement, and Company and/or such other indemnified parties deems itself/themselves jeopardized as a result thereof, Composer shall be promptly notified of the claim and shall have the opportunity at Composer's sole expense, with counsel of Composer's choosing, to participate in the defense thereof, provided that the final control or disposition of the claim or action shall remain with Company or Company's designee.
11.Waiver
Without limiting the generality of the foregoing, Composer hereby irrevocably and unconditionally waives any right or entitlement Composer may have pursuant to Sections 77-85 (inclusive) of Chapter IV of the Copyright Designs and Patents Act of 1988, or any statutory modifications or enactments thereof or the laws of any other jurisdictions. With respect to any of the musical material created hereunder, if and to the extent copyright registration therefore in any country/territory is required to be acquired in Composer's name, Company shall have the full right, power and authority to apply for such copyright registration(s) in Composer's name, whereupon Composer shall promptly assign/transfer such copyright registration(s) to Company. Similarly, if any copyrights in and to any of the musical material created hereunder in any country/territory are required to be renewed and/or extended in the name of Composer, then Composer shall take all measures necessary to renew/extend the copyrights involved and promptly thereafter shall assign such copyrights (and all rights there under and otherwise) to Company for such renewal/extended term(s), without Company having to pay any additional consideration therefore.
12.Exclusivity
Composer's services will be rendered on a non-exclusive basis as when and where required by Company.
13.Publicity
a.
Any publicity, paid advertisements, press notices or other information with respect to the Film will be under the sole control of Company. Therefore, composer, his/her agents or representatives, or any of them, will not issue or consent to and/or authorize any person or entity to release such information without the express prior written approval of Company. Any violation of this paragraph shall be considered a material breach of this agreement.
b.
Composer hereby grants Company the right during the Term of this Agreement, to issue and authorize publicity, paid advertisements, press notices and other information concerning Composer.
14.Name and Likeness
Composer hereby grants to Company the perpetual right to use, and license others to use, Composer's name, approved likeness, biography, voice and other sound effects in connection with the rights granted by Composer hereunder, the Film based upon or utilizing Composer's services or musical compositions hereunder and/or in connection with any exploitation or publicizing of such services, compositions or Film.
15.Incapacity and Death
a.
If Composer suffers incapacity, Company may suspend Composer's services during the duration of such incapacity and be relieved of its obligations to pay Composer for each day Composer is under such incapacity. "Incapacity" as used herein, shall include, without limitation, and physical or mental disability rendering Composer unable to perform any or all of Composer's obligations hereunder.
b.
Composer hereby grants Company an irrevocable power of attorney, coupled with an interest which shall survive Composer's subsequent incapacity, to perform any and all such acts and/or to execute any and all such instruments or other documents which Composer fails to perform and/or fails to execute or deliver within seven days (or such shorter period as Company may reasonably require) after receipt of Company's written request therefore.
c.
Company is hereby authorized to perform any such acts and to execute any and all such instruments and documents in Composer's name and as Composer's attorney-in fact, which right is coupled with an interest and includes full power of substitution and delegation. Without limiting the foregoing, Composer shall execute and deliver to Company a Certificate of Authorship in the form required by Company.
d.
This Agreement shall automatically terminate in the event of Composer's death and Company may terminate this Agreement in the event Composer's incapacity extends beyond fourteen (14) consecutive days or three (3) weeks in the aggregate during the Term of this Agreement.
16.Notices
Any notice required or permitted under this Agreement shall be in writing and shall be deemed given when delivered personally or seven (7) days after being sent by first-class registered or certified mail, return receipt requested, to the party for which intended at its or his/her address set forth in this Agreement or to such other address as either party may hereafter specify by similar notice to the other. If the date for the exercise of an option or a date on which a notice must be received falls on a weekend or a legal holiday, the date shall be deemed extended through the close of the next business day thereafter.
17.Assignment
This Agreement is exclusive to the services of Composer hereunder and not assignable for the personal services of Composer to anyone else.
18.No Authority to Bind
Composer has no authority to bind Company in any third party agreements or any other agreements unless a prior agreement has been made with Company in writing.
19.Default
Upon any breach or default by Composer of any terms or conditions hereof or any failure to deliver any materials required hereunder Company shall immediately have the right to terminate this Agreement.
20.Remedies
No act or omission of Company hereunder shall constitute an event of default or breach of this agreement unless Composer shall notify Company in writing setting forth such alleged breach or default and Company shall not cure said alleged breach or default within thirty days after receipt of same. In the event of any breach by Company of this Agreement, Composer shall be limited to his remedy at law for damages if any and shall not have any right to terminate or rescind this Agreement or to in any way enjoy or restrain the production, distribution, advertisement, telecast exhibition or other exploitation of the motion picture.
21.Further Documents
The hereby agrees to execute any further documents or amendments which are necessary or proper to make the substance of this Agreement effective and binding upon the parties hereto and which are necessary and proper for performance of all matters herein agreed upon.
22.No Obligation To Use
Nothing herein shall be deemed to nor shall it obligate Company to actually use or exploit all or any portion of the results and proceeds of Composer's services hereunder.
23.Union
Composer's services hereunder are provided completely on a "buy-out" basis regardless of whether or not the services are provided under a guild or union.
24.Termination
Company shall have the right to terminate this Agreement and Composer's services if, Company in good faith belief, based on the facts then available to Company, Composer has engaged in any of the following conduct a) fraud, misappropriation or embezzlement of funds; b) willful disregard of instructions, applicable company policies, regulations or procedures of which Composer was or should have been aware; or c) gross misconduct. Termination under this provision shall be effective immediately upon receipt of notice by Composer. In the event of termination of this Agreement for any reason, it is understood that Company 's rights in and to all the results and proceeds of all services theretofore rendered by Composer hereunder shall neither be altered, affected or impaired by virtue of such termination.
25.Miscellaneous Provisions
a.Entire Agreement
This Agreement is the entire agreement of the parties relating to the subject matter hereof and all previous and contemporaneous communications, negotiations and understandings with respect to the subject matter hereof, both oral and written, are merged herein.
b.Voluntary Agreement
Composer represents and warrants that he/she has entered into this Agreement freely and voluntarily without any duress, coercion or undue influence.
c.Modifications
No modifications to this Agreement shall be binding upon any party(ies) except by a written instrument signed by the party or parties to be bound.
d.Interpretation
Nothing contained in this Agreement shall be construed so as to require the commission of any act contrary to law, and wherever there is a conflict between any provisions of this Agreement and any material statute, law, ordinance, order or regulation contrary to which the parties hereto have no legal right to contract, the latter shall prevail, but in such event any provision of the Agreement so affected shall be curtailed and limited only to the extent necessary to bring it within the legal requirements.
e.Act of God
If because of any act of God; accident; strike or labor dispute; riot or civil commotion; act of public enemy; rule, act or order of government or governmental instrumentality; failure of technical facilities; failure or delay of transportation facilities; or any other cause not reasonably within the control of Company and/or the publisher, Company and/or the publisher is/are materially hampered in the performance of its/their obligations to Composer hereunder, then without limiting the rights of Company and/or the publisher, Company and/or the publisher shall have the option to suspend such of Company's/the publisher's obligations hereunder as are actually affected by the contingency for the duration Company and/or the publisher as the case may be) is materially hampered as a result of the contingency.
f.Ambiguities
This Agreement shall be deemed to have been drafted by all the parties hereto, since all parties had the opportunity to review and agree thereto and no ambiguity shall be resolved against any party by virtue of its participation in drafting of this Agreement.
g.Relationship of Parties
The parties hereto are entering into this Agreement as independent contractors, and no partnership or joint venture or other association shall be deemed created by this Agreement.
h.Attorneys or Agents Fees
The fees, expenses and commissions of any attorney, accountant, agent or manager employed, retained or consulted by Composer shall be borne solely by Composer.
i.Agreement Copies
This Agreement may be manufactured, or executed in as many copies or counterparts and are all one in the same Agreement and are executed.
j.Binding Effect
This Agreement and all rights and obligations hereunder, shall be binding on and insure to the benefit of the parties hereto and their respective heirs successors licensees and assigns.
k.Governing Law
This Agreement shall be governed by the laws of the applicable to contracts to be wholly negotiated and performed therein. Any claim, dispute or disagreement with respect to this Agreement shall be submitted to the courts of the , or the Federal courts within the , which courts shall have the exclusive jurisdiction thereof.
26.Severability
Except as expressly provided to the contrary herein each provision of this agreement shall be considered separate and divisible and in the event that any provision is held to be invalid, void, or unenforceable by a court of competent jurisdiction, the remaining provision shall continue to be in full force and effect without being impaired or invalidated in any way.
27.Agreement must be Signed
This Agreement is not valid or binding unless and until in writing signed by a duly authorized officer of Company. No amendment, modification, extension, release, discharge or waiver of this Agreement, or of any provision hereof, shall be valid or binding unless in writing signed, in the case of Company, by a duly authorized officer of Company, or in the case of Composer, by Composer. No oral agreement shall be binding on Company unless and until reduced to writing and signed by a duly authorized officer of Company.
28.Commencement of Agreement
This Agreement shall commence upon the date of execution, and all parties intend to be bound throughout the Term of the Agreement.
IN WITNESS WHEREOF, the parties have executed this Agreement as of the date first written above.
COMPANY:
COMPOSER:
Composer Agreement FAQs
Why would a composer make a contract for music composition services?

Even if you are doing the work for a friend or family member, the Composer Agreement is a step that should never be skipped. You may decide that you want to use this document because it presents the following list of benefits:

There are no surprises about how long the engagement will last
Both parties understand their responsibilities
Payment requirements are well-defined

If you don't have this document, you may have to manage any of the following consequences: vague timelines, unmet standards of quality, unexpected changes, difficulty getting paid, and, not to mention, little to no legal recourse if something goes wrong.

What information should a Composer Contract contain?

To draft a Composer Agreement online, you'll need to have the following details:

Your client's full name and address
How payment will be made
How long the engagement will last
What kind of services will be provided

As you might expect from a contract like this, any Composer Contract that you build using Rocket Lawyer will also contain the standard language with regard to the independent work relationship, confidentiality, and dispute resolution. During the process of making your contract, you also will be able to decide which state will govern it. Using the Rocket Lawyer document tool, you are able to add further custom editing, as needed.

What does it normally cost for a lawyer to write a Composer Contract?

Luckily, you do not have to hire an expensive lawyer to put your agreement in writing. When using Rocket Lawyer, you are able to make a free Composer Agreement today. Your agreement is constructed piece by piece, so you can feel confident that it contains the proper details. Simply tap or click the button that says "Make document" to begin.

If you have any hesitations about the process, talk to a lawyer , or browse our larger selection of legal documents for small business owners .

Are there any additional actions that I should be sure to take after creating my Composer Agreement?

Upon completing your custom contract with Rocket Lawyer, you'll be able to see it wherever and whenever you choose. You should feel free to try any or all of these actions with your document: making edits, signing it with RocketSign®, downloading it as a Word or PDF file, and printing it. Each Composer Agreement will come with a series of helpful tips on what to do next. As a best practice, you should send a final copy of your fully signed contract to your client.

Can my Composer Contract be reviewed by an attorney?

Hiring a lawyer to proofread your Composer Agreement may take a lot of time if you attempt to do it on your own. An alternate approach could be via Rocket Lawyer attorney services. Rocket Lawyer members can ask for advice from an experienced lawyer or pose additional questions. As a business owner, you can be confident that Rocket Lawyer is here to support you.