MAKE YOUR FREE

Bartending Contract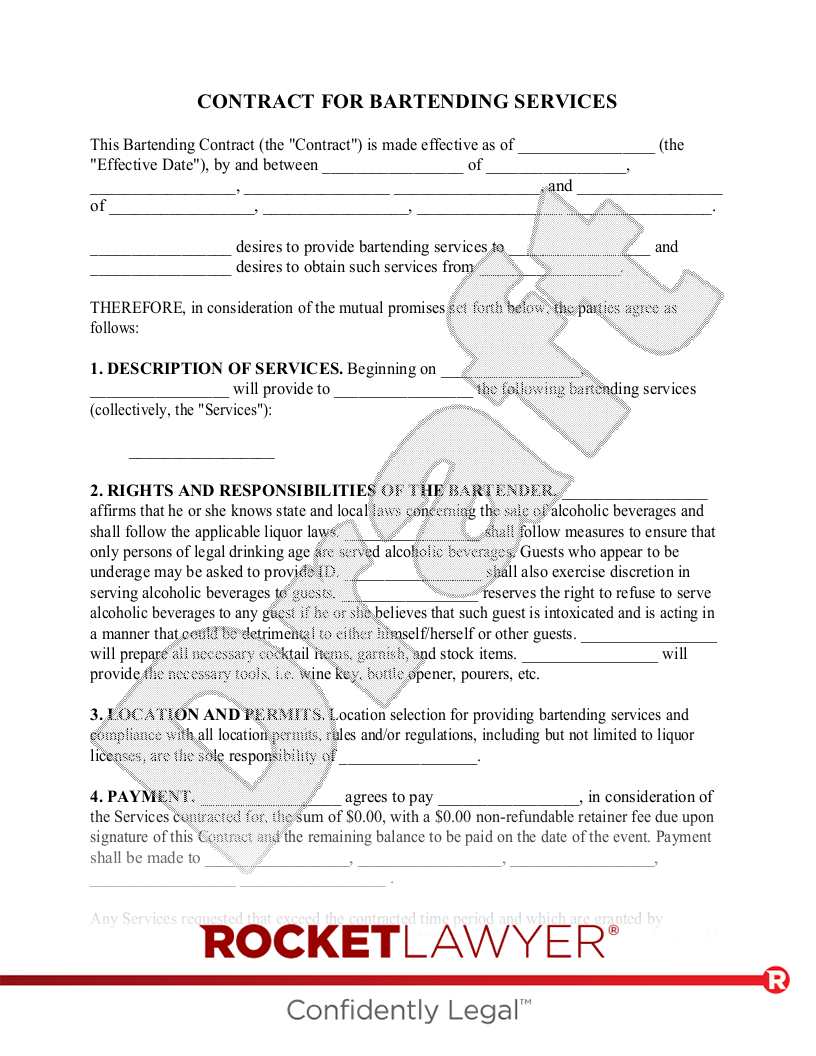 What is a Bartending Contract?
Bartending Contracts protect both the bartender and the host by requiring bartenders to abide by liquor laws and by outlining payment requirements. Our contracts are suitable for weddings, corporate events, family events, fundraisers and music events. Simple to build online, a Bartending Contract permits bartenders to outline the terms of an arrangement that they have made with an event organizer. Making this essential document can reduce the risk of disagreements down the road.
When to use a Bartending Contract:
You'll be providing bartending services to another business or individual.
You'll be hiring bartending services for an upcoming event.
You want to hire a bartender who will abide by applicable liquor laws.
Sample Bartending Contract
The terms in your document will update based on the information you provide
This document has been customized over 26.7K times
Legally binding and enforceable
Ask a lawyer questions about your document
Sign this document online for free with RocketSign®
CONTRACT FOR BARTENDING SERVICES
This Bartending Contract (the "Contract") is made effective as of (the "Effective Date"), by and between of , , , and of , , .
desires to provide bartending services to and desires to obtain such services from .
THEREFORE, in consideration of the mutual promises set forth below, the parties agree as follows:
. DESCRIPTION OF SERVICES. Beginning on , will provide to
. RIGHTS AND RESPONSIBILITIES OF THE BARTENDER. affirms that he or she knows state and local laws concerning the sale of alcoholic beverages and shall follow the applicable liquor laws. shall follow measures to ensure that only persons of legal drinking age are served alcoholic beverages. Guests who appear to be underage may be asked to provide ID. shall also exercise discretion in serving alcoholic beverages to guests. reserves the right to refuse to serve alcoholic beverages to any guest if he or she believes that such guest is intoxicated and is acting in a manner that could be detrimental to either himself/herself or other guests. will prepare all necessary cocktail items, garnish, and stock items.
. LOCATION AND PERMITS. Location selection for providing bartending services and compliance with all location permits, rules and/or regulations, including but not limited to liquor licenses, are the sole responsibility of .
. PAYMENT. agrees to pay , in consideration of the Services contracted for, the sum of , with the balance to be paid on the date of the event. Payment shall be made to .
In addition to any other right or remedy provided by law, if fails to pay for the Services when due, has the option to treat such failure to pay as a material breach of this Contract, and may cancel this Contract and/or seek legal remedies.
All retainer fees are non-refundable. less the retainer feeremaining INCLUDING retainer fee
. CONFIDENTIALITY. , and its employees, agents, or representatives will not at any time or in any manner, either directly or indirectly, use for the personal benefit of , or divulge, disclose, or communicate in any manner, any information that is proprietary to . and its employees, agents, and representatives will protect such information and treat it as strictly confidential. This provision will continue to be effective after the termination of this Contract.
Upon termination of this Contract, will return to all records, notes, documentation and other items that were used, created, or controlled by during the term of this Contract.
. DEFAULT. The occurrence of any of the following shall constitute a material default under this Contract:
a.
The failure to make a required payment when due.
b.
The insolvency or bankruptcy of either party.
c.
The subjection of any of either party's property to any levy, seizure, general assignment for the benefit of creditors, application or sale for or by any creditor or government agency.
d.
The failure to make available or deliver the Services in the time and manner provided for in this Contract.
. REMEDIES. In addition to any and all other rights a party may have available according to law, if a party defaults by failing to substantially perform any provision, term or condition of this Contract (including without limitation the failure to make a monetary payment when due), the other party may terminate the Contract by providing written notice to the defaulting party. This notice shall describe with sufficient detail the nature of the default. The party receiving such notice shall have days from the effective date of such notice to cure the default(s). Unless waived by a party providing notice, the failure to cure the default(s) within such time period shall result in the automatic termination of this Contract.
, or other labor disputes, or supplier failures
. ENTIRE AGREEMENT. This Contract contains the entire agreement of the parties, and there are no other promises or conditions in any other agreement whether oral or written concerning the subject matter of this Contract. This Contract supersedes any prior written or oral agreements between the parties.
. SEVERABILITY. If any provision of this Contract will be held to be invalid or unenforceable for any reason, the remaining provisions will continue to be valid and enforceable. If a court finds that any provision of this Contract is invalid or unenforceable, but that by limiting such provision it would become valid and enforceable, then such provision will be deemed to be written, construed, and enforced as so limited.
. AMENDMENT. This Contract may be modified or amended in writing, if the writing is signed by the party obligated under the amendment.
. GOVERNING LAW. This Contract shall be construed in accordance with the laws of the State of .
. NOTICE. Any notice or communication required or permitted under this Contract shall be sufficiently given if delivered in person or by certified mail, return receipt requested, to the address set forth in the opening paragraph or to such other address as one party may have furnished to the other in writing.
. WAIVER OF CONTRACTUAL RIGHT. The failure of either party to enforce any provision of this Contract shall not be construed as a waiver or limitation of that party's right to subsequently enforce and compel strict compliance with every provision of this Contract.
. SIGNATURES. This Agreement shall be signed on behalf of by and on behalf of by and effective as of the date first above written.
Bartending Contract FAQs
What protections does a Bartender Contract provide?

Regardless of what work you are doing, you should always consider making a Bartending Contract. You may opt to use a Bartending Contract because, when made properly, it presents this list of benefits:

Everyone knows when fees are due
Roles and responsibilities are understood by everyone
Timelines are agreed upon

Any bartender deciding against using a Bartending Agreement should prepare for common issues like unrealistic requests and ambiguity regarding fees.

What information should a Bartending Contract include?

To complete your Bartender Contract right now, you will need to prepare the following information:

The name and address of the event organizer
How payment will be made
Whether the event will last for a set period of time
What services will be delivered

As you might hope with an agreement like this one, any Bartending Contract built with Rocket Lawyer will also include the standard legal language regarding the non-employment relationship between the parties, confidentiality, the method(s) of dispute resolution, and restitution for losses. The contract requires the bartender to adhere to local laws such as not serving minors and it provides them the right to refuse service based on their own discretion. It also restricts the bartenders and related service workers from imbibing during the event. In the process of building your agreement, you'll also be able to choose which state's laws will govern it. Using the document tool, you have the power to implement more customization, as well.

In addition to the standard contract terms, here are some other details that the bartender may want to note:

How many people will be served?
Who is providing the bar supplies?
Who is providing the liquor, wine and beer?
What hours are required? Does that include prep and cleaning time?
Who will be doing the final cleaning after the event?
Is tipping going to be allowed?
Will security be provided?
What is the plan for bad weather? (if outside venue)
Will you be providing a ride service for guests?
How do you want to handle disorderly guests?
What happens if we run out of supplies?
What type of insurance will be required?
Will there be a limited bar menu offered or a full bar?
Will there be a toast and when?

What are the benefits of hiring professional bartenders?

Professional bartenders can often help event organizers by:

Adhering to local liquor laws
Controlling costs by measuring drinks
Alerting security of unruly guests
Limiting the over-serving of guests
Providing a customized drink menu
Having liquor liability and general liability insurance
Estimating what needs to be purchased for the bar
Allowing the organizer to have more time to spend on other event planning tasks

What is a fair rate for paying bartenders?

How much the bartender or bartender service gets paid is often based on the following:

Hourly rate with a minimum number of hours per bartender
Most often the hourly rate may be around $35 per hour with a minimum of four or more hours. A deposit or retainer fee is also usually required. Usually, the tips (if tipping is allowed) will be divided between the workers.

Number of guests
The number of guests can help bartenders estimate how busy they will be and the effort required to satisfy those guests. In many cases, event organizers may need to hire additional bartenders, servers and bar backs.

Overtime
If the bartenders are asked to work beyond the agreed upon hours they have the option of charging at an increased rate. Keep in mind that the bartender may not be able to work overtime and can refuse to work.

Supplies and equipment
If the bartending service willneed to provide supplies such as glasses and the bar itself, those are additional charges that the event organizer may be expected to pay. If they also need to bring the liquor, beer, mixers, wine, ice and more, the bartender will usually charge for the price of the goods plus a fee.

What would I traditionally need to pay for a Bartender Contract template?

The good news is that you won't have to pay hundreds of dollars in legal fees to get your contract in writing. When using Rocket Lawyer, any bartender should feel empowered to draft a free Bartending Contract online today. Your agreement will be built section by section, as you enter more information along the way. Simply click on the button labeled "Make document" to start.

If you've got any concerns or hesitations about how to move forward, you can always ask a lawyer . You may also wish to explore our repository of contracts and other documents for business owners .

Will there be any additional actions to take after I create my contract for bartending services?

In order to turn this document into a legally binding contract, you and the event organizer must sign it, electronically or otherwise. Using RocketSign®, you can collect signatures easily. As a best practice, be sure that your client gets copies of the fully executed contract. With a Premium membership, you also will be able to save it in PDF format or as a Word document, print it out, and copy it as necessary.

Can my Bartending Contract be checked by an attorney?

If you attempt to do it by yourself, finding an attorney to provide feedback on documents might be costly. Certain lawyers will not even agree to review your document if they weren't the author. If a lawyer does offer advice, they are still going to demand a fee for doing it. A more cost-effective route would be via attorney services at Rocket Lawyer. With a Premium membership, you can get your agreements reviewed or send specific legal questions. Whether you end up creating more copies of your Bartending Agreement or other documents for bartenders, we are by your side.