MAKE YOUR FREE

HVAC Contract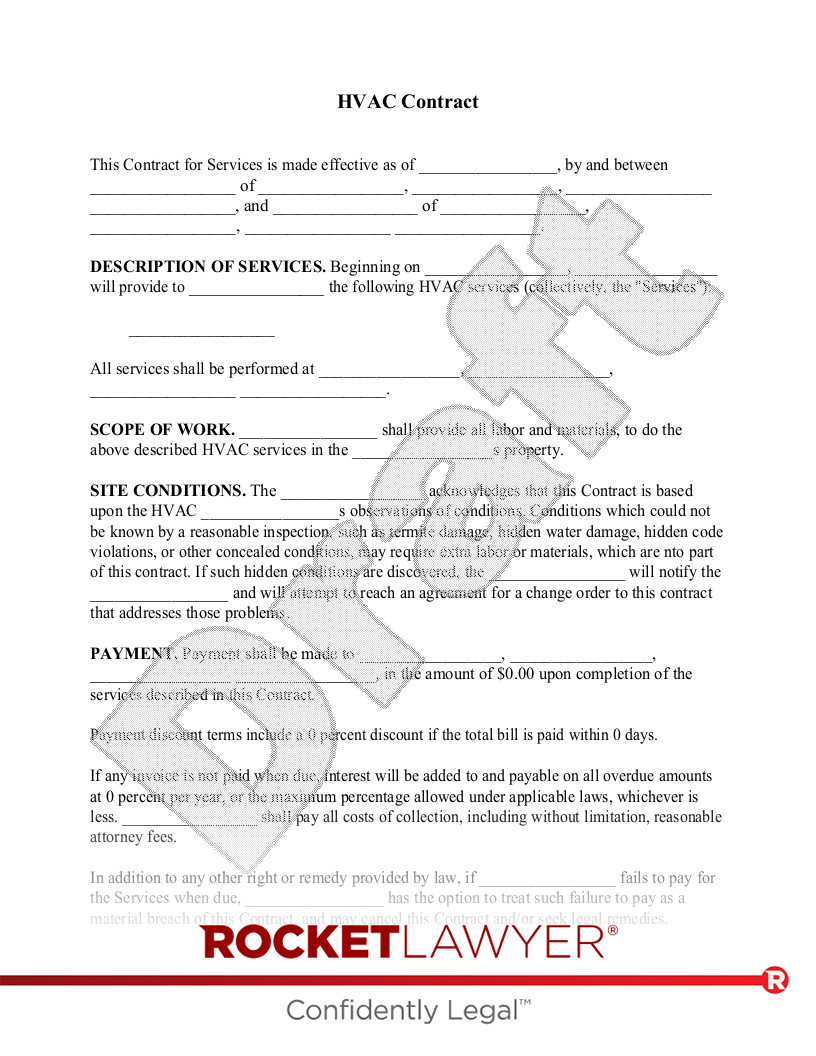 What is an HVAC Contract?
As an HVAC technician, you can make and sign HVAC Contracts in order to protect your interests when providing HVAC services. Signed by the contractor and the property owner, this document can help each party to set expectations around heating or air conditioning maintence or repair. Different from the other sites you may stumble upon, there's more to Rocket Lawyer than templates. In the event of nonpayment or another issue, your Rocket Lawyer membership provides the optional benefit of Document Defense® support from an attorney in our network.
When to use an HVAC Contract:
You're hiring an HVAC services business to fix your home or business system.
You're providing HVAC services to an individual or business.
Sample HVAC Contract
The terms in your document will update based on the information you provide
This document has been customized over 32.7K times
Legally binding and enforceable
Ask a lawyer questions about your document
Sign this document online for free with RocketSign®
HVAC Contract
This Contract for Services is made effective as of , by and between of , , , and of , , .
DESCRIPTION OF SERVICES. Beginning on , will provide to the HVAC services described in the attached Exhibit (collectively, the "Services").
All services shall be performed at , , .
SCOPE OF WORK. shall provide all labor and materials, to do the above described HVAC services in the s property.
SITE CONDITIONS. The acknowledges that this Contract is based upon the HVAC s observations of conditions. Conditions which could not be known by a reasonable inspection, such as termite damage, hidden water damage, hidden code violations, or other concealed conditions, may require extra labor or materials, which are nto part of this contract. If such hidden conditions are discovered, the will notify the and will attempt to reach an agreement for a change order to this contract that addresses those problems.
PAYMENT. Payment shall be made to
Payment discount terms include a percent discount if the total bill is paid within days.
In addition to any other right or remedy provided by law, if fails to pay for the Services when due, has the option to treat such failure to pay as a material breach of this Contract, and may cancel this Contract and/or seek legal remedies.
TERM. This Contract
PERMITS: shall apply for and obtain such permits and regulatory approvals as may be required by the local municipal/county government, the cost thereof shall be included as part of the Payment to the under this Contract. The will secure and pay for any easements, variances, zoning changes, necessary modifications of restrictive covenants, or other actions.
INSURANCE: shall maintain general liability, workers compensation and builder's risk insurance. Before commencing the work, shall furnish a certificate of that insurance to the property . The shall maintain insurance covering the replacement cost of the improvements under this Contract in the event of loss through fire, casualty, storm or other disasters, and theft of materials from the site. Before work begins, the will furnish a certificate of that insurance to the .
SURVEY AND TITLE: The will indicate the property lines to the and will provide boundary stakes by a licensed land surveyor if the s are in doubt about the property boundaries. This would be necessary for the installation of geothermal heat pump loops and wells. In addition, shall provide documentation that has title to the Property and shall provide copies of any covenants, conditions, or restrictions that affect the Property.
CHANGE ORDERS: may make changes to the scope of the work from time to time during the term of this Contract. However, any such change or modification shall only be made by written "Change Order" signed by both parties. Such Change Orders shall become part of this Contract. agrees to pay any increase in the cost of the HVAC services as a result of a Change Order. In the event the cost of a Change Order is not known at the time a Change Order is executed, the shall estimate the cost thereof and shall pay the actual cost whether or not it is in excess of the estimated cost.
ACCESS. The will allow free access to work areas for workers and vehicles and will allow areas for the storage of materials and debris. Driveways will be kept clear for the movement of vehicles during work hours. The will make reasonable efforts to protect driveways, lawns, shrubs, and other vegetation.
DEFAULT. The occurrence of any of the following shall constitute a material default under this Contract:
a.
The failure to make a required payment when due.
b.
The insolvency or bankruptcy of either party.
c.
The subjection of any of either party's property to any levy, seizure, general assignment for the benefit of creditors, application or sale for or by any creditor or government agency.
d.
The failure to make available or deliver the Services in the time and manner provided for in this Contract.
COMPLETION OF SERVICES. Upon the completion of the HVAC services by the , shall see to it that s property is restored to the condition they were in prior to the entry by the , and the shall see to it that all portions used by the during the term of this Contract shall be broom clean and free of debris.
REMEDIES. In addition to any and all other rights a party may have available according to law, if a party defaults by failing to substantially perform any provision, term or condition of this Contract (including without limitation the failure to make a monetary payment when due), the other party may terminate the Contract by providing written notice to the defaulting party. This notice shall describe with sufficient detail the nature of the default. The party receiving such notice shall have days from the effective date of such notice to cure the default(s). Unless waived by a party providing notice, the failure to cure the default(s) within such time period shall result in the automatic termination of this Contract.
, or other labor disputes
ENTIRE AGREEMENT. This Contract contains the entire agreement of the parties, and there are no other promises or conditions in any other agreement whether oral or written concerning the subject matter of this Contract. This Contract supersedes any prior written or oral agreements between the parties.
SEVERABILITY. If any provision of this Contract will be held to be invalid or unenforceable for any reason, the remaining provisions will continue to be valid and enforceable. If a court finds that any provision of this Contract is invalid or unenforceable, but that by limiting such provision it would become valid and enforceable, then such provision will be deemed to be written, construed, and enforced as so limited.
AMENDMENT. This Contract may be modified or amended in writing, if the writing is signed by the party obligated under the amendment.
GOVERNING LAW. This Contract shall be construed in accordance with the laws of the State of .
NOTICE. Any notice or communication required or permitted under this Contract shall be sufficiently given if delivered in person or by certified mail, return receipt requested, to the address set forth in the opening paragraph or to such other address as one party may have furnished to the other in writing.
WAIVER OF CONTRACTUAL RIGHT. The failure of either party to enforce any provision of this Contract shall not be construed as a waiver or limitation of that party's right to subsequently enforce and compel strict compliance with every provision of this Contract.
SIGNATORIES. This Agreement shall be signed on behalf of by and on behalf of by and effective as of the date first above written.
Service Recipient:
Service Provider:
HVAC Contract FAQs
How do I get a contract for HVAC services?

The details that you will need to include in the HVAC Contract are:

The contact information for your client
How much it will cost and when payment is due
Whether the project will be ongoing or if it will last for a distinct period of time
What tasks you will be performing once hired

As you may expect, HVAC Contracts that you make with Rocket Lawyer also contain the typical legalese regarding the independent work relationship between the parties, confidentiality, and the method(s) of dispute resolution. While building your agreement, you also can pick the jurisdiction under which it will be governed. With the Rocket Lawyer document tool, you have the power to add further customization, if needed.

How much does an HVAC service contract cost?

Drawing up an HVAC Service Contract can be done at no charge by following our simple step-by-step process. This form may be used by a homeowner, a commercial building owner, or by the HVAC contractor. You'll need to have the answers to specific questions regarding the name of the person hiring the contractor, the contractor's name, and the scope of the work.

Additionally, this HVAC Contract also allows the contractor an opportunity to clearly explain that in some cases, the scope of the work, and therefore the price, may change should the conditions be different once the HVAC technician has an opportunity to start working on the system.

Are HVAC service agreements worth it?

Whether you are paid by an acquaintance or a stranger, your HVAC Contract is a step that should never be missed. You might decide that you want to make this document because it presents this list of benefits:

Neither party is confused about fees charged
Both parties understand their responsibilities
Neither party is surprised by how long the engagement lasts

Without an HVAC Agreement, you may experience any of these issues: unrealistic expectations, challenges collecting payment, vague timelines or delays in delivery, unmet standards of quality, and limited recourse if a problem arises.

Can I get my own HVAC service agreement template for free?

If you need to make this document using Rocket Lawyer, please take in the guidance that is given. Our step-by-step interview will guide you through a series of questions about your situation to help us produce your HVAC Contract. You may also consider asking an Rocket Lawyer network attorney to look at it for you. This method will often be much less time-consuming than meeting with and hiring a conventional attorney, whose fee would be between a few hundred dollars per hour to thousands.

If you have any concerns before you begin, you can always ask an attorney . You might also like to take a look at our full selection of business legal documents .

Will there be any additional actions that I should take after writing my HVAC Contract?

Upon completing a document with Rocket Lawyer, you will be able to view it at any time and place. With a Rocket Lawyer membership, you can edit, make a copy, print out, get electronic signatures via RocketSign® once you're ready, and/or download it as a Word or PDF document when needed. Each HVAC Contract comes with a series of recommended actions you should take to finalize your document. As a best practice, you should send a copy of your signed contract to the property owner.

Should I have my HVAC Contracts checked out by a professional?

Getting another opinion on your document can take a lot of time if you attempt to do it alone. An alternate approach might be to request help from Rocket Lawyer attorney services. Rocket Lawyer Premium members have the ability to ask for a contract review from an Rocket Lawyer network attorney with business experience or get answers to additional legal questions. As a small business owner or operator, you can Work Confidently® knowing that Rocket Lawyer is here to support you.

What does HVAC service include?

For most contractors, annual HVAC services usually include filter replacements or cleaning, checking on wiring, connections, and controls as well as cleaning the blower, motors and other parts of the system. Most times, HVAC service technicians will also verify that the thermostat is registering properly.

Outdoors, the HVAC system will also require service. This includes verifying the coils and housing are clean, the compressor is working properly, and not in need of repair. Finally, the technician will also clean the drain lines and clean debris from around the outside units to make sure dirt is not getting into the system.