MAKE YOUR FREE

Carpentry Contract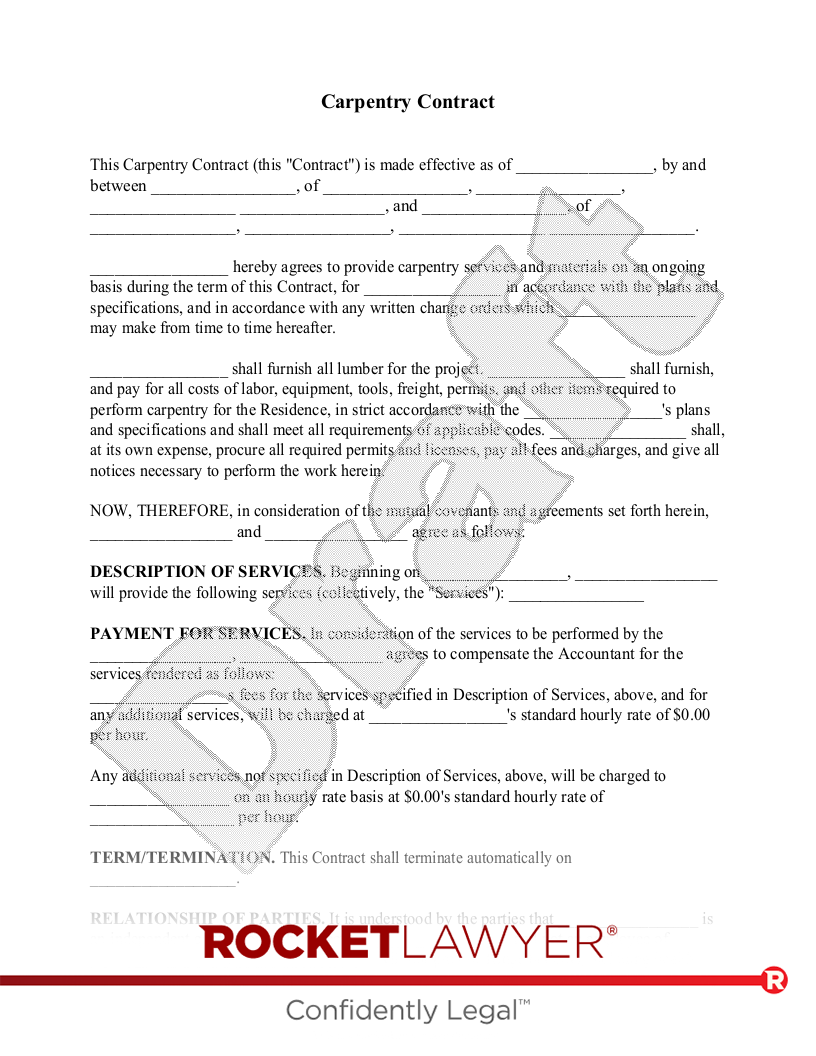 What is a Carpentry Contract?
As a carpenter, you can create Carpentry Contracts in order to safeguard your interests when offering woodwork or carpentry services. When it is drafted properly, this essential legal agreement, often between a property owner and carpenter, may help to reduce conflicts by ensuring that the understanding is mutual. With Rocket Lawyer, your Carpentry Agreement is not just a generic carpenter contract template. If you ever require support from a lawyer due to missed payments or another problem, your membership offers the optional benefit of Document Defense®.
When to use a Carpentry Contract:
You're hiring a carpenter for a project.
You're being hired as an independent contractor for carpentry services.
Sample Carpentry Contract
The terms in your document will update based on the information you provide
This document has been customized over 28.9K times
Legally binding and enforceable
Ask a lawyer questions about your document
Sign this document online for free with RocketSign®
Carpentry Contract
This Carpentry Contract (this "Contract") is made effective as of , by and between , of , , , and , of , , .
hereby agrees to provide carpentry services and materials on an ongoing basis during the term of this Contract, for in accordance with the plans and specifications, and in accordance with any written change orders which may make from time to time hereafter.
shall furnish all lumber for the project. shall furnish, and pay for all costs of labor, equipment, tools, freight, permits, and other items required to perform carpentry for the Residence, in strict accordance with the 's plans and specifications and shall meet all requirements of applicable codes. shall, at its own expense, procure all required permits and licenses, pay all fees and charges, and give all notices necessary to perform the work herein.
NOW, THEREFORE, in consideration of the mutual covenants and agreements set forth herein, and agree as follows:
DESCRIPTION OF SERVICES. Beginning on , will provide the following services (collectively, the "Services"):
PAYMENT FOR SERVICES. In consideration of the services to be performed by the , agrees to compensate the Accountant for the services rendered as follows:
s fees for the services specified in Description of Services, above, and for any additional services, will be charged
Any additional services not specified in Description of Services, above, will be charged to on an hourly rate basis at 's standard hourly rate of per hour.
TERM/TERMINATION. This Contract
RELATIONSHIP OF PARTIES. It is understood by the parties that is an independent contractor with respect to , and not an employee of . will not provide fringe benefits, including health insurance benefits, paid vacation, or any other employee benefit, for the benefit of .
Upon termination of this Contract, will return to all records, notes, documentation and other items that were used, created, or controlled by during the term of this Contract.
ENTIRE CONTRACT. This Contract contains the entire contract of the parties, and there are no other promises or conditions in any other contract whether oral or written.
SEVERABILITY. If any provision of this Contract shall be held to be invalid or unenforceable for any reason, the remaining provisions shall continue to be valid and enforceable. If a court finds that any provision of this Contract is invalid or unenforceable, but that by limiting such provision it would become valid and enforceable, then such provision shall be deemed to be written, construed, and enforced as so limited.
APPLICABLE LAW. This Contract shall be governed by the laws of the State of .
SIGNATURES. This Contract shall be signed on behalf of by , and on behalf of by .
PARTY CONTRACTING SERVICES:
CARPENTER:
Carpentry Contract FAQs
Should I write a contract for carpentry work?

Even if being a carpenter is your side gig, it is critical to capture the details of any agreements with those hiring you in writing. The benefits listed below might help you make the decision to use one:

Neither party is confused about fees charged
Neither party is surprised by how long the engagement lasts
Both parties understand the scope of their responsibilities

If you or your client decide against signing a Carpentry Agreement, neither party will be able to experience all of the aforementioned protections.

How are Carpentry Contracts organized?

The specific details to cover are:

The client's full name and address
How payment will be made
Whether the project will be ongoing or if it will last for a set period of time
What tasks you will be doing once hired

As you might hope with an agreement like this one, your Carpentry Contract will also contain the typical legalese regarding the non-employer relationship between the carpenter and client, liability for losses, and the method(s) of dispute resolution. During the process of building your agreement, you'll also be able to determine its state of jurisdiction. With the Rocket Lawyer document tool, you have the power to implement further customization, as well.

How much would it traditionally cost for an attorney to make a Carpentry Agreement?

Fortunately, you will not need to pay hundreds of dollars in legal fees to get your contract in writing. When using the document tools on Rocket Lawyer, you can create a free Carpentry Contract today. Your contract will be assembled piece by piece, as you answer simple questions to enter more information along the way. Simply tap or click the "Make document" button above to start.

If you are having any particular doubts or questions before you begin, you can connect with a lawyer today. You should also feel free to explore our entire selection of legal documents for business owners and operators .

Will there be any additional actions to take after creating my Carpentry Contract?

Alongside your Carpentry Contract, you will discover a series of helpful tips on what you can do next. You are encouraged to engage with your contract in one or all of the following ways: editing, saving it as a Word or PDF file, printing it out, or getting electronic signatures via RocketSign®. Most importantly, your client should always receive a copy of the fully executed agreement.

Should I have my Carpentry Contracts looked at by an attorney?

It may depend on whom you approach, but often some lawyers will not even accept requests to review documents that they didn't work on. A more favorable approach worth consideration is to get help via Rocket Lawyer attorney services. If you become a Premium member, you will be able to ask for feedback from an attorney with business experience or pose other questions related to your Carpentry Agreement. We are always available to answer any questions that you may have.