MAKE YOUR FREE

Beta Tester Non-Disclosure Agreement
Other Names:
Beta Tester NDA
NDA for Beta Testing
Software NDA
Software Confidentiality Agreement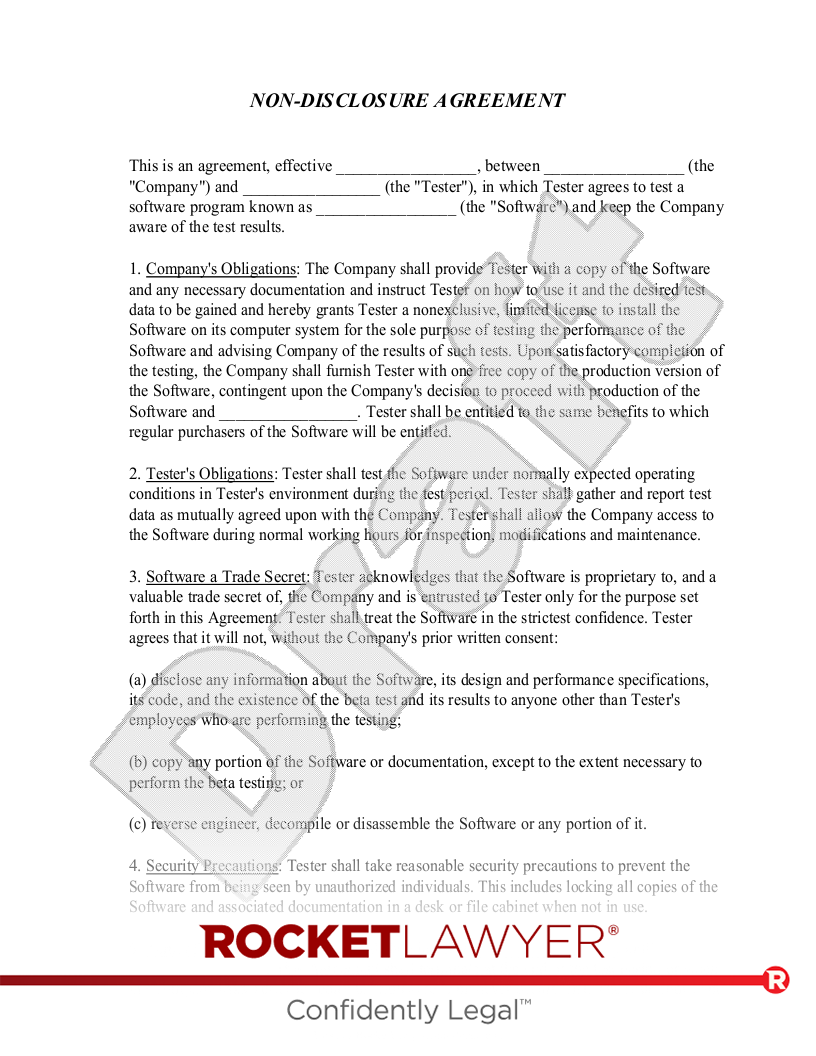 What is a Beta Tester Non-Disclosure Agreement?
A Beta Tester Non-Disclosure Agreement (NDA) is a confidentiality agreement that a business or inventor can use to protect their product development secrets. A Beta Tester NDA helps companies get user feedback for new products and features while limiting the risk that the specifics of the new offering will leak out as a result. If you've been hired to beta test a product, you'll likely have to sign an NDA in order to prevent you from revealing any information about the product until it's ready. If you're hiring people to test your company's product, then an NDA helps protect your sensitive information while the product is being developed. Often used by software companies and app developers, this document allows businesses and inventors to get the consumer feedback they need without jeopardizing their intellectual property.
When to use a Beta Tester NDA:
You're giving someone software to test.
You're testing software for a company.
You own or manage a software development company.
Sample Beta Tester Non-Disclosure Agreement
The terms in your document will update based on the information you provide
This document has been customized over 13.5K times
Legally binding and enforceable
Ask a lawyer questions about your document
NON-DISCLOSURE AGREEMENT
This is an agreement, effective , between (the "Company") and (the "Tester"), in which Tester agrees to test a software program known as (the "Software") and keep the Company aware of the test results.
1. Company's Obligations: The Company shall provide Tester with a copy of the Software and any necessary documentation and instruct Tester on how to use it and the desired test data to be gained and hereby grants Tester a nonexclusive, limited license to install the Software on its computer system for the sole purpose of testing the performance of the Software and advising Company of the results of such tests. Upon satisfactory completion of the testing, the Company shall furnish Tester with one free copy of the production version of the Software, contingent upon the Company's decision to proceed with production of the SoftwareTester shall be entitled to the same benefits to which regular purchasers of the Software will be entitled.
2. Tester's Obligations: Tester shall test the Software under normally expected operating conditions in Tester's environment during the test period. Tester shall gather and report test data as mutually agreed upon with the Company. Tester shall allow the Company access to the Software during normal working hours for inspection, modifications and maintenance.
3. Software a Trade Secret: Tester acknowledges that the Software is proprietary to, and a valuable trade secret of, the Company and is entrusted to Tester only for the purpose set forth in this Agreement. Tester shall treat the Software in the strictest confidence. Tester agrees that it will not, without the Company's prior written consent:
(a) disclose any information about the Software, its design and performance specifications, its code, and the existence of the beta test and its results to anyone other than Tester's employees who are performing the testing;
(b) copy any portion of the Software or documentation, except to the extent necessary to perform the beta testing; or
(c) reverse engineer, decompile or disassemble the Software or any portion of it.
4. Security Precautions: Tester shall take reasonable security precautions to prevent the Software from being seen by unauthorized individuals. This includes locking all copies of the Software and associated documentation in a desk or file cabinet when not in use.
5. Term of Agreement: The test period shall last from , until . This Agreement shall terminate at the end of the test period or when the Company asks Tester to return the Software, whichever occurs first. The restrictions and obligations contained in Clauses 3, 6, 7, 8 and 9 shall survive the expiration, termination or cancellation of this Agreement, and shall continue to bind Tester, its successors, heirs and assigns.
6. Return of Software and Materials: Upon the conclusion of the testing period or at the Company's request, Tester shall promptly (within 10 days) return the original and all copies of the Software and all related materials to the Company and erase all portions thereof from computer memory.
7. Disclaimer of Warranty: Tester understands and acknowledges that the Software is a test product and its accuracy and reliability are not guaranteed. Owing to its experimental nature, Tester is advised not to rely exclusively on the Software for any reason. Tester waives any and all claims it may have against the Company arising out of the performance or nonperformance of the Software.
THE SOFTWARE IS PROVIDED AS IS, AND THE COMPANY DISCLAIMS ANY AND ALL REPRESENTATIONS OR WARRANTIES OF ANY KIND, WHETHER EXPRESS OR IMPLIED, WITH RESPECT TO IT, INCLUDING ANY IMPLIED WARRANTIES OF MERCHANTABILITY OR FITNESS FOR A PARTICULAR PURPOSE.
8. Limitation of Liability: The Company shall not be responsible for any loss or damage to Tester or any third parties caused by the Software or by the Company's performance of this Agreement.
THE COMPANY SHALL NOT BE LIABLE FOR ANY DIRECT INDIRECT, SPECIAL, INCIDENTAL OR CONSEQUENTIAL DAMAGE, WHETHER BASED ON CONTRACT OR TORT OR ANY OTHER LEGAL THEORY, ARISING OUT OF ANY USE OF THE SOFTWARE OR ANY PERFORMANCE OF THIS AGREEMENT.
9. No Rights Granted: Tester understands and acknowledges that the Software is provided for its own use for testing purposes only. This Agreement does not constitute a grant or an intention or commitment to grant any right, title or interest in the Software or the Company's trade secrets to Tester. Tester may not sell or transfer any portion of the Software to any third party or use the Software in any manner to produce, market or support its own products. Tester shall clearly identify the Software as the Company's property.
10. No Assignments: This Agreement is personal to Tester. Tester shall not assign or otherwise transfer any rights or obligations under this Agreement.
11. Entire Agreement: This Agreement contains the entire understanding and agreement of the parties relating to the subject matter hereof. Any representation, promise or condition not explicitly set forth in this Agreement shall not be binding on either party. All additions or modifications to this Agreement must be made in writing and must be signed by both parties to be effective.
12. Applicable Law: This Agreement is made under, and shall be construed according to, the laws of the
Beta Tester Non-Disclosure Agreement FAQs
Can I prepare a Beta Tester NDA online for free?

It's very easy to get what you need with a free Beta Tester Non-Disclosure Agreement template from Rocket Lawyer:

Make the document - Provide a few simple details and we will do the rest
Send or share it - Go over it with a lawyer, if needed
Sign it - Get the NDA signed online

Any Beta Tester NDA from Rocket Lawyer can be edited for your particular situation. To start the process, click on the "Make document" button. Your document will be assembled step by step so you can feel confident that it has all of the appropriate details that you'll need.

Do I need an attorney for my Beta Tester Non-Disclosure Agreement?

Writing a Beta Tester Non-Disclosure Agreement is typically simple to do; however, you could have legal questions. Hiring a legal professional to check your document may take a lot of time on your own. Another approach to consider is to get help via attorney services at Rocket Lawyer. Premium members can ask for advice from an attorney with relevant experience or ask additional questions. As always, you can Work Confidently® knowing that Rocket Lawyer is by your side.

What would I normally pay for an attorney to help me make a Beta Tester Non-Disclosure Agreement?

The cost of finding and working with a legal provider to produce a Beta Tester Non-Disclosure Agreement might add up to anywhere from two hundred to one thousand dollars, depending on where you are located and how complicated it might be. Unlike many other Confidentiality Agreement template websites that you might discover elsewhere, Rocket Lawyer gives members up to a 40% discount when hiring a lawyer, so an attorney can represent you if you ever require support.

What are my next steps once I write my Beta Tester Non-Disclosure Agreement?

When you're finished completing a NDA using Rocket Lawyer, you'll be able to review it wherever and whenever you choose. You are encouraged to interact with the document in one or all of these ways: editing it, printing it out, and signing it with signing it with RocketSign®. Your Beta Tester NDA also comes with a list of next steps you can take after your document is finished.

Does a Beta Tester NDA need to be notarized or witnessed?

Witnesses and notarization are not legally required for your Beta Tester NDA.