MAKE YOUR FREE

Confidentiality Agreement
Other Names:
Non-Disclosure Agreement (NDA)
Confidential Disclosure Agreement (CDA)
Proprietary Information Agreement (PIA)
Secrecy Agreement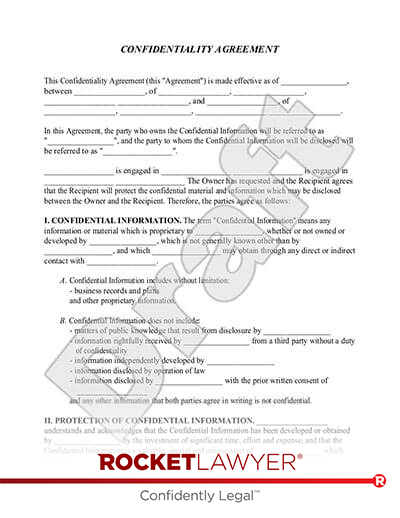 What is a Confidentiality Agreement?
Confidentiality Agreements protect your proprietary business information. In business, there are many assets to protect including your inventions, upcoming marketing campaigns, proprietary equipment or processes, clients and financial information. These agreements can help you protect this kind of information.
When to use a Confidentiality Agreement:
You need to share confidential information with another person or organization.
You will access confidential information that belongs to another person or organization.
Sample Confidentiality Agreement
The terms in your document will update based on the information you provide
This document has been customized over 276.9K times
Legally binding and enforceable
Ask a lawyer questions about your document
Sign this document online for free with RocketSign®
CONFIDENTIALITY AGREEMENT
This Confidentiality Agreement (this "Agreement") is made effective as of , between , of , , , and , of , , .
is engaged in .
is engaged in .
The Owner has requested and the Recipient agrees that the Recipient will protect the confidential material and information which may be disclosed between the Owner and the Recipient. Therefore, the parties agree as follows:
. CONFIDENTIAL INFORMATION. The term "Confidential Information" means any information or material which is proprietary to , whether or not owned or developed by , which is not generally known other than by , and which may obtain through any direct or indirect contact with .
A. Confidential Information includes without limitation:
- business records and plans
and other proprietary information.
B. Confidential Information does not include:
- matters of public knowledge that result from disclosure by
- information rightfully received by from a third party without a duty of confidentiality
- information independently developed by
- information disclosed by operation of law
- information disclosed by with the prior written consent of
and any other information that both parties agree in writing is not confidential.
. PROTECTION OF CONFIDENTIAL INFORMATION. understands and acknowledges that the Confidential Information has been developed or obtained by by the investment of significant time, effort and expense, and that the Confidential Information is a valuable, special and unique asset of which provides with a significant competitive advantage, and needs to be protected from improper disclosure. In consideration for the disclosure of the Confidential Information, agrees to hold in confidence and to not disclose the Confidential Information to any person or entity without the prior written consent of . In addition, agrees that:
No Copying/Modifying. will not copy or modify any Confidential Information without the prior written consent of .
Application to Employees. Further, shall not disclose any Confidential Information to any employees of , except those employees who are required to have the Confidential Information in order to perform their job duties in connection with the limited purposes of this Agreement. Each permitted employee to whom Confidential Information is disclosed shall sign a non-disclosure agreement substantially the same as this Agreement at the request of .
Unauthorized Disclosure of Information. If it appears that has disclosed (or has threatened to disclose) Confidential Information in violation of this Agreement, shall be entitled to an injunction to restrain from disclosing, in whole or in part, the Confidential Information. shall not be prohibited by this provision from pursuing other remedies, including a claim for losses and damages.
. GENERAL PROVISIONS. This Agreement sets forth the entire understanding of the parties regarding confidentiality. The obligations of confidentiality shall survive indefinitely from the date of disclosure of the Confidential Information. Any amendments must be in writing and signed by both parties. This Agreement shall be construed under the laws of the State of Commonwealth of . This Agreement shall not be assignable by either party, and neither party may delegate its duties under this Agreement, without the prior written consent of the other party. The confidentiality provisions of this Agreement shall remain in full force and effect after the effective date of this Agreement.
IN WITNESS WHEREOF, this Agreement has been executed and delivered in the manner prescribed by law as of the date first written above.
Information Owner:
Recipient:
Confidentiality Agreement Checklist
Make It Legal™
Find out next steps for your document
___Sign this document. This document needs to be signed by:
The Agreement can be signed online. It becomes effective as of the date specified in the Agreement.
___Everyone gets a copy. Anyone named in the document should receive a copy of the signed document. If you sign this agreement online a copy will be securely stored in your account. You can share your document from your account.
Important Details
If you send your Confidentiality Agreement along with additional supporting documents, make sure you mark all supporting documents as "Confidential" before giving them to another party.
Example: If you send specs for new software to a potential employee, write "Confidential" on all pages of the document you send over.