MAKE YOUR FREE

30-Day Past Due Letter
Other Names:
Collections Letter
Letter of Demand
Past Due Invoice Letter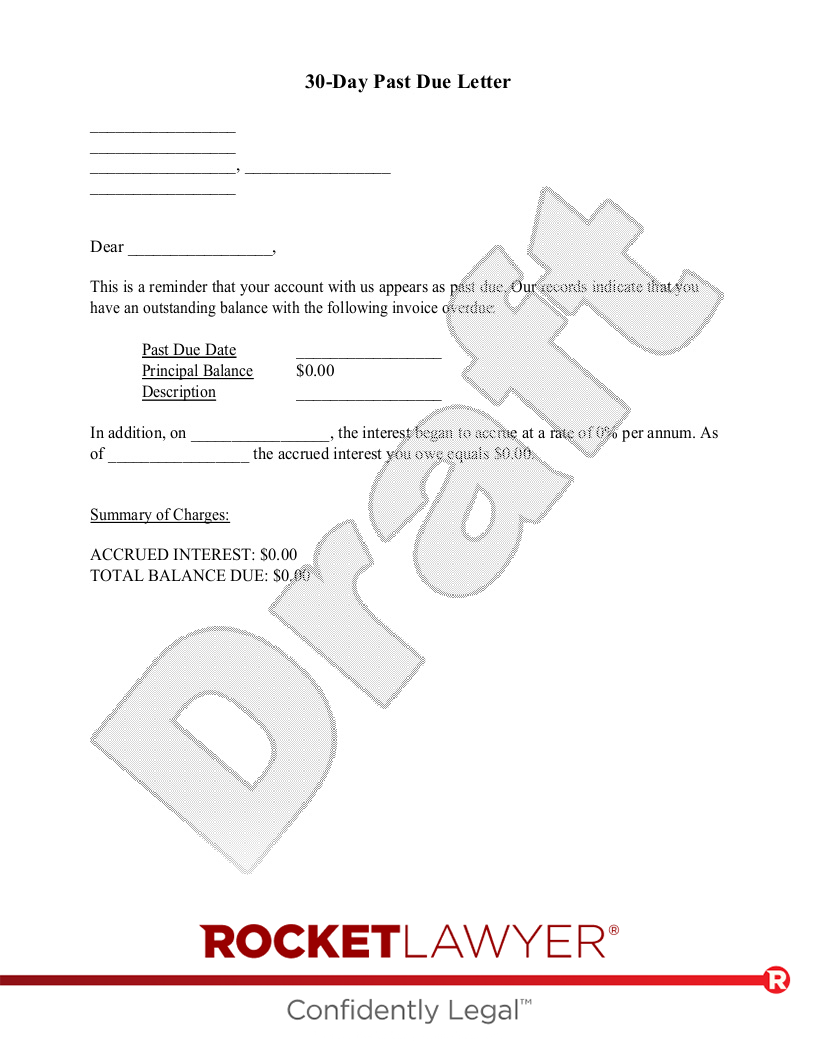 What is a 30-Day Past Due Letter?
When someone owes you money, it's smart to collect it in a way that is fair, legal, and which protects everyone by keeping a record. The first formal step to getting paid is to send a 30-Day Past Due Letter. This letter helps you collect the money you're owed by reminding the other party how much they owe you and asking for payment.

If it's important to you to be fair and above board, a 30-Day Past Due Letter is a good way to remind someone they owe you money and to ask for payment. It lets them know that you're serious and that it's a serious matter. A 30-Day Past Due Letter includes the amount owed, when and how it came to be owed, any late charges, and if interest is accumulating. The letter also notifies the person that if they don't pay the past due amount, you can go to court in order to collect the money owed. Using a 30-Day Past Due Letter can also act as proof that you made a request for the money owed.
When to use a 30-Day Past Due Letter:
Money is past due and you'd like to request payment.
You want to remind the other person of the amount to pay.
The debtor needs to know that you have the option to go to court to get the money.
You're interested in establishing a record that you asked the debtor to pay.
Sample 30-Day Past Due Letter
The terms in your document will update based on the information you provide
This document has been customized over 54.2K times
Legally binding and enforceable
Ask a lawyer questions about your document
Sign this document online for free with RocketSign®
Dear ,
This is a reminder that your account with us appears as past due. Our records indicate that you have an outstanding balance with the following invoice overdue:
Summary of Charges:
TOTAL BALANCE DUE:
Please let us know the status of this payment. Please do not hesitate to call us if you have any questions about the balance on your account. If we have not heard from you from within 30 days of the date of this letter, we will initiate further action that may result in legal proceedings.
Regards,