Non-Disclosure Agreement
(NDA) Guide
To maintain your business's competitive advantage, use a Non-Disclosure Agreement to protect your confidential information. Protected information can include business performance metrics, technical data, partner or customer lists, copyrights, inventions, trade secrets, and other intellectual property. Get your NDA agreement in writing before sharing sensitive information, so that both parties understand their duties and privileges as you embark on your business relationship together.
Learn how to use our free Non-Disclosure Agreement template, what to include, and how to keep your sensitive information private in this essential guide.
"Consider whether confidential information will be flowing in both directions and if obligations are mutual. Advocating requirements to protect your information can also place burdens to protect the other party's 'confidential' information. Attach a copy of what is considered confidential to your agreement, so that both parties understand clearly what is being protected."
What is a Non-Disclosure Agreement?
A Non-Disclosure Agreement (NDA) is a legally enforceable contract that establishes confidentiality between two parties—the owner of protected information and the recipient of that information. By signing an NDA, participants agree to protect confidential information shared with them by the other party. In addition to not divulging or releasing the information without consent, the recipient also agrees not to copy, modify, or make use of the information in any way that is not authorized by the owner.

A signed NDA form can help you avoid a lot of problems as a business owner. Without a confidentiality agreement in place, your trade secrets and sensitive information can be disclosed publicly or otherwise used by employees, vendors, clients, or anyone else that you share them with. A Non-Disclosure Agreement lets the recipients of your proprietary information know that you expect confidentiality and it authorizes you to take legal action if the contract is violated.

Other names for a Non-Disclosure Agreement include: NDA, Non-Disclosure Form, Confidentiality Agreement, Confidentiality Statement, Confidential Disclosure Agreement (CDA), Proprietary Information Agreement (PIA), or Secrecy Agreement.
NDA vs. Confidentiality Agreement vs. Non-Compete
The names Non-Disclosure Agreement and Confidentiality Agreement are often used interchangeably to describe a legal contract that protects confidential information. While an NDA is commonly used as a standalone document, you may also come across a non-disclosure or confidentiality clause as part of another legal form like an Independent Contractor Agreement or an Employment Contract. If you and another party have already signed a document that contains a non-disclosure clause, it may be helpful to talk to a lawyer to ensure that your best interests are already covered. If not, you may want to make a separate, more detailed contract using our free NDA template.
Similar to an NDA contract, a Non-Compete Agreement establishes confidentiality, but it is used specifically to prohibit the recipient from soliciting your customers or engaging with a competing business. A Non-Compete form is typically signed by employees, vendors, partners or other parties who could be valuable to your competition. State laws apply to the enforcement of NDA forms and non-competes, so it is important to talk to a lawyer to understand any local rules that apply to your agreement.
Do I need a Non-Disclosure Agreement?
Whether you are considering a new business relationship or you have already entered one, it's often smart to make a Non-Disclosure Agreement. Employees, business partners, and vendors are often privy to sensitive information that should be protected from disclosure to the outside world. Without a signed confidentiality contract, your business data and trade secrets could become public knowledge without your consent.
Here are a few common scenarios where you should consider using our customizable Non-Disclosure Agreement template: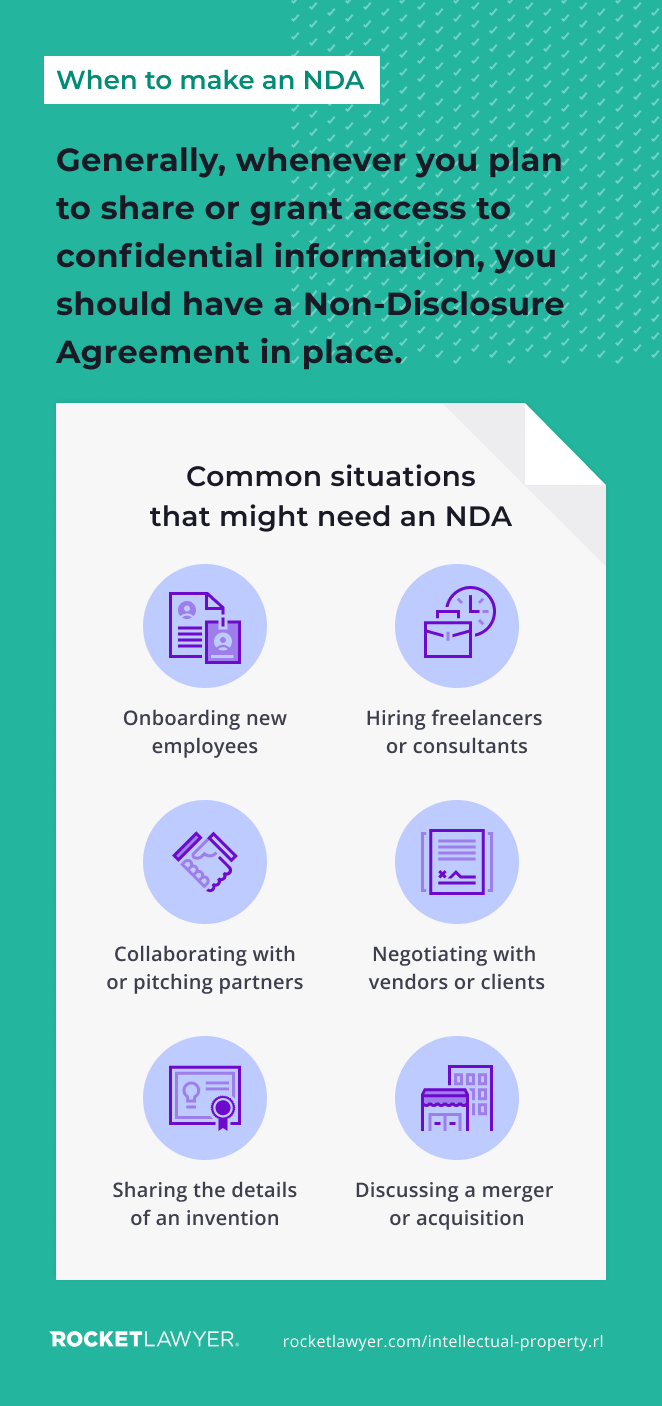 Who should you ask to sign an NDA?
If you plan to share confidential information with another person or company, it is typically a good idea to ask them to sign a Non-Disclosure Agreement. Here are a few examples of other parties that might need to sign a non-disclosure form.

Employees
At many companies, it has become a common practice for new hires to sign an employee confidentiality agreement form as part of their onboarding paperwork. The agreement can be made using a non-disclosure clause in the Employment Contract, or it may be done in a separate NDA document.
Clients/customers
If you are pitching or providing services to a client, they may have access to unpublished rates and discounts, and they could also have a good understanding of the proprietary tools and processes that you use to provide your service. You can protect your business by asking potential and existing clients to sign a basic NDA agreement in the early stages of your engagement.

Vendors and service providers
Depending on the nature of the services or products provided, your vendors could have access to sensitive business information that you'd like to keep private. If there is no confidentiality clause included in your service agreement, you may want to ask for an NDA.
Freelancers or contract workers
Non-employee workers may have access to just as much of your business information as employees. It is prudent to make a Non-Disclosure Agreement form for these hires or use an Independent Contractor Agreement with a confidentiality statement included.

Mergers and acquisitions

When companies are negotiating the terms of a merger or acquisition, it's important to protect each party's proprietary information. In many cases, you'll likely want to make a Mutual NDA.


Whether you are making a simple Non-Disclosure Agreement for employees or starting a more complex business relationship, it can be helpful to talk to a lawyer to make sure that you have included the appropriate details.

Mutual Non-Disclosure Agreement vs. Unilateral NDA
The primary difference between a mutual NDA and a unilateral agreement is the scope of information protected.

Unilateral NDA
A unilateral Non-Disclosure Agreement is a contract in which one party agrees not to disclose the confidential information of another. For example, if you own a business and are hiring an employee or contractor, you may ask that they keep your company's proprietary information private. Rocket Lawyer's standard NDA template falls under this umbrella.
Mutual NDA
If you want confidentiality to be reciprocated between both parties, then you'll need to make a Mutual Non-Disclosure Agreement. A Mutual NDA (also called a bilateral NDA) is commonly signed when two businesses share confidential information with each other.


If you have questions about the scope of your confidentiality agreement, ask a lawyer.

What information is included in a Non-Disclosure Agreement?
A generic NDA agreement typically contains the following information:

Parties to the agreement
The owner of proprietary information and the recipient. Either party can be an individual or a company.

Confidential information and the reason for disclosure

Your NDA will establish a definition for what is considered confidential information and why it is being shared. Confidential information typically includes business records and plans, trade secrets, technical data, product ideas, contracts, financial information, pricing structure, discounts, computer programs and listings, source code and/or object code, copyrights and intellectual property, inventions, sales leads, strategic alliances, partners, and customer or client lists.

Confidential information generally does not include:

Information that is already public knowledge
Information lawfully received from a third-party
Information that is independently developed or discovered by the recipient
Information that the owner has already given the recipient consent to disclose
Any other information that both parties agree in writing is not confidential
Non-circumvention clause

The owner of confidential information has the option to include a non-circumvention clause within the NDA, or they can use a standalone Non-Circumvention Agreement.This clause is a paragraph in the Non-Disclosure Agreement template that protects an owner from being bypassed in a business transaction. It ensures that if the owner shares business contacts with the recipient, the recipient cannot do business with or engage with those contacts for any purpose. If the owner is bypassed, the non-circumvention paragraph states that the violating party will be liable to pay for penalty fees.

Timeframe

The timeframe will include the date the NDA agreement goes into effect, as well as how long it will last. The date the agreement starts should be fairly self-explanatory (and often is the date that the confidentiality agreement form is signed), but you'll have a few different options for how long the Non-Disclosure Agreement will last.

The term of the agreement may encompass the entire period of time that the owner discloses the confidential information to the recipient, which may or may not include the entire duration of the business relationship between the two parties. This time period can also include the exploratory phase of the business relationship between the parties.

After the term of the Non-Disclosure Agreement, the owner may require that the recipient continue to protect the confidential information for a period of time. Depending on the nature of the information that was exchanged, a shorter or reasonable amount of time, like one year, may be more legally enforceable. However, information like trade secrets may benefit from being kept confidential for an indefinite amount of time.

If you have questions about the enforceability of your Non-Disclosure Agreement, ask a lawyer.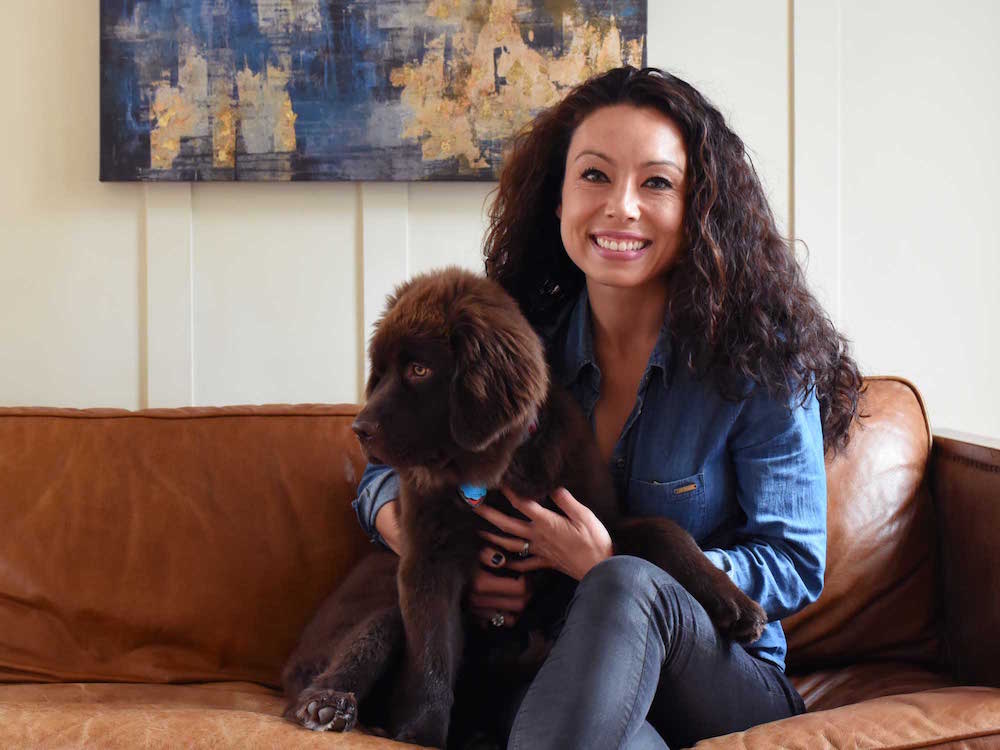 Ready to make your free Non-Disclosure Agreement?
Your document is free during your 7-day trial membership.
How to make a Non-Disclosure Agreement with Rocket Lawyer
Rocket Lawyer can help you complete your Non-Disclosure Agreement form easily. The document can be made by simply choosing your state and filling in the information as suggested by the prompts. Most people are able to make their first NDA agreement within a few minutes.

Our document builder will guide you through our simple NDA template step-by-step. The process is relatively straightforward, but if you don't have all of the information that you need, you can always save your progress, and continue customizing the NDA agreement template later.
As a Rocket Lawyer Premium member, you can access, edit, and duplicate your confidentiality agreement template using any device. Your completed document can also be electronically signed or downloaded in PDF or Word format.

Legal and reliable
Our free Non-Disclosure Agreement template has been vetted by lawyers and legal staff, so you can use it with confidence.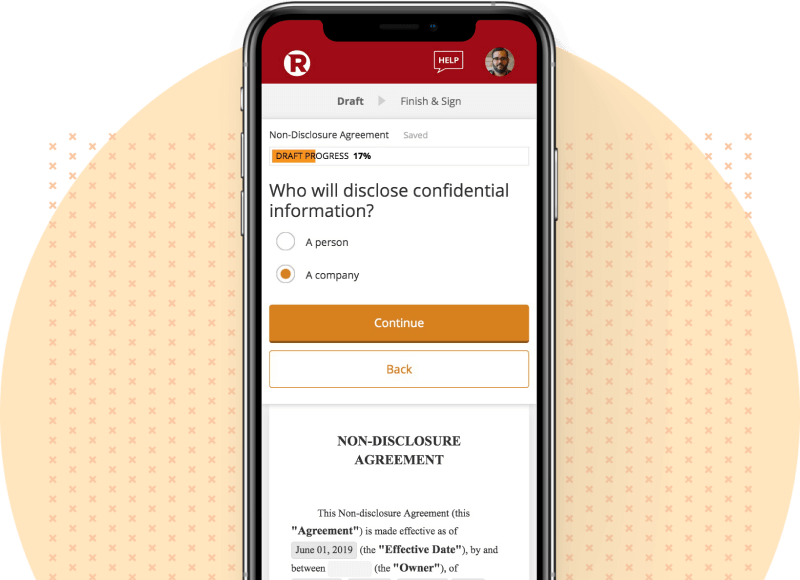 What should I know before making a Non-Disclosure Agreement?
While a properly executed NDA form is usually enforceable, there a few key considerations to keep in mind if you need to take legal action:

State laws
The state laws that govern your NDA may vary. For example, some states have protections against unreasonable or overly broad scopes in employee confidentiality agreements, so it's important to talk to a lawyer to ensure that your NDA contract will be upheld.

Accidental sharing

If a third party overhears confidential information without the knowledge of those discussing the topic, you usually cannot prosecute those sharing the information unknowingly. The same is generally true if the information is hacked or otherwise stolen.

Public knowledge

If the information is well-known or easily findable, it is difficult, if not impossible, to protect with a non-disclosure form.

Simple to develop

If a process or product could easily be developed without access to your proprietary information, it will likely be difficult to defend a confidentiality violation.

Proof of sharing

If you press charges for the violation of your contract, you may have to prove that the recipient named in your Non-Disclosure Agreement was the true source of the leak. You may be asked for proof such as emails or data from a hard drive.

Measurable damage

If you do end up in court because of an alleged breach of contract, you may need to prove that the release of information actually caused monetary or other types of damage to your company.


An invalid NDA can be detrimental to your business, so it is important to seek legal advice from a local attorney if you have questions about your NDA form. Even the most simple confidentiality agreement can benefit from attorney review.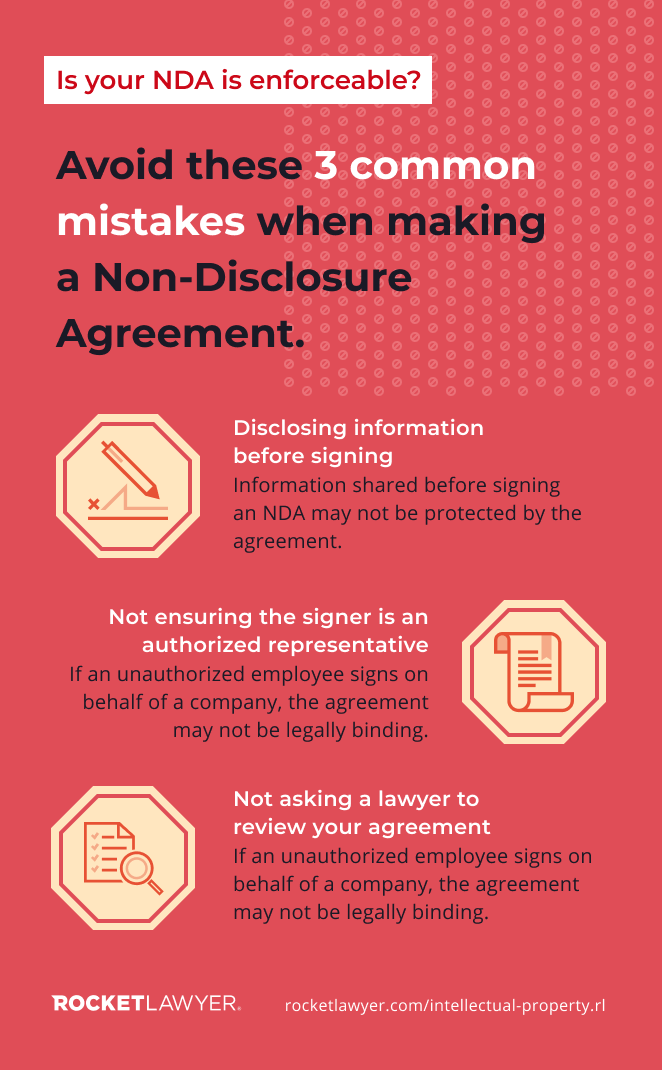 What should I do after making a Non-Disclosure Agreement?
Once your Rental Agreement is made, here are a few more things you should consider doing:

Make It Legal
™
Each completed Non-Disclosure Agreement comes with a Make It Legal™ checklist of action items needed to finalize your document. This typically includes signing it and distributing it to the other party.

Carefully review your NDA before signing it
A broken confidentiality agreement can be costly for both parties, so it is wise to review your NDA form with an attorney to make sure you understand and agree with all of the details specified.

Ask a lawyer
If you have any concerns about your NDA document, ask a lawyer, and a Rocket Lawyer On Call® attorney will reply to your question with a personal response. Most questions are answered within 4 business hours. Rocket Lawyer Premium members also have access to Document Defense®, document review, and a free 30 minute consultation on each new legal matter. As a Premium member, you can save up to 40% on legal fees when hiring a lawyer from our On Call network.

Sign online
Easily sign and send your non-disclosure form via email for an electronic signature or download your printable confidentiality agreement in Word or PDF format. No witnesses or notarization are required for signing an NDA.

If you send your NDA agreement along with additional supporting documents, make sure you mark the supporting documents as "Confidential" before giving them to the other party.

Distribute copies
Keep a copy of the signed document for your own records and make sure that the other signer also has a copy.

Make more business legal documents
Access dozens more business contracts and legal forms, including our Partnership Agreement, Employee Handbook, Release of Liability and Cease and Desist Letter. As a Premium member, you can make unlimited copies and edits of any business legal document, or manage your personal needs with legal documents like a Power of Attorney or Bill of Sale.

Incorporate your business
If you have not already formed a legal business entity, Rocket Lawyer is here to help. Incorporating your company can help you separate your personal assets from your business assets and help to protect your personal finances in the event of a lawsuit or bankruptcy. Learn more about the benefits of incorporation and make your business official today.

Protect your intellectual property
Using our free Non-Disclosure Agreement template is just one way to protect your intellectual property. Take advantage of additional Rocket Lawyer services like trademark registration, or get legal support regarding copyright protection and patents.

Stay protected with Document Defense
®
Sometimes things don't go as planned. Document Defense® will be there if a dispute arises with your Rocket Lawyer Non-Disclosure Agreement.
Available to Rocket Lawyer Premium members. Terms apply.
Common NDA questions
How long does a Non-Disclosure Agreement last?

The duration of keeping information confidential is usually specified within the NDA. Generally, the time period is limited to as long as the confidential information is considered useful.

Can I customize the Non-Disclosure Agreement template?

Yes, you can customize Rocket Lawyer's NDA template. While building your document, you can decide whether to include a non-circumvention clause, how long the NDA obligations last, how long confidential information must be protected after the NDA ends, and more. If you make additional edits directly to the document, it is recommended that you have a lawyer review your changes.
Can a Non-Disclosure Agreement be retroactive?

If written correctly, an NDA can be retroactive. A lawyer can help ensure that you properly draft clauses that include past disclosures.

Can a Non-Disclosure Agreement be verbal?

Oral contracts can be as effective as written contracts, however it may be harder to prove that both parties have agreed to all of the terms and conditions of the NDA if there's no documentation. In many situations, it is typically recommended that you have a written confidentiality agreement.

Can a Non-Disclosure Agreement be assigned to another party?

The assignment or transfer of an NDA to a third party may be valid, depending on the content of the NDA. Some NDAs provide for assignment to third parties with written consent by both parties while some expressly forbid assignment. If you have questions about assigning an NDA to another party, ask a lawyer.
Can an NDA be terminated?

If you want to terminate an NDA before the end date written in your contract, you generally need to provide notice to the other party, and it is up to the other party to agree. Otherwise, just like any other contract, each party is legally bound to stay in the contract until the end date, unless there is some legal reason like a crime or material misrepresentation (hiding or falsifying critical details), that would void the agreement. If you are in this situation, a lawyer can help you determine what your best options are.

Should I ask a potential investor to sign an NDA?
It depends on the investor. Unlike your average friend or family member, venture capital investors may be more hesitant to sign an NDA before hearing an idea. VC's listen to thousands of pitches each year, and since many of the pitches are in the same industries, signing an NDA for each one could create conflicts that would hinder the investors from doing their job. If you are pitching to a VC firm, it is typically recommended that you wait until further down the investment timeline to ask for an NDA. Working with investors is a major legal and financial commitment, so it is highly recommended that you seek the support of an experienced lawyer.

Should I sign a Non-Disclosure Agreement?

As with any other contract, you should not sign an NDA if you don't fully understand the scope of the confidentiality agreement. If you have any questions or hesitation about an NDA that you have been asked to sign, it is important to talk to a lawyer.

Can a minor sign an NDA?

Yes, a minor can sign an NDA, however, as with any other contract signed by a minor, the agreement is voidable by the minor or their legal guardian.

Can I legally break an NDA?

Breaking an NDA is the same as breaking any other contract, however there are certain legal exceptions. Generally speaking, you may legally break an NDA if there is a misrepresentation of material fact (hiding or fabricating important details in the contract) or if illegal activity is involved. If you are considering breaking any legal contract, it is usually best to talk to a lawyer beforehand.
What should I do if my NDA is violated?

If your legally valid NDA is violated, you are entitled to an injunction and can pursue other remedies including a claim for loss and damages. A lawyer can help you determine the best next steps for your situation.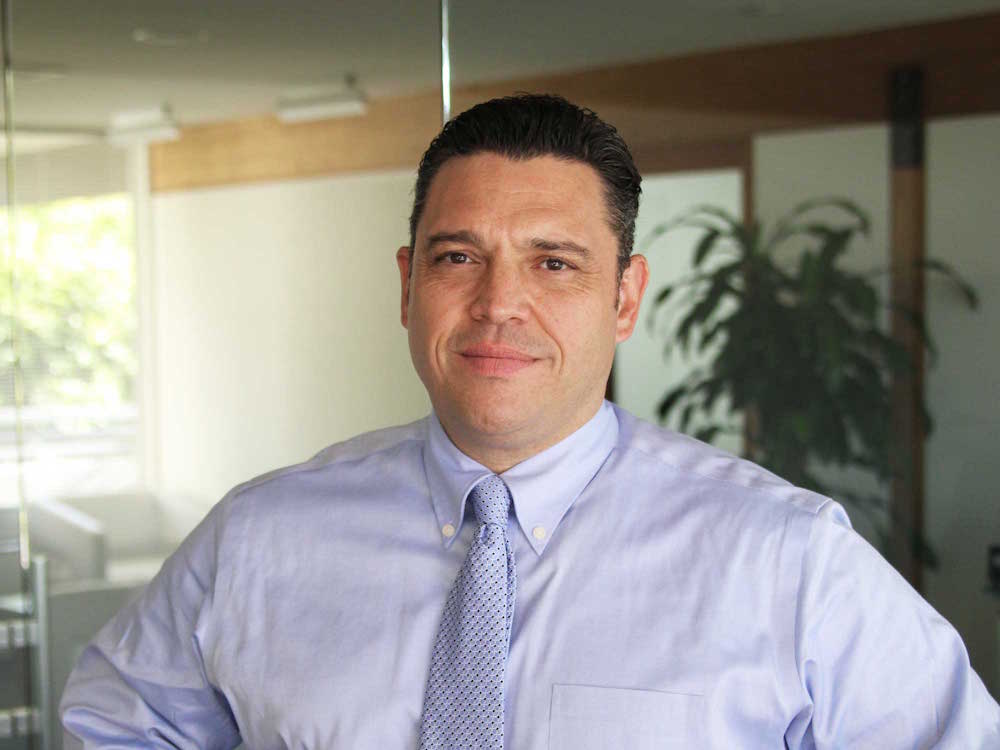 We're here to help
If you have more questions about Non-Disclosure Agreements and what options are right for you, ask a lawyer and get an answer within 1 business day.
Legal glossary: NDA terms explained
Application to employees

If you are a business owner and are performing services for another company, you are generally expected to refrain from sharing confidential information with your employees. If your employees need to know certain information to perform their job, they may be asked to sign their own NDA agreement.

Confidential information

The information that the confidentiality agreement is intended to protect, such as business processes, client lists, business records, and trade secrets.

Indemnity
Indemnity is protection against liability. The indemnification clause in an NDA protects the party who is disclosing information from being liable for third-party claims caused by a material breach of contract by the other party.
Non-circumvention
A non-circumvention clause protects the owner of confidential information from being bypassed in a business transaction. This paragraph ensures that if the owner shares its business contacts with the recipient, the recipient cannot engage with those contacts for any purpose. If the owner is bypassed, the non-circumvention paragraph states that the violating party will be liable to pay for penalty fees.
Owner
The company or person who owns the confidential information being disclosed.
Public knowledge
If information about a company is considered common knowledge or is easily obtainable, it generally cannot be protected.
Recipient
A company or person with whom confidential information is shared.
Return of confidential information
At the end of the term of your agreement, the confidential information must be returned. Typically this involves the return of any printed materials, digital files, or prototypes.
Term
How long the agreement lasts. An agreement can last for the length of the business relationship and the demand for confidentiality can have a specific end date, or it can be indefinite, depending on the nature of the confidential information being disclosed.
Unauthorized disclosure of information injunction
This section of the NDA template relates that the owner has the right to attempt to stop the recipient from sharing information and can pursue remedies such as coverage for loss and damages.
Warranty
There is a possibility that the confidential information could contain mistakes or errors, or be based on assumptions that later prove to be incorrect. Therefore, it is common for owners of confidential information to include a "no warranty" provision that specifies that the owner will not be responsible for any damages that the recipient might incur from using the confidential information.
Try Rocket Lawyer free!
Whether you manage just a few properties or many, Rocket Lawyer offers legal services you can trust at prices you can afford. Become a Premium member and get:
Instant access to our entire library of legal documents

Quick legal advice from our On Call network of lawyers

Document Defense® protection on all your contracts

Free 30-minute attorney consultations on each new matter

Secure cloud storage—edit, download, and print anytime

Reduced rates when you incorporate your business