MAKE YOUR FREE

Boat Bill of Sale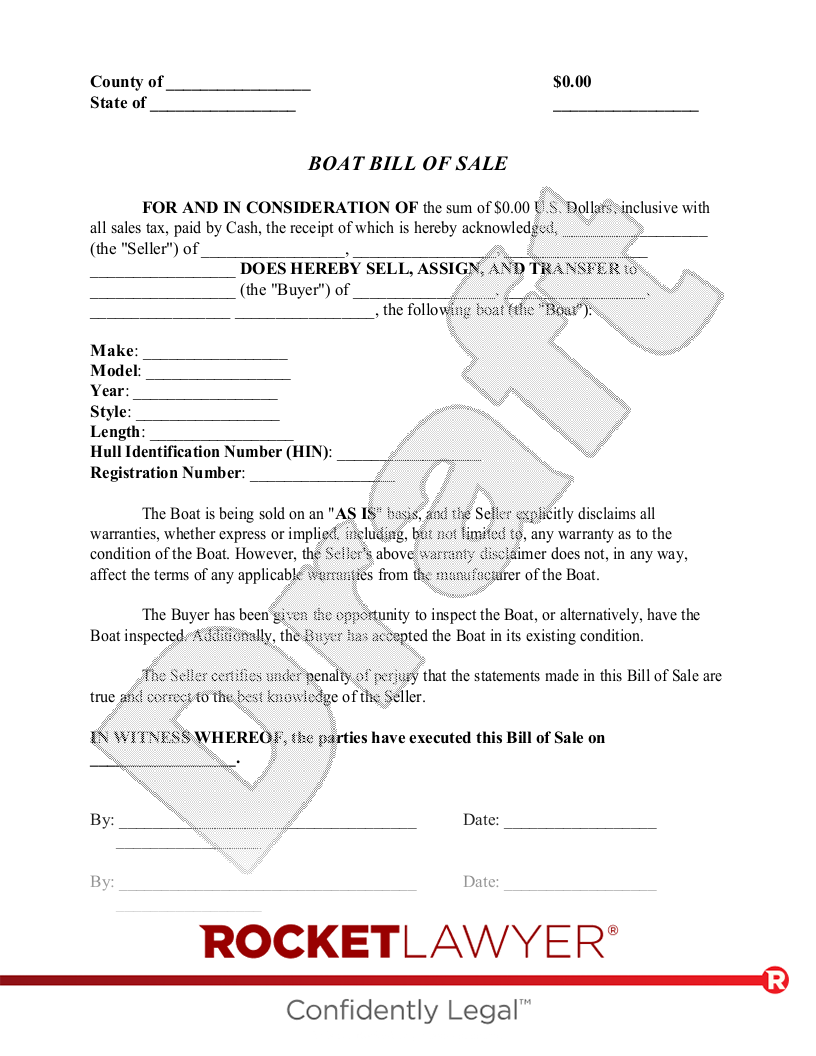 What is a Boat Bill of Sale?
A Boat Bill of Sale is a legal agreement that enables a buyer or seller to document the transfer of ownership of a boat. If you are buying or selling a boat or other vessel, a Boat Bill of Sale helps to record the transaction. By getting the details in writing, you'll have documentation of the sale, which you may need in order to transfer ownership legally. To get started with your Boat Bill of Sale, you'll need to have a few details on hand, such as the registration number, make, model, defining features, and general condition of the boat, as well as transactional information, such as the sale price and warranties.
When to use a Vessel Bill of Sale:
You own a boat or other type of watercraft which will be sold or transferred to another person.
You plan to buy a boat from an individual rather than a dealer.
Sample Boat Bill of Sale
The terms in your document will update based on the information you provide
This document has been customized over 297K times
Legally binding and enforceable
Ask a lawyer questions about your document
Sign this document online for free with RocketSign®
FOR AND IN CONSIDERATION OF the sum of U.S. Dollars, plus any applicable sales tax, inclusive with all sales tax, paid by CashPersonal CheckCertified CheckMoney OrderPromissory Note, the receipt of which is hereby acknowledged, and (the "Seller") of , , DOES HEREBY SELL, ASSIGN, AND TRANSFER to and (the "Buyer") of , , , the following boat (the "Boat"):
Make:
Model:
Year:
Style:
Length:
Hull Identification Number (HIN):
Registration Number:
The Buyer has been given the opportunity to inspect the Boat, or alternatively, have the Boat inspected. Additionally, the Buyer has accepted the Boat in its existing condition.
The Seller certifies under penalty of perjury that the statements made in this Bill of Sale are true and correct to the best knowledge of the Seller.
IN WITNESS WHEREOF, the parties have executed this Bill of Sale on .
Final Checklist for Boat Bill of Sale
Seller:
Buyer:
Rocket Lawyer is the easy and affordable legal service for everyone -- giving you the legal help you need at a price you'll love. Our legal plans give families and businesses free legal documents, affordable access to licensed attorneys, plus a whole lot more.
Next Steps: Make it Legal
_____
Look over the Boat Bill of Sale to ensure it matches your intentions. If you'd like to make changes, you can download this document in Microsoft Word, or you can make edits using the Document Manager on Rocketlawyer.com.
_____
You can use Rocket Lawyer's e-signature service to electronically have each party sign the document. Or, have the parties sign and date duplicate hard copies of the Boat Bill of Sale.
Copies
_____
The original copy of the Bill of Sale should be given to the Buyer.
_____
The Seller should retain a signed copy of the Bill of Sale.
Reasons to Update
*
Correct an error or change a term in the original Bill of Sale.
*
Prepare a Bill of Sale for a different transaction.
Other Information
*
This Boat Bill of Sale only represents the transfer of the RIGHT to ownership of the vehicle; the boat's Certificate of Title reflects the ACTUAL ownership. Therefore, this Bill of Sale and the Certificate of Title are needed to complete the transfer of the Boat.
*
The Buyer should be certain to obtain appropriate insurance coverage for the Boat.
Members can always consult an attorney at no extra cost!
*
If you have quick questions or wish to review this document with an attorney, you can do so for free. Rocket Lawyer's On Call® service makes it fast and easy to speak with a local attorney. Get started by visiting the Find a Lawyer tab on our site, or calling (866) 243-2183.
Boat Bill of Sale FAQs
How do you write a Bill of Sale for a boat?

It is very easy to get what you need using a free Boat Bill of Sale template from Rocket Lawyer:

Make your Bill of Sale - Answer a few simple questions and we will do the rest
Send or share - Look over it with a lawyer, if desired
Sign it - Sign your Bill of Sale online and make it legal

Any Boat Bill of Sale Form from Rocket Lawyer can be edited to address your particular situation. To start the process, simply tap or click the "Make document" button. Your document will be built piece by piece as you answer simple questions to enter information along the way.

Do I need to hire a lawyer for my Boat Bill of Sale?

Making a Boat Bill of Sale is usually simple, but you may still need legal advice. It can vary depending on whom you approach, but sometimes an attorney won't even accept requests to review a document that they did not author. An easier approach would be to request help from attorney services at Rocket Lawyer. With a Premium membership, you have the ability to request guidance from an attorney with relevant experience or pose additional questions related to your Bill of Sale. Rocket Lawyer is here to help.

How much would it usually cost to make a Boat Bill of Sale?

The fees associated with finding and hiring your average lawyer to make a Boat Bill of Sale might total anywhere between two hundred and one thousand dollars, depending on where you are located and how complex the issue may be. Different from many other sites that you may come across, Rocket Lawyer offers more than Bill of Sale templates. If you ever need assistance from a lawyer, your Premium membership offers up to a 40% discount when you hire an attorney.

Is anything else required after drafting a Boat Bill of Sale?

When you are finished making this Bill of Sale using Rocket Lawyer, you'll have the ability to get to it in your account anytime, anywhere. Feel free to try any of the following actions with your document: making edits, downloading it as a Word document or PDF file, and signing it with RocketSign®. Attached alongside each Boat Bill of Sale Form, there also will be a set of tips for what comes next with regard to finalizing your document.

Does a Boat Bill of Sale Form need to be notarized or witnessed?

Notarization requirements differ depending on your state. Check with the appropriate state agency that handles boat registrations (e.g. DMV or game and wildlife agency) to find out whether your Boat Bill of Sale will have to be notarized. You can also ask a lawyer about what is required in your area.

Can you sell a boat without a title?

It depends. Certain states require a title for any transaction to occur while others do not. Make sure to check with the state agency that manages boat registrations to ensure that you are allowed to sell a boat without a title. Talk to a lawyer for more guidance, or consider contacting agencies such as the Department of Motor Vehicles (DMV) or the game and wildlife agency.