MAKE YOUR FREE

Affidavit of Ownership
Other Names:
Ownership Affidavit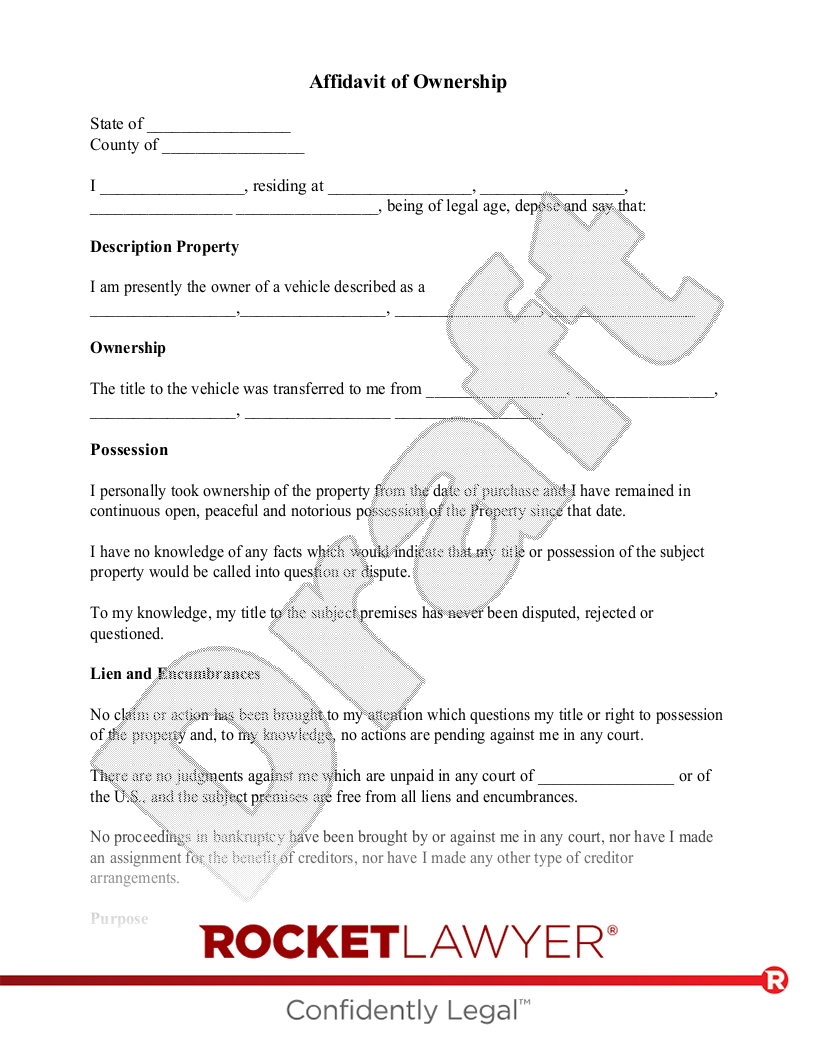 What is an Affidavit of Ownership?
An Affidavit of Ownership is a legal document that you can use to prove that you own a piece of real estate or a vehicle. Often used as proof of ownership when a Deed or Certificate of Title aren't enough, an Affidavit of Ownership can make clear how you purchased or inherited the property. Most commonly, this document is requested by banks and lenders or by the county recorder's office to provide additional proof of your ownership. Depending on your state laws, a copy of the Real Property Deed or Certificate of Title may still be required as an attachment to this document.
When to use an Affidavit of Ownership:
You need to provide proof of your ownership of certain real property (land).
You need to provide proof of ownership of a vehicle.
Sample Affidavit of Ownership
The terms in your document will update based on the information you provide
This document has been customized over 59.7K times
Legally binding and enforceable
Ask a lawyer questions about your document
Affidavit of Ownership
State of
County of
I , residing at , , , being of legal age, depose and say that:
Description Property
I am presently the owner of real property situated at , , and legally described as:
Ownership
I acquired ownership of the above property by deed dated , recorded in the County Clerk's Office on , in Book of Deeds at Page .
Possession
I personally took possession of the property from the date of purchase and I have remained in continuous open, peaceful and notorious possession of the Property since that date.
I have no knowledge of any facts which would indicate that my title or possession of the subjectreal property would be called into question or dispute.
To my knowledge, my title to the subject premises has never been disputed, rejected or questioned.
Lien and Encumbrances
No claim or action has been brought to my attention which questions my title or right to possession of the property and, to my knowledge, no actions are pending against me in any court.
There are no judgments against me which are unpaid in any court of or of the U.S., and the subject premises are free from all liens and encumbrances.
No proceedings in bankruptcy have been brought by or against me in any court, nor have I made an assignment for the benefit of creditors, nor have I made any other type of creditor arrangements.
Purpose
This affidavit is being made .
Oath or Affirmation
I certify under penalty of perjury under law that I know the contents of this Affidavit signed by me and that the statements are true and correct.
____________________________________
________________________
Affidavit of Ownership FAQs
Can I get an Affidavit of Ownership Form online?

It is fast and easy to get what you need using a free Affidavit of Ownership template from Rocket Lawyer:

Make your Affidavit - Answer a few questions and we will do the rest
Send or share - Look over it with an attorney, if desired
Sign it - Sign your Affidavit and make it legal

Any Affidavit of Ownership Form from Rocket Lawyer can be tailored to address your unique circumstances. When you're ready to start the process, simply tap or click on "Make document". Your Affidavit will be built piece by piece so you can be sure that it contains all of the relevant details that you'll need.

Do I need to hire an attorney to review my Affidavit of Ownership?

Making an Affidavit of Ownership is usually simple, but you might need legal advice. Seeking out an attorney to give feedback on your Affidavit might take a lot of time on your own. An alternate approach would be via the Rocket Lawyer network. Rocket Lawyer Premium members have the ability to ask for a document review from an experienced lawyer or send other questions. As always, you can be confident that Rocket Lawyer is here by your side.

What would it typically cost to make an Affidavit of Ownership?

The fees associated with hiring a lawyer to draft an Affidavit of Ownership could range anywhere between two hundred and one thousand dollars, depending on where you are and how complicated the matter is. Different from many other websites that you may come across, Rocket Lawyer offers more than Affidavit templates. If you ever require support from a lawyer, your Premium membership offers up to a 40% discount when you hire an attorney.

What should I do after making an Affidavit of Ownership?

When you are finished completing an Affidavit using Rocket Lawyer, you'll have the ability to get to it on any device, anytime. You also can interact with your document in any of the following ways: editing it, downloading it as a PDF document or Word file, and/or signing it. Your Affidavit of Ownership Form also comes with a checklist of recommended next steps you should take to finalize your document.

Does an Affidavit of Ownership Form need to be notarized or witnessed?

Yes, an Affidavit of Ownership Form requires notarization. Witnesses are not required by law.